---
New Fundraising Edition with Anthony Iacono
Debuting at Art Los Angeles Contemporary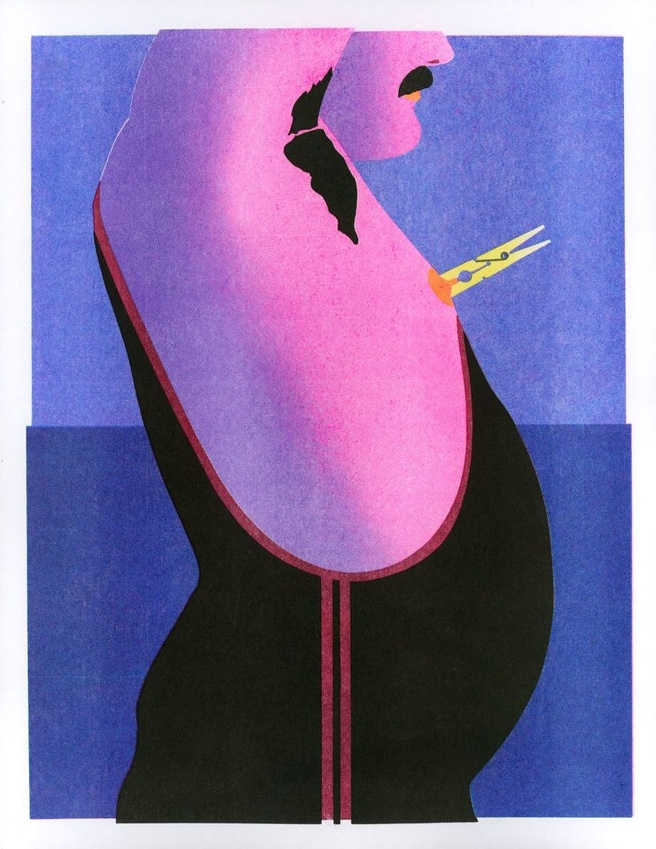 We're pleased to announce two new fundraising editions with artist Anthony Iacono, debuting at the Printed Matter booth at Art Los Angeles Contemporary.
Iacono's work plays with themes of fetish and queer culture in relationship to mundane nuances of the everyday. The relationships of the figures and seemingly ordinary objects elicit an unexpected and humorous eroticism. In these works, the original function of a telephone and a clothespin is called into question and their meaning is replaced with a fantasy of physical pleasure.
Clothespin, 2019, 5-color risograph print, 11 x14 inches, edition of 100. Purchase here.
Telephone, 2019, 5-color risograph print, 11 x14 inches, edition of 100. Purchase here.
The prints were produced with the publisher and risograph studio TXT Books.
Both editions will be available for purchase at the Printed Matter booth in the Movable Types section at ALAC (Art Los Angeles Contemporary), taking place at the Barker Hanger in Santa Monica.
Brussels-based curator Frances Horn organizes Movable Types, a robust selection of independent art publishers at ALAC.
The tenth edition of the fair will feature top established and emerging galleries from around the world, with a strong focus on Los Angeles galleries. Participants will present some of the most dynamic recent works from their roster of represented artists, offering an informed view on contemporary art making.
Anthony Iacono was born in 1987 in Nyack, New York. He received his BFA from the School of Visual Arts in New York and received his MFA from Virginia Commonwealth University in Richmond, Virginia. He attended the Skowhegan School of Painting and Sculpture in 2013 and was a resident artist at LMCC Workspace in 2018. Iacono has had solo exhibitions at P.P.O.W. Gallery in 2015 and 2018 and has been included in group shows at Jack Hanley Gallery, 106 Green, and Rockaway Topless. His work has been featured in New York Magazine, The Village Voice, and New American Paintings. In 2017 he was a recipient of the Toby Devan Lewis Fellowship Award. He will be a resident at the Museum of Arts and Design's studio residency program in Spring 2019.
Facebook
Tweet