Deborah Willis and Salamishah Tillet in conversation : Shine Portrait Studio Press
6-8 PM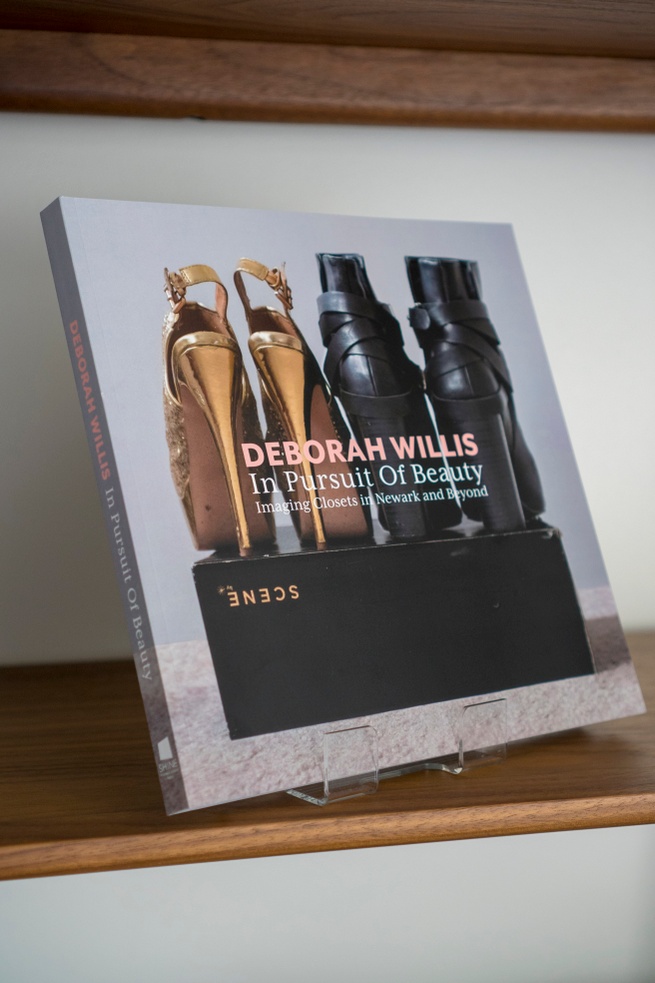 Join us for a discussion on Deborah Willis In Pursuit of Beauty: Imaging Closets in Newark and Beyond. The publication is a lovingly sequenced photobook, taking us from the home of Harlem fashion icon Lana Turner to that of Henry Louis ("Skip") Gates, Jr., in Cambridge, to the artist's year-long engaged project with Shine Portrait Studio in and around Newark, NJ. In these images, Willis explores the ways in which the concept of beauty is represented through the intimate space of the closet. Willis will be joined in conversation with scholar, activist and author Salamishah Tillet.
In Pursuit of Beauty re-contextualizes the artist's earlier photographs of barber shops and beauty salons, people posing beauty, street scenes, landscapes, interior spaces, and blackamoors —and is punctuated by critical writing about the artist's expansive practice. Willis's work as an artist, scholar and educator is grounded in making and studying photographs that reflect personal and collective memories on beauty. As an extension, Willis's new body of work investigates the closet as a site where beauty is enacted through the representation of our private and public selves.
The book also contains additional written contributions by Maurice Berger, Jacqueline Bishop, Kalia Brooks Nelson, Cheryl Finley, Elyssa Goodman, Nick Kline, Carla Williams, Trudy Wilner Stack
Shine Portrait Studio is a socially-engaged art project founded and directed by Nick Kline. Kline, who created a PM Window Installation "Boy's Shirts" in 2014, recently initiated a publishing component of Shine dedicated to artist' publications, photobooks and other printed material. Based at the location of the monumental photographer James Van Der Zee's first photography job, Shine Press is focused on projects that mine archives, spiritual spaces, kindness, history, portraiture, and performance-based work, as well as work done in Shine's own studio. Shine is located in Newark, NJ at Express Newark, a community-university collaboratory at Rutgers University-Newark.
Deborah Willis, Ph.D, is University Professor and Chair of the Department of Photography & Imaging at the Tisch School of the Arts at New York University and exhibiting photographer, where she teaches courses on photography and imaging, iconicity, and cultural histories visualizing the black body, women, and gender. Her research examines photography's multifaceted histories, visual culture, the photographic history of Slavery and Emancipation, contemporary women photographers and beauty. She received the John D. and Catherine T MacArthur Fellowship and was a Richard D. Cohen Fellow in African and African American Art, Hutchins Center, Harvard University and a John Simon Guggenheim Fellow. Professor Willis received the NAACP Image Award in 2014 for her co-authored book (with Barbara Krauthamer) Envisioning Emancipation. Other notable projects include The Black Female Body A Photographic History, Reflections in Black: A History of Black Photographers - 1840 to the Present, Posing Beauty: African American Images from the 1890s to the Present, Michelle Obama: The First Lady in Photographs, a NAACP Image Award Literature Winner, and Black Venus 2010: They Called Her 'Hottentot'.
Salamishah Tillet, Ph.D, is The Henry Rutgers Professor of African American and African Studies and Creative Writing, Associate Director of the Clement Price Institute at Rutgers University - Newark, Founding Faculty Director of the New Arts Justice Initiative at Express Newark and Co-Founder of A Long Walk Home. She is a much sought-after commenter on the politics of artistic expression and a leading thinker on the relationship between art and social justice. In 2003, she co-founded A Long Walk Home, a Chicago-based national non-profit that uses art to educate, inspire, and mobilize young people to end violence against girls and women. Her book Sites of Slavery: Citizenship and Racial Democracy in the Post-Civil Rights Imagination (Duke University Press, 2012) examines how contemporary African American artists, writers, and intellectuals remember antebellum slavery within post-Civil Rights America in order to challenge the ongoing exclusion of African Americans from America's civic myths and to model a racially democratic future. She is currently working on a book on the civil rights icon Nina Simone.
Facebook
Tweet