Book Signing! 7 Miles a Second with James Romberger and Marguerite Van Cook
6- 8pm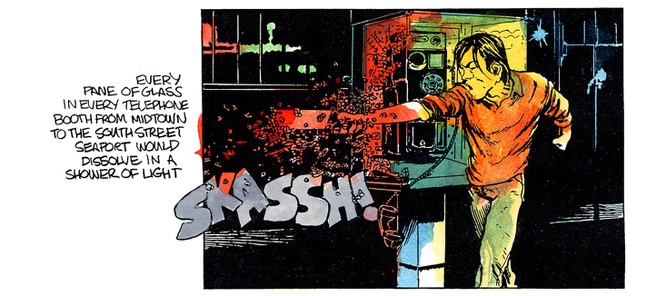 James Romberger and Marguerite Van Cook will be signing copies of the new edition of 7 Miles A Second, the best-selling graphic novel written by David Wojnarowicz. This event takes place at Printed Matter / St Marks at 38 St Marks Pl.
7 Miles a Second is the story of legendary artist David Wojnarowicz, written during the last years before his AIDS-related death in 1992, and drawn by James Romberger with colors by Marguerite Van Cook. The graphic novel depicts Wojnarowicz's childhood of prostitution and drugs on the streets of Manhattan, through his adulthood living with AIDS, and his anger at the indifference of government and health agencies. Romberger and Van Cook's visuals give stunning life to Wojnarowicz's words, blending the gritty naturalism of Lower East Side street life with a hallucinatory, psychedelic imagination that takes perfect advantage of the comics medium.
James Romberger is an American artist and cartoonist known for his depictions of New York's Lower East Side. Romberger's pastel drawings of the ravaged landscape of the Lower East Side and its citizens are in many public and private collections, including the Metropolitan Museum of Art and Brooklyn Museum in New York City.
Marguerite Van Cook came to New York with her punk band The Innocents after touring the UK with The Clash. She stayed, opened a gallery, Ground Zero, with her partner James Romberger, and curated numerous events and shows. Her own work as an artist and filmmaker have placed her in many museum collections, including the Museum of Modern Art, The Whitney Museum, and the Schwartz Art Collection at Harvard. Her other credits include poet, (she was awarded the Van Rensselear Prize while at Columbia) writer, critic, cartoonist, and performance artist.
Facebook
Tweet