Philosophy from B to Z — Book Launch & Performance with B. Wurtz
5-7PM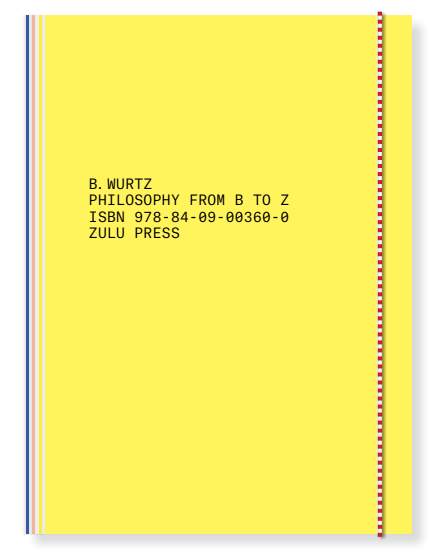 Join NYC-based artist B. Wurtz for a launch of his new artists' book/monograph Philosophy from B to Z, Published by Zulu Press. The event will feature readings from Ann Bobco, Bianca Giaever and Sally Webster, as well as a special guitar performance by B. Wurtz.
Philosophy from B to Z presents over 70 hanging sculptures by the artist produced between 2006 and 2017; with original artworks created especially for the book and, for the first time, three texts written by the artist.
The publication is paired with Decor, an editioned paper sculpture with embossings of 4 wall outlets in 4 colorways.
Philosophy from B to Z is a 108 pages, 226 × 320 mm, soft cover, full color book with a rubber band binding. Printed at Die Keure, Belgium in an edition of 400 copies.
Ann Bobco Ann Bobco has been an executive art director for nearly 25 years in the children's division of Simon & Schuster. Overseeing the design of picture books in 3 imprints there (Atheneum, McElderry Books, and Beach Lane Books) she has worked on a range of award-winning titles, including the design and development of the OLIVIA hardcover series. She's an enthusiastic reader of books for adults and occasionally reads aloud from them to B. Wurtz, her husband of nearly 40 years.
Bianca Giaever Bianca Giaever is a filmmaker and radio producer. In 2013, her college short film the Scared is scared was named " Web Video of the Year " by USA Today. In 2015, she created the award-winning web series Videos 4 U with the NPR show This American Life. Her radio stories have appeared on shows such as This American Life, Radiolab, and Reply All . Her film work has been featured all over the internet, including The New Yorker, The New York Times, Buzzfeed, The Atlantic, and the TED conference. Her film work won a Daytime Emmy for Outstanding Directing as well as a Webby Award . She is represented by m ssng p eces for commercial directing and United Talent Agency for film. Originally from Seattle, she attended Middlebury College. She now lives in Brooklyn with 7 roommates, a music studio, and an art collective.
Sally Webster As a founding member of the Mutants, Sally Webster was a part of the influential art-punk scene in San Francisco in the late '70s and early '80s. She studied sculpture and performance art at the San Francisco Art Institute and has been making visual art ever since.
Zulu Press is an art publisher that explores the book as a physical object, and as a conceptual and symbolic form. We work closely with artists, galleries, and institutions to create books and editions that are conceived as manifestations of the artist's practice: as documentation, as an actual artwork, or as an exhibition itself.
Facebook
Tweet