Smile & Nod - Book Launch with Rami Karim
6-8PM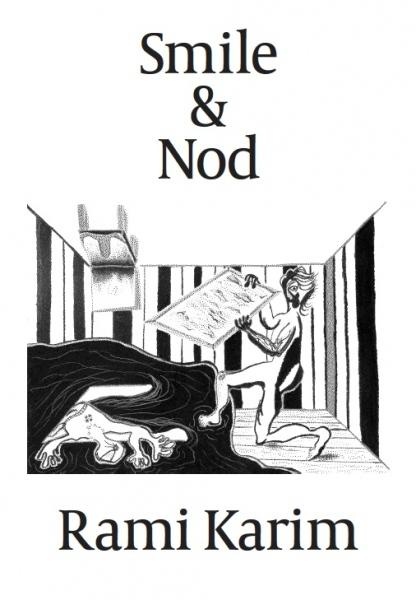 Please join us for the launch of Rami Karim's newly-released Smile & Nod, published by Wendy's Subway. The evening will feature readings by Andrea Abi-Karim, Justin Allen, Xath Gonzalez, Benjamin Krusling, Stacy Szymaszek, and Rami Karim.
Smile & Nod is a record of short experiments in love and counter-surveillance.
Rami Karim is the author of Smile & Nod (Wendy's Subway, 2018). Their work has appeared in The Brooklyn Review, Apogee, Makhzin, The Margins, and Tagvverk, among others. Rami graduated from the Creative Writing MFA at Brooklyn College in 2017, where they received the Rose Goldstein, Himan Brown, and Carole Lainoff awards in writing. Rami is a 2017-18 Margins Fellow at the Asian American Writers' Workshop, a writing instructor at the City University of New York and a 2018 artist-in-residence at Cité internationale des arts in Paris
Wendy's Subway is a non-profit reading room, writing space, and publisher located in Bushwick, Brooklyn. www.wendyssubway.com
On Smile & Nod
Rami Karim's ''Smile & Nod,'' a long poem made of short poems, is a shapely, funny, knowing meditation on what it means to always be getting ready to appear, to be amused and desperate in ongoing ordinary (surveilled) space, to be at ease, alert, in love, and therefore forced to examine the endless multitudes of filters and surfaces all us anyones develop and perform. – Anselm Berrigan
Karim has made their own map in this work, a matrix of words that read as timeless epic and startling, individuated bursts that leave the reader wide-eyed, displaced, and wanting more. The language of intimacy and war are handled with simultaneous care and a sometimes unsettling distance. In "Smile & Nod," Karim shows us what happens to those left to create new life in the aftermath of everyday political violence. – Marwa Hela
Reader Bios
Stacy Szymaszek is a poet and an arts administrator/organizer. She is the author of the books Emptied of All Ships, Hyperglossia, hart island, and Journal of Ugly Sites and Other Journals, which won the Ottoline Prize from Fence Books. Her book A Year From Today is out next month with Nightboat Books. She is a regular teacher for Naropa University's Summer Writing Program and mentor for Queer Art Mentorship. She was the Executive Director of The Poetry Project at St. Mark's Church from 2007-2018. During fall 2018 Szymaszek will be the Hugo Visiting Writer at the University of Montana-Missoula and Poet-in-Resident at Brown University.
Andrea Abi-Karam is an arab-american genderqueer punk poet cyborg, writing on the art of killing bros, the intricacies of cyborg bodies, trauma & delayed healing. Their first full length book EXTRATRANSMISSION is forthcoming from Kelsey Street Press late summer 2018. Andrea's chapbook, THE AFTERMATH (Commune Editions, September 2016), attempts to queer Fanon's vision of how poetry fails to inspire revolution. They toured with Sister Spit March 2018.
Benjamin Krusling is author of a chapbook, GRAPES, and recent work will appear or has in Black Warrior Review, The Recluse, and The Map is Not the Territory. He also makes little movies, ask if you want the link !
Justin Allen is a writer and performer from Northern Virginia. He has read at the Poetry Project, Kampnagel, and Serpentine Sackler Gallery, and performed at Artists Space, Knockdown Center, and Queer Abstract. He is a 2017-2018 Queer|Art Fellow with Mentor Che Gossett.
Xath Gonzalez is a writer and editor from Miami by way of Panamá. She's an editor at Tagvverk Journal and an editorial assistant at Colorlines, where she covers books and state violence. Her work has appeared in Jai Alai Magazine, Greybook, the Museum of Contemporary Art North Miami, NPR and She Shreds.
Facebook
Tweet