Trapper Keeper 6 & Changes — Book Launch with Mega Press
6-8PM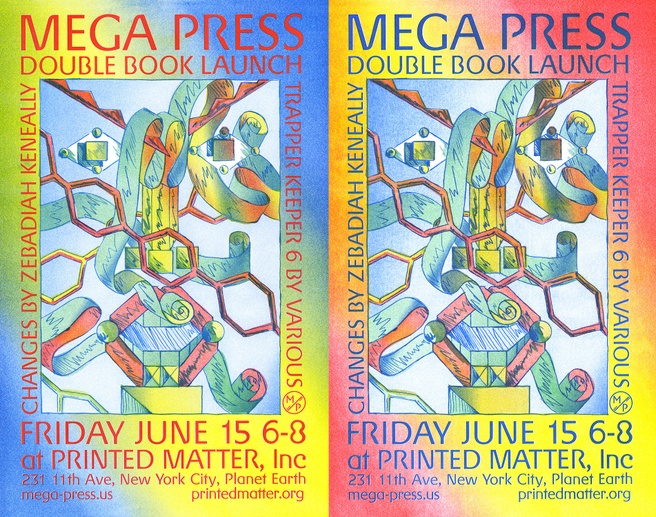 Please join us on Friday, June 15th for a double book launch with Mega Press to release two new titles. Trapper Keeper 6, by various artists, and Changes, by New York City based artist Zebadiah Keneally. The event will feature a performance by Keneally.
Copies of previous book editions, including Megalith 3 and 4 and Trapper Keeper 5, as well as Riso print editions will be available for sale in addition to the new volumes.
About Trapper Keeper 6 Trapper Keeper 6 is the 6th semi-annual dystopian sci fi publication that invites artists from across planet earth to respond to a growing darkness that has overtaken our world over the past decade.
The theme of issue 6 is Cracked Mirror. Artists from the United States, Mexico, Taiwan, Japan, France, Spain, and Greece were asked to explore the idea of distorted reflections. So many conflicts arise from misinterpretations, misplaced assumptions, false ideas, delusions, and confusion. There seems to be a violent clashing of hundreds, thousands, or possibly millions of perspectives in today's world as ideas and aesthetics spread freely across the planet via the internet, globalization, and mass migration. In the long run this will lead to interesting results in culture and art which may lead us to new visions of the future. However, today's humans will have to fight this cacophony and resist the psychosis of Narcissus and Echo as the surface of the water churns so violently as to reflect only monstrous forms.
Printed using the Risograph printing process in New York City in May, 2018. 46 pages. 20.5x26 cm. Numbered limited edition of 300; first printing. It retails for $15.
Featuring works by:
Panayiotis Terzis Yuriko Katori Kurt Woerpel Teng Yung han Irkus Zeberio Alexis Beauclair Anna Pipes Makiko Furuichi Apolo Cacho Nichole Shinn Lane Milburn Ben Marcus Benjamin Brubaker
Cover by Panayiotis Terzis.
About Changes Mega Press also releases Changes, a new publication collecting drawings by NYC based artist Zebadiah Keneally. In this series of images, Keneally explores the idea of time and it's effect on the human condition. Keneally deploys a loose and freeform graphic mark-making style to investigate themes such as the self's relationship to past and future, the relationship between self and spirit, and they ways in which time is spent over the course of a working week. Channeling masters of graphic shorthand such as Guston and Steinberg, Zebadiah Keneally's drawings manage to convey a sense of effortlessness and spontaneity while capturing the timelessness of hieroglyphics. Repeating symbols such as clocks, blockheads and "cool sun dudes" accumulate to comfortably capture themes of work, love, and hope in a system that is able to appear universally recognizable while remaining slightly opaque and idiosyncratic.
Changes is 38 pages, risograph printed on light blue paper in an edition of 200 and retails for $10.
Zebadiah Keneally (b. 1984) is an interdisciplinary artist based in New York City. He has performed at MoMA PS1 for The Classroom at the New York Art Book Fair, the Elizabeth Foundation for the Arts, Y Gallery, Mixed Greens, Manhattan Neighborhood Network and WNYC's Greene Space. Outlet Fine Art presented Keneally's first solo show in 2016. He has published with Nieves Books and Endless Editions. His publications are in the collections of the MoMA Library, the Thomas J. Watson Library at the Metropolitan Museum of Art and the New York Public Library Special Collections. His books are available at Printed Matter. Keneally's drawings, paintings, sculptures, videos and books have been shown in New York City, Los Angeles, Detroit, Ho Chi Minh City, Kuwait City, Melbourne, Prague, Osaka and Ljubljana, Solvenia.
Facebook
Tweet