LA Pages - Self Publishing fair
Presented by 8-Ball Community, Ooga Booga & Friends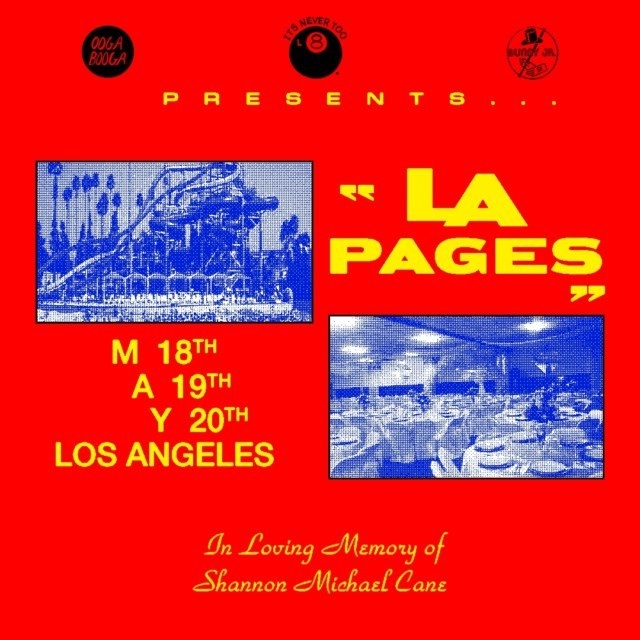 Printed Matter will be participating ine the LA Pages self publishing fair.
8-Ball Community, Bunny Jr and Ooga Booga present LA Pages - Self Publishing fair in memory of Shannon Michael Cane
Everyone is welcome, admission is free.
May 18th - 20th 2018
Mayra's Banquet Hall 6075 Normandie Ave, Los Angeles, CA
Fair Hours: Friday, May 18: 11-7pm Saturday, May 19: 11-7pm Sunday, May 20 :10am-6pm
LA Pages will be producing a series of new editions to support the Fair, featuring works from Sonya Sombreuil, Milano Chow, Devin Troy Strother, Jeffrey Cheung, Cali Dewitt, Barry McGee, Kate Hall, Jen Shear and Kandis Williams. Email 8balleditions@gmail.com for more details.
THU 5/17 / FUNDRAISER DINNER Food by Familia Romero Music performance by Yanga (8pm) $10 entry - All Ages
FRI 5/18 Music curated by 8-Ball Radio Food by Natural Soul Food Music performance by The Black Congress (7pm) Future Preservation / Short film festival curated by 8-Ball TV & Symposium (8pm)
SAT 5/19 Music curated by Bunny Jr. Food by Mai Downs Music performance by É Arenas (7pm)
SUN 5/20 Music curated by Kchung Radio Food by Natural Soul Food Music performance by Jazzy Romero (7pm)
Participating publishers and artists: 8-Ball Community, NY Adam Boothman, Oakland Alexis Gross, LA Allied Forces Press, SF Amadeus Magazine, LA Anna Rose Yoken, LA Anthology Editions, NY As.iZ Magazine, LA Ayesha Shaikh, LA Ben Campbell, LA Burn All Books, San Diego Bunny Jr., LA Chinwe Okona, LA Coloured Publishing, LA Colpa Press, SF cm fenton, Joshua Tree Cooper Larsen, LA Dale Wittig, SF Darin Klein, LA Damir Inbar, LA Deadbeat Club, LA DESCONTROL, LA Desilu Muñoz, LA Destrudo Press, LA Doubles Ltd., San Diego Douglas Gauthier, LA Earth Like Planets, LA First Letter Press, Oakland Floss Editions, Oakland F Magazine, LA Francisco Alvarez Ortiz, LA Francis Ignacio, LA Gato Negro Ediciones, Mexico City Guadalupe Rosales, LA Hamburgereyes, LA Hart & Lëshkina, LA Hellen Jo, LA hellfire press, LA High Desert Test Site, Joshua Tree Isabel Dimaranan, LA Jablo and Friends, LA Jason Jaworski, LA Jesse Fillingham, LA Jen Shear, LA Jim Swill, LA Joe Bruns, LA Joss Debae, Silver Lake Katelyn Hall, LA Kris Chau & Brian Bartus, LA Land & Sea, Oakland A Love Token, LA Martian Press, LA Mitsu Okubo, SF Mixed Greens, LA Modern Women, LA MURRAY/Makaela Stephens, LA My Villain Erotica, LA Natalie Labriola, LA NONAGE, LA Ooga Booga, LA Orange Radio/Beverly Boyz Studios, LA/SF Pickled Productions, LA Play Press, Oakland Printed Matter, NY Rand Paul, LA RE/search, LA Red Lebanese x SLUT, LA/Paris Salvador Covarrubias, LA Sammy Harkham, LA Sarah Davidson, Vancouver Sean Maung, LA Seite Books, LA Silent Sound, LA Solano Archives, LA Spooky World, LA Staci Helms, Denver Subvrt Magazine, LA/Sydney Tiny Splendor, LA Trapset Zines, LA Unity Press, SF uxo collaborative, Oakland Walker Tate, LA wasted books, Oakland We Heard You Like Books, LA What Books Press, LA Wolfman Books, Oakland WSSF, LA Vacancy Projects, LA Yes Press, LA Zorg Metal, LA
Facebook
Tweet