Reading Me : Book Launch with Lukaza Branfman-Verissimo
4-6 PM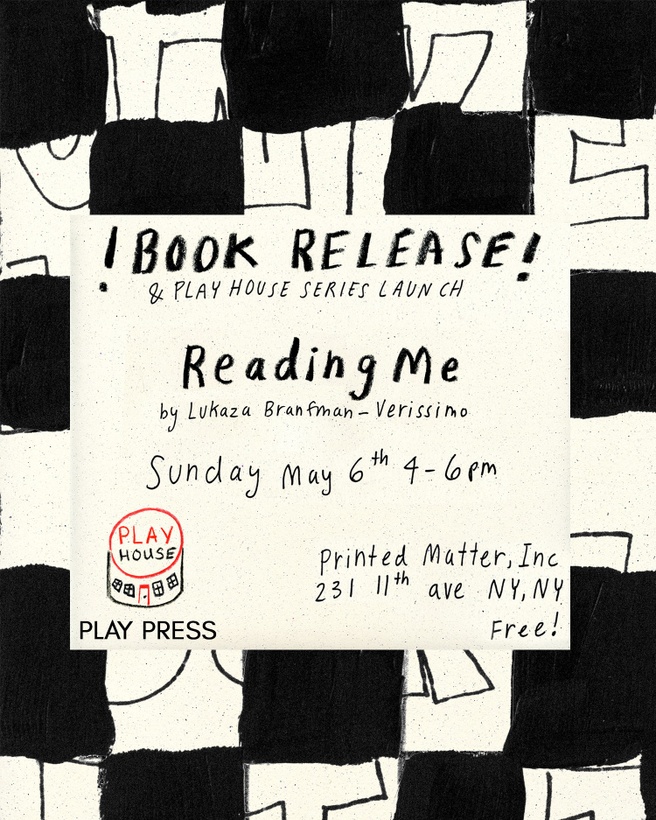 Join us for the release of Reading Me a new publication from artist Lukaza Branfman-Verissimo, published by PLAY PRESS in Oakland, CA. PLAY PRESS will also launch their PLAY HOUSE print series.
READING ME derives from a series of trace monotypes/paintings made for 'I like the way you look at my brown, black, blue body, I don't like the way my brown, black, blue body has been historically looked at,' a solo show by Lukaza Branfman-Verissimo at Lago Projects in Oakland, CA, Winter 2016/17. Thinking about the ways Lukaza's queer, black, female, mixed body is seen in the world. About using her personal experiences to address the ways our bodies are looked at, targeted and treated in the larger community and society as a whole. The first part of the title, celebrates and shines light on the incredible ways that we create communities that support and see us in the truest forms of ourselves. The second part reflects on the terrible ways that our bodies have been perceived, devalued and mistreated historically, and currently. That balance, those polarities and differences, are seen throughout the work in a variety of ways; in black and red checkers, in bold next to delicate text, in sweeping gestures next to hard lines.
The PLAY HOUSE print series transfers power to the artists to direct where Play Press invests its efforts. After the launch of this first project, Lukaza will pick the next artist for Play Press to work with. And that artist or activist or collective or whoever Lukaza chooses, will choose the next person. It's an attempt to expand the community of Play Press: to generate new collaborations. The dots will reveal themselves, and the community will grow!
PLAY PRESS is run by artist Raphael Villet in Oakland, CA. He works with and supports artists to realize their print projects.
_Lukaza Branfman-Verissimo is an artist, arts educator, activist, storyteller & curator who lives and works in Oakland, CA. Branfman-Verissimo's work is informed by her commitment to craft and community, her engagement with society, and interests in storytelling and cultural geography. She received her BFA from California College of the Arts. She has had solo exhibitions at Lago Projects in Oakland, E.M. Wolfman in Oakland, Bolivar Gallery in Los Angeles and forthcoming at Deli Gallery in Queens. Her work has been included in exhibitions and performances at Betti Ono Gallery, Root Division, Deli Gallery, Southern Exposure, SFMOMA, Kala Art Institute, UNTITLED Art Fair and the Berkeley Art Museum. Lukaza has been a visiting artist at the College of Design, Architecture, Art Practice at University of Cincinnati, at New York University, California College of the Arts and at Mills College. She is the co-founder and lead curator at Nook Gallery, a gallery she started in her home kitchen.
Facebook
Tweet