Printed Matter appoints Sonel Breslav as Director of Fairs & Editions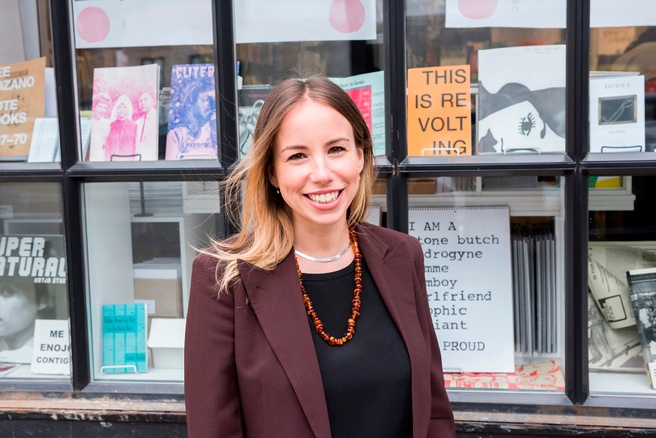 Printed Matter is pleased to announce the appointment of Sonel Breslav as Director of Fairs & Editions. Sonel comes to the organization with ten years experience as an arts administrator and curator, and a long-running engagement with artists' books and the independent publishing community.
In her new capacity as Director of Fairs & Editions, Sonel will oversee all aspects of the NY and LA Art Book Fairs, two of Printed Matter's largest public programs. She will also direct the organization's participation in domestic and international art fairs, as well as curate and manage the production of Printed Matter's fundraising editions.
Most recently, Sonel was National Chapters and Programs Manager at ArtTable, the foremost professional organization dedicated to advancing the leadership of women in the visual arts. From 2013–2017 she was the Director of Murray Guy, New York, where she curated exhibitions of work by gallery artists such as Moyra Davey, Zoe Leonard, and Alejandro Cesarco, among others.
Sonel also has an extensive background within the artists' book community, founding Blonde Art Books in 2012, an independent organization dedicated to promoting small press and self-published art books through exhibitions, talks, and a publishing imprint. In 2013 she initiated the Bushwick Art Books & Zine Fair for a growing community of local publishers, with the most recent event including over 100 exhibitors from across the country and a full schedule of programming.
On her appointment to Director of Fair & Editions, Sonel said: "I'm hugely excited to take on the opportunities and challenges that come with this role, and am eager to contribute to an organization whose mission coincides with my own commitment to artists' publishing and community building. I have always felt that book fairs provide a uniquely meaningful way to capture the energy, ingenuity, and vision of artists and publishers working in the medium. I look forward to pushing the NY and LA Art Book Fairs in new directions, and continuing to build an environment of support for all reaches of a diverse community."
Printed Matter's Executive Director Max Schumann said of the appointment: "We are thrilled to have Sonel taking up the Fair leadership—her long commitment to artists' publishing and experience working closely with artists makes her remarkably well-suited for the role. We're grateful to have such a thoughtful and talented individual joining the organization, and we're excited to see Sonel put her experience to use in support of artists and publishers, and the continued evolution of the NY and LA Art Book Fairs."
Max continued: "We remain indebted to the invaluable contributions of Shannon Michael Cane, who served as the Curator of Fairs and Editions from 2013-2017. His passion and advocacy for emerging artists and publishers heightened the dynamism of Printed Matter's Art Book Fairs— among his many other lasting contributions to the organization—and we look forward to honoring his memory as the Fairs continue into the future."
Dates and exhibitor applications for the NY Art Book Fair 2018 will be announced shortly.
Facebook
Tweet