Imprint 93 :
Matthew Higgs & Bob Nickas
in Conversation
5:30-7PM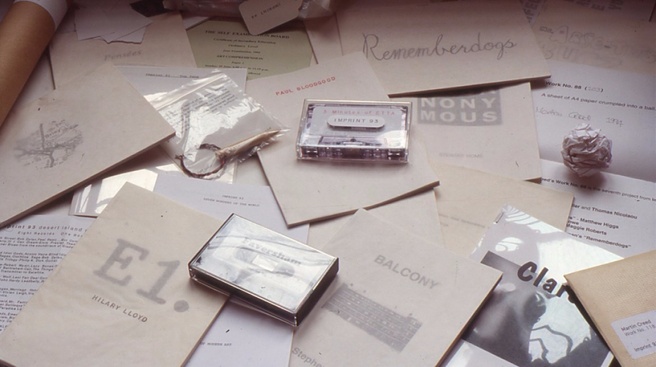 On occasion of our current Imprint 93 exhibition, please join us for a special event with artist and curator Matthew Higgs, joined in conversation by writer and curator Bob Nickas. The two will address the lasting significance of the Imprint 93 project, and speak (anecdotally!) about some of the circumstances surrounding the production of individual Imprint projects. Join on Facebook here.
Active between 1993 and 1998, Imprint 93 was the ongoing curatorial mail art project through which Higgs produced and distributed more than fifty editioned envelop-sized artworks. Working with artists like Martin Creed, Jeremy Deller, Fiona Banner, Chris Ofili, Elizabeth Peyton and others – many of whom were at the beginnings of their careers – the Imprint 93 project helped bring visibility to a whole network of artists working on the periphery of the then-emerging Young British Artists (YBA) movement.
Imprint 93 is on view at Printed Matter through March 3rd. Originating at the Whitechapel Gallery in 2016, this presentation marks the first US showing of the project in its entirety, including many rarely-seen works and related ephemera. Read more about the exhibition here
Matthew Higgs (b. 1964, Wakefield, UK) trained as an artist before becoming known for his independent publishing and curatorial projects, starting in the early 1990s. Over the past twenty-five years Higgs has organized more than 250 exhibitions and projects with artists in Europe and North America. He was previously a Director of Exhibitions at London's ICA, and taught at London's Royal College of Art and Goldsmith's College. In 2001 he relocated to the U.S.A, initially to San Francisco, where he was the curator at the Wattis Institute for Contemporary Arts (2001-2004). Since 2004 he has lived and worked in New York, where he is currently the director of the non-profit art space White Columns.
Bob Nickas has worked as a critic and curator in New York since 1984, during which time he has organized more than 100 exhibitions and gained a reputation for an individual style that transgresses the accepted. Nickas served on the teams responsible for Aperto at the Venice Biennale in 1993 and the 2003 Biennale de Lyon. From 2003-06 he was Curatorial Advisor at P.S.1/MoMA in New York. In addition to numerous catalogs and monographs, he is the author of Painting Abstraction: New Elements in Abstract Painting, and four collections of his writing and interviews, among them The Dept. of Corrections, and Komp-laint Dept., forthcoming from Karma this spring.
Facebook
Tweet