Space Sisters Press - Launch and Conversation with Suzanne McClelland, Amy Smith-Stewart, and Gretchen Kraus
6-8PM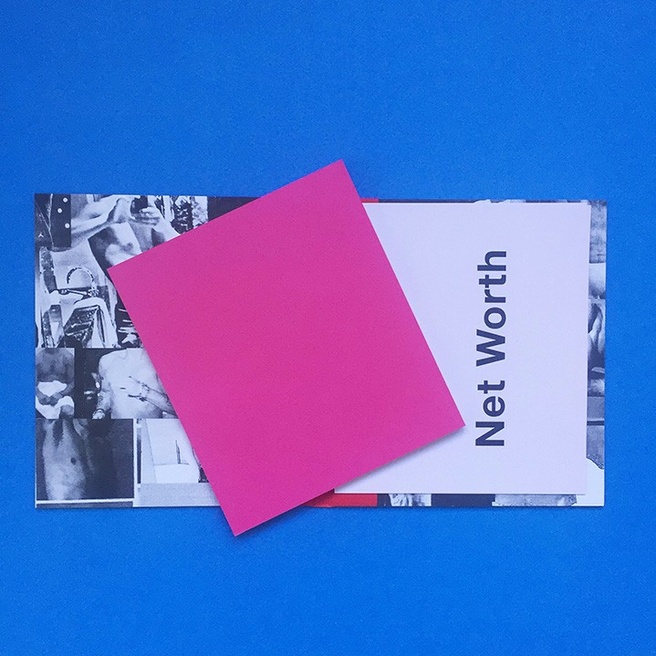 Join us for the launch of Net Worth, a new publication by Suzanne McClelland illustrating the artist's ongoing series of paintings. McClelland will be joined in conversation by curator Amy Smith-Stewart and project co-editor Gretchen Kraus, followed by a book signing. Published by Space Sisters Press.
Net Worth documents Suzanne McClelland's paintings in their entirety to date. The fronts and backs of her canvases are shown side by side - allowing for the whole work to be viewed at once, fully revealing McClelland's portraits. The backs act as information repositories with facts and figures about their subjects (net worth, shoe size, astrological sign, height, weight, etc). The painted canvas and linen, most often visible to the world, begins with and sometimes incorporates and then disguises this fragmented data with the physicality of material substances.
Net Worth is printed in an edition of 100 copies, with the first 30 copies featuring a hand-painted and collaged cover by McClelland.
Located in Beacon, NY, Space Sisters Press, founded by Gretchen Kraus and Emily Devoe, is an artist-centric publisher, focusing predominantly on projects that collaborate with contemporary artists, musicians, and poets on projects that look beyond the boundaries of a typical book.
Suzanne McClelland is represented by Team Gallery in New York and Shane Campbell Gallery in Chicago.
Amy Smith-Stewart is Curator at The Aldrich Contemporary Art Museum in Ridgefield, CT, and the founder of the eponymous nomadic curatorial project, previously located on the Lower East Side. She was formerly a Curator at MoMA PS1, a Curatorial Advisor for the Mary Boone Gallery, the 2006–08 Guest Curator for the Peter Norton Collection and has served on faculty at the School of the Visual Arts, MFA Fine Arts department and the Sotheby's Institute of Art MA Contemporary Art program. She has curated more than sixty exhibitions in museums, collections, galleries and temporary spaces. An exhibition she has curated for The Aldrich and is currently on-view is Anissa Mack: Junk Kaleidoscope (catalogue), which surveys the artist's ongoing project, The Fair. Recent curated exhibitions at The Aldrich include: Suzanne McClelland: Just Left Feel Right, a twenty-seven year survey (catalogue); Beth Campbell: My Potential Future Past, a twenty-year survey (catalogue); Tony Matelli: Hera, a public art commission; David Brooks: Continuous Service Altered Daily, traveled to the Bemis Contemporary Arts Center, Omaha, Nebraska (catalogue); and Virginia Overton, a series of site-specific commissions (catalogue). Upcoming exhibitions include Objects Like Us (2018), curated with artist David Adamo, surveying small objects that personify a condition of humanness, including more than fifty artists that span two generations; Jessi Reaves: Kitchen Arrangement (2018), a site-specific commission and the artist's first solo museum exhibition; Harmony Hammond (2019), the artist's first museum survey, spanning fifty years; N. Dash, a solo exhibition including all new work (2019) and Sara Cwynar (2019), her first solo museum exhibition in the US.
Facebook
Tweet