[theatro] Book Launch and Lecture Performance by Maria Lalou
6-8 PM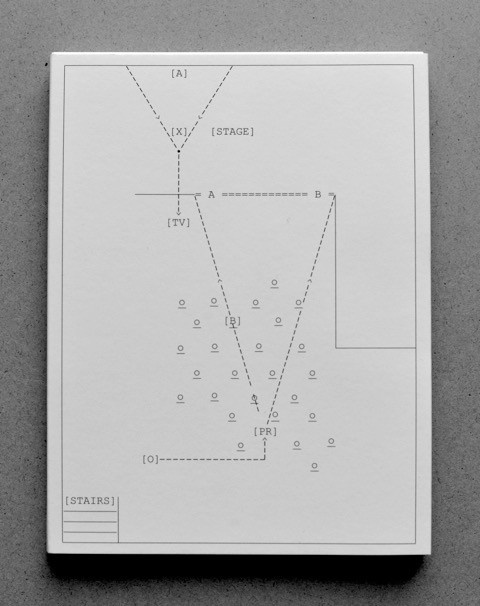 Join Maria Lalou for a lecture performance and book launch of her work [theatro]. The 'theatre of consciousness' lecture performance includes a mediated interface and a series of pre-recorded videos. Lalou presents her arguments on 'the political of the viewer' and reflects how her book [theatro] emerged. The talk unfolds parts of the instructions and methods of the initial work "PUZZLE", presenting her consideration on perception and the ways visual reception affects our thinking process. Following the performance, Andrea Liu (art critic) will have a critical dialogue with Maria Lalou about the increasing convergence of performance as publishing and the use of "artwork-as-system" in Lalou's work.
[theatro] is a rhythmical reading experience; a 5.5 meters long transcript of a seminar performance reflecting its original pulse and duration. [theatro] expands on the notion of 'view' ('thea' in Greek, where the word 'theatre' comes from). The word 'view' is also the root of the word 'theory' [coming from the junction of the words 'thea'(=view) and 'oro'( =to perceive)]. Aiming towards theory as practice, [theatro] is a work of Lalou in the form of a book written in both Greek and English. For further information on the project click here.
During the event Lalou's diagrammatic work related to her focus on 'the seer and the seen' with the title ARCHETYPE will be part of the events unfold as a limited edition available in PRINTED MATTER.
[theatro] by Maria Lalou credits to Katerina Drakopoulou on the role of A and Maro Zacharogianni on the role of B Introduction by Alena Alexandrova Note by Maria Lalou Book Concept by Maria Lalou Graphic Design by Yin Yin Wong, Werkplaats Typographie ArtEZ Institute of the Arts Translation by Maria Lalou and Tania Theodorou Editorial advice of cover by Freek Lomme and Kris Dittel Printed at Lectures Eindhoven Edition : 500
Maria Lalou's works have been presented internationally amongst others at Arti et Amicitiae in Amsterdam, Onomatopee in Eindhoven, Rondo Sztuki Gallery in Katowice, Contemporary Art Museum of Thessaloniki and at the Industrial Museum of Athens. She has been an invited lecturer amongst others at Rijksacademie Studios in Amsterdam at Citadellarte-Fondazione Pistolleto in Biella, and at IUAV of Venice. She has been contributor to the post academic peer review journal 'activate' of Roehampton University in London as well at Leonardo Journal by MIT Press. Lalou has an on-going collaboration with Danish architect Skafte Aymo-Boot working on the archival work [UN]FINISHED about concrete skeletons of Athens, engaging the viewer in a process of looking into social, political and personal parts of the history of Athens. Since 2004 Lalou shares her time between Amsterdam and Athens.
Andrea Liu is a Berlin/New York-based visual art & performance critic (and artist) who researches the distinction between postmodernism as a value-neutral indicator of a time period; as an aesthetic category; as a prognosis of a cultural condition; as an oppositional epistemology that destabilized the grand narratives of the Enlightenment; as a cynical "anything goes" moral relativism. She has given talks/panels at Geffen Museum of Contemporary Art (Los Angeles), Jan Van Eyck Alumni Conference, S.a.L.E Docks, Contemporary Art Centre Vilnius, College Art Association (upcoming), London Conference in Critical Thought, Black Mountain College Museum and Art Center, Affect Factory (NYU Performance Studies Conference), amongst others. She curated "Counterhegemony: Think Lab" at CAC Vilnius and was awarded artist residencies at Atlantic Center for the Arts, MFAH Core, Art & Law Residency, Millay Colony, Ox-Bow, Woodstock Byrdcliffe Guild, Jacob's Pillow, Z/KU-Berlin (Zentrum für Kunst und Urbanistik), Centrale Fies Liveworks Performance Act Award Vol. 4 (amongst others) and was a Core Participant in Anton Vidokle's New Museum Nightschool.
Facebook
Tweet