Once In a Blue Moon:
Book Launch & Reading with Magali Duzant
6-8PM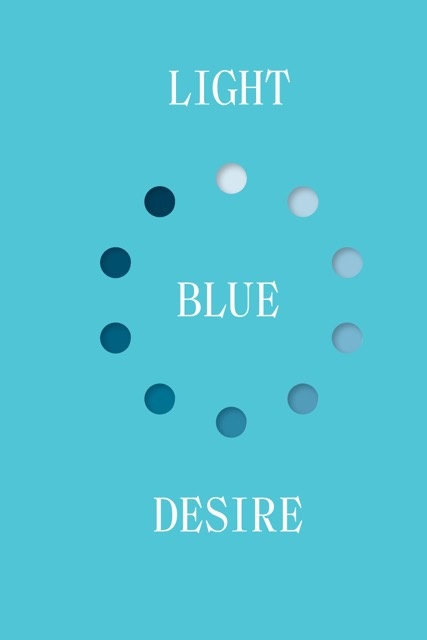 Join us for the launch of Light Blue Desire: A Manual to the Color Blue by Magali Duzant published by Conveyor Editions. The evening—which fittingly coincides with a very rare blue moon*—will include a two-channel video of the moon filmed during this rare astronomical event. In addition, Duzant will give a reading from her recent publications Light Blue Desire and I Looked & Looked, which both explore our relationship to language, color, and the night sky.
Light Blue Desire (2018) investigates the power, failure, and fluidity of language. The project, in its current incarnation as an artist book, lyrically maps the amorphous definition and meaning of the word blue across languages. The collection of idioms reveals a compendium of contradictions; concepts around a color that is both high and low, peaceful and pornographic, melancholic and manipulative, and consistently voted the world's favorite color. How and why does blue seep into our speech, color our thoughts, lap into our languages?
I Looked & Looked (2015) borrows its title from a love letter Alfred Stieglitz wrote to Georgia O'Keeffe, wherein Stieglitz describes a full, white moon over Lake George, New York. On the same night, O'Keeffe penned a description of a pink moon from the shore of York Beach, Maine. This pocket-sized book includes descriptions of the moon, on the same night, from creatives across the world. In I Looked & Looked, Duzant weaves together a narrative, that reflects on our Romantic relationship to the moon, the celestial body that has influenced everything from our spiritual beliefs, emotions, and cultures to our oceans and sciences.
In her collaborative and participatory approach to artist books, Duzant couples research-based practice with a poetic knack for capturing our intimate, yet shared, experiences.
*A Note On The Blue Moon: While the moon can appear blue under extreme atmospheric conditions, like wildfires or volcanic eruptions, the phrase blue moon actually refers to an additional full moon—either the fourth full moon in a season or a second full moon in a calendar month—and has nothing to do with color. Though a blue moon is not as rare as the old saying "once in a blue moon" implies, this particular blue moon coincides with both a total lunar eclipse—also called a "blood moon"—and a supermoon. It is also the second blue moon to occur this month (which only happens every nineteen years).
Conveyor Studio is a production house that specializes in small-run editions of artist books, zines, and other printed matter related to photography. Under the imprint Conveyor Editions, we commission and publish several new projects annually that experiment with the form and function of the contemporary artist book. http://conveyoreditions.com.
Magali Duzant is an interdisciplinary artist whose research-based practice investigates the poetics of perception, subjectivity of seeing, and the roles of technology and translation as mediators of lived experience. Her work has been exhibited internationally most recently at the Queens Museum, Spring Break Art Fair, and Fridman Gallery (New York); NY, Hermitage Museum (St. Petersburg, Russia); and the Sydney College of Art (Sydney, Australia). Public commissions include BRIC, BikeNY and Memorial Sloan Kettering. Duzant is the recipient of a New Work Grant from QCA/DCLA (2018); a SU-CASA grant (2016); and a Queens Council on The Arts Grant for Live Streaming Sunset (2015). Residencies include Picture Berlin; Lumen Studios; Parramatta Artist Studios (Australia); NARS Foundation; and 2017/18 Keyholder in Residence at the Lower East Side Printshop. Duzant holds an MFA in Photography from Parsons The New School for Design and a BHA in Fine Arts and Visual Culture from Carnegie Mellon University. She lives and works in New York City. https://magaliduzant.com.
Facebook
Tweet