Book Book - Conversation and Workshop with Myungah Hyon & Chang Yuchen
3 - 5 PM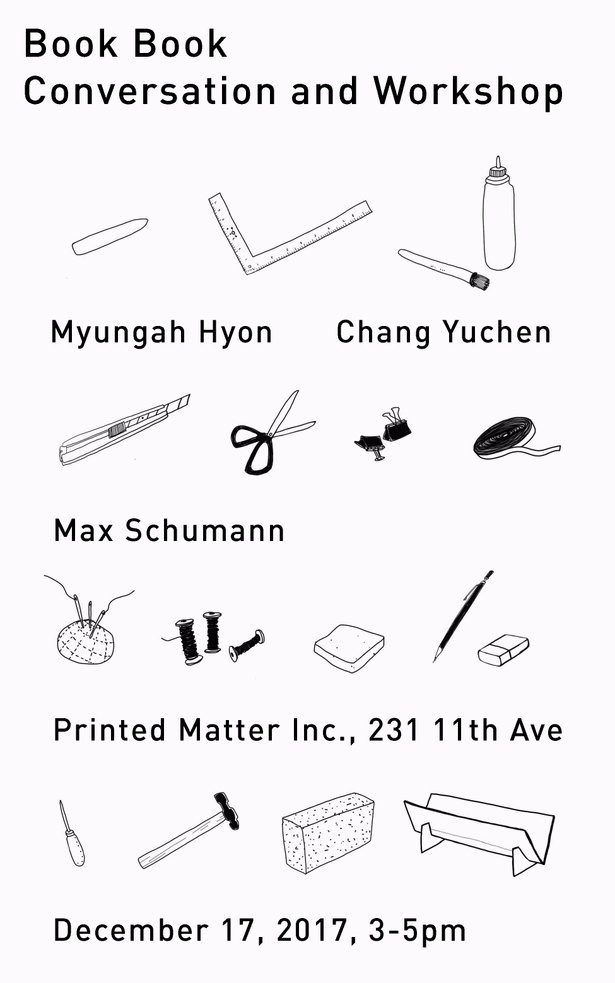 Why do we make books? Why do we make them by hand? What does it mean to own a craft in times like now? Myungah Hyon, Max Schumann and Chang Yuchen will each talk about their experience and vision around book making and artists' books in general. Myungah and Yuchen will also lead a free, participatory workshop, teaching basic book binding styles that are included in their collaborative project Book Book, recently published by DREAMERfty.
Book Book is written by Myungah, illustrated, edited and translated by Yuchen. The work serves as a step by step guide to intro-level bookbinding. Available in English and Chinese editions. A hole-punching cradle is included with each book. While we will try to accommodate all interested participants, the bookbinding workshop is limited by available space. Approximately x20 bookbinding tool sets will be provided.
Myungah Hyon Adjunct Associate Professor, Printmedia (1999). AOCA, 1994, Ontario College of Arts; BFA, 1996, MFA, 1998, School of the Art Institute of Chicago. Exhibitions: Kookmin Art Gallery, Seoul, Korea; Gallery Factory, Seoul, Korea; Riverside Art Center, Riverside, IL; William A. Koehnline Gallery, Des Plaines, IL; Elmhurst Art Museum, IL; Artemisia Gallery, Chicago, Gallery 312, Chicago. Awards: Community Artist Assistant Program, City of Chicago; Seoul Foundation for Arts and Culture; Arts Council Korea. Collections: Joan Flasch Artists' Books Collection, School of the Art Institute of Chicago; Printer Matter, NY.
Chang Yuchen  Chang Yuchen (b. 1989, China) is an artist lives between New York and Beijing. Yuchen's works have been exhibited at Salt Projects (Beijing), Elizabeth Foundation for the Arts (New York), Kyoto Municipal Museum of Art, Gwangju Biennale, Today Art Museum (Beijing) and etc. Her works are collected by MoMA Library (New York), Joan Flasch Artists' Book Collection (Chicago). Yuchen is the recipient of Luminarts Fellowship in 2012 and she's currently an artist in residency at Textile Arts Center, Brooklyn. Yuchen is also a Sales Assistant at Printed Matter Inc.
Max Schumann is the Executive Director of Printed Matter Inc.
DREAMER FTY focuses on books. We publish books as projects, or books as artworks in themselves. Our publications are a means of expression.
Started as an e-magazine in 2007, we later transitioned to paper in 2010. Starting in 2015, DREAMER FTY has organized an annual art book fair in China - abC, the first and largest art book fair for Chinese independent art publications.
谢谢!
Facebook
Tweet