BERLIN 2013/1983 : Daniel Young & Christian Giroux in conversation
6 - 8 PM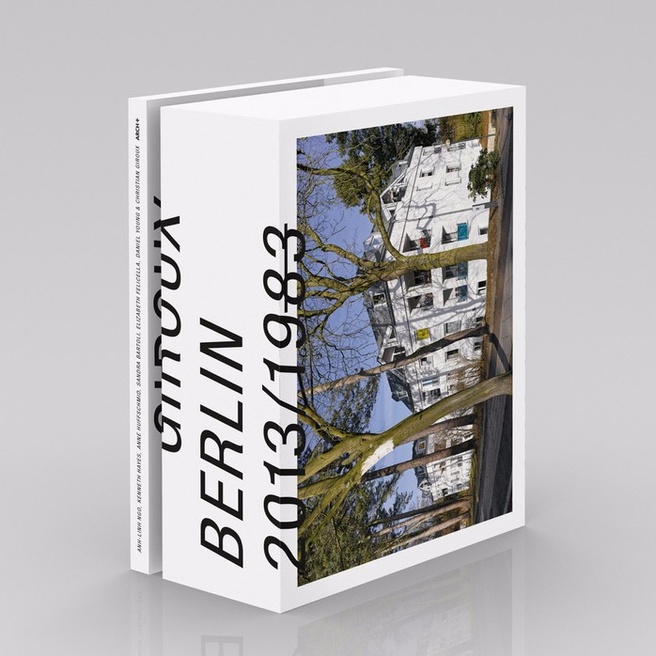 Canadian artists Daniel Young and Christian Giroux are joined in conversation by Felix Burrichter, Editor & Creative Director at PIN-UP Magazine, to discuss their new project BERLIN 2013/1983. Join the event on Facebook here
Published by ARCH+, BERLIN 2013/1983 is Young and Giroux's print rendering of their cinema-installation of the same name. With encyclopedic pretensions the artists document almost every building realized in Berlin in 2013 and present them alongside buildings erected one generation (thirty years) earlier.
This materialist architectural history of the years 2013 and 1983 counteracts the usual Berlin narratives and offers a refreshing, cliché-free view of the everyday structure of the city. The documentation of the over 750 building pairs in Berlin 2013/1983 follows a strictly analytical approach. Beginning at the northwest edge of the city, the artists and commissioned photographers scanned the building fabric for constructions completed in the specified years. They covered the entire urban area in the period between the end of February and the beginning of May 2015.
This surveying method leads to the formation of new narratives. Rather than emphasizing a historical – centralized – or a modern – radial – urban development, this radically democratic form gives the periphery of the city the same value as the centre. The iconic buildings of Berlin-Mitte are only found in the middle of the book and are lost among the sheer abundance of images of new suburban structures.
Berlin 2013/1983 subverts presupposed lines of differentiation, chronologies, and dichotomies between the present and the period preceding the fall of the Berlin Wall, as well as the ideological distinction between East and West Berlin. The flood of images and buildings expose urban patterns beyond any linear logic – a non-hierarchical inventory of architectural form, format, and function.
Published by ARCH+ Verlag, the 1,568-page artist book is accompanied by a text volume containing essays by Sandra Bartoli, Kenneth Haynes, Anne Huffschmid, and Anh-Linh Ngo. These essays highlight the work of the two artists and locate it within the broader context of their oeuvre.
Berlin 2013/1983 is at once artist book, extraordinary architectural guide, and a radical addition to the discourse on architecture and urbanism in Berlin.
Young & Giroux Daniel Young and Christian Giroux have been making art together since 2002. They produce sculpture, public art and film installations. Their work is the product of an ongoing conversation concerning the modernity of the mid-century, the production of space and the built environment. Young and Giroux rework modernist forms of abstraction using consumer goods and industrial prototyping methods, construction systems and componentry to produce sculptural objects that partake in architectural discourse. Their film works constitute a form of research on sculptural form in the built environment from the architectural to the domestic scale.
Facebook
Tweet