And Yet My Mask is Powerful by Basel Abbas and Ruanne Abou-Rahme
Published by Printed Matter
6-8PM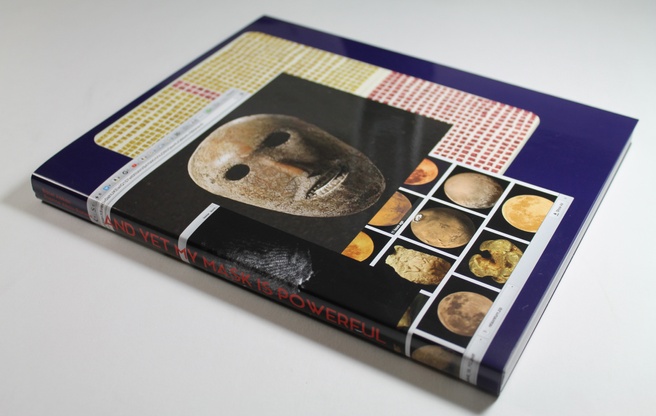 Printed Matter is pleased to announce And Yet My Mask is Powerful, a new publication by Basel Abbas and Ruanne Abou-Rahme. The work is an encompassing visual poem that develops the artists' ongoing project of the same name, exploring the intersections of performativity and ritual, body and artifact, thingness and virtuality.
The publication will launch October 26th, 6-8pm with the artists joined in conversation by Andrew Weiner, Assistant Professor of Art Theory and Criticism at New York University. Join the event on Facebook here.
Comprised of several narrative threads, And Yet My Mask is Powerful is a reflection on violence and crisis as it filters down through history, mythology, and into the complexities of our present moment. Using the tools of poetry, Abbas and Abou-Rahme have produced a speculative sample-driven work that attempts to generate new mythologies in order to infiltrate our prevailing narratives and establish new possibilities.
The book takes Adrienne Rich's poem Diving Into the Wreck (1973) as its starting point and allegorical framework, with portions of that text running through the book in English and Arabic side by side. In Rich's poem, a scuba diver descends down through the fading light, on the verge of losing consciousness but approaching the moment of discovery. "First the air is blue and then / it is bluer and then green and then / black I am blacking out and yet / my mask is powerful / It pumps my blood with power". Abbas and Abou-Rahme's project is placed within this world, confronted with the submerged wreckage and the faint contours of another possible time. A rich blue spot-color printing throughout (pantone 274) was chosen to suggest this liminal place.
And Yet My Mask is Powerful is built up through the layering of original and found imagery, providing both a formal and conceptual structure for thinking about people/place within a living fabric that has been compromised. Archival photos, stills of video/media files, and performance documentation are shuffled and overlapped until unscripted connections start to emerge. For Abbas and Abou-Rahme, the digital archive is a great leveler, and much of the sourced material is mediated through a pervasive 'virtuality' – language and images are presented as screenshots, in TextEdit boxes, or within web-browsers. The approach is a hands-on means by which the artists work through their compiled archive to activate it into something living and unexpectedly material.
Abbas and Abou-Rahme use the trips of young Palestinians to the sites of destroyed villages as an avatar for re-thinking the site of the wreckage. 3d-printed 'hacks' of Neolithic masks unearthed in the West Bank (and now largely in private collections) were used on these sites as a way to initiate new rituals. Printed in black plastic, the masks (like the "grave and awkward" mask of Rich's poem) offer the possibility of 'becoming other, becoming anonymous.
Viewed through the eyes of these reactivated 9000-year old masks, And Yet My Mask is Powerful is a vernacular register of material gathered on site; images of flowers and native vegetation, stones, and ancient objects comprise a living archive of the area's ecological identity and carry the historical memory of the place forward. Abbas and Abou-Rahme process this material through notebook sketches, hand-drawn maps, aerial photography, and google image searches, as well as more oblique found imagery – movie-stills from Jean Luc Godard's In Praise of Love for one – to describe both a sense of persistent erasure and return, though one oriented toward futurity in an unrealized, non-linear time.  And Yet My Mask is Powerful was first presented by the artists as a multimedia installation at Carroll / Fletcher (London) in 2016, comprised of video projections, sound elements, images, and found and fabricated objects. Upcoming solo presentations of the project include KevinSpace Vienna, Kunstverein Hamburg and Krannert Art Museum Illinois.
Published by Printed Matter in an edition of 1000 copies. It measures 8 x 9.5 inches, 184 pages, with sewn signatures, with full color printing and pantone spot-color throughout. Paperback with Swiss 'open' binding and a wraparound dustjacket.   
The book retails for $18.00 and is available for purchase here
For wholesale inquiries please contact sales@printedmatter.org.  
For press inquiries please contact Keith Gray at Keith@printedmatter.org
Facebook
Tweet