On Words, In Deeds by Jean-Baptiste Farkas
With Jean-Baptiste Farkas and a guest lecturer
6-8PM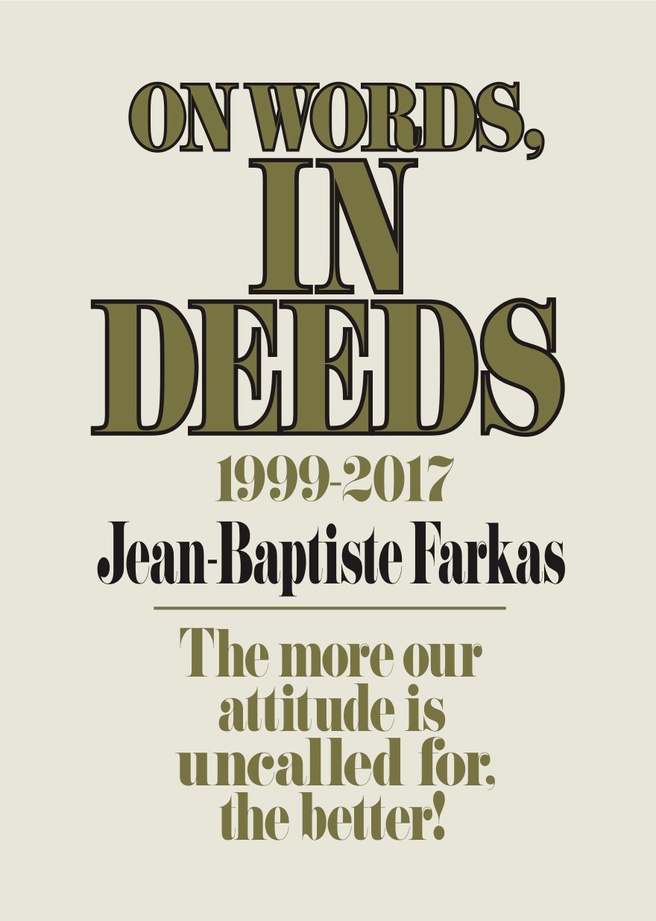 On Words, In Deeds contains sets of instructions conceived between 1999 and 2017. The instructions exist under two brand names: – IKHÉA©SERVICES: "Interrupting the regularity of productive operations" To disrupt, to impede. – Glitch: "A lot more of less!" There is an abundance of everything. Subtraction is therefore our preferred process. These instructions were written to be implemented and owe everything to those who, in doing so, bring them to life.
To participate one may: Put a set of instructions to use. Request the implementation of a set of instructions. Submit a new set of instructions. Submit a variation on a preexisting set of instructions that has been implemented at least once. Purchase one of our services.
Risky situations and debatable motives. All this and much more, shaping an ethics that calls for danger.
Jean-Baptiste Farkas (Paris) provides services where ordinarily it would be expected an art work from an artist.
His collaborative projects are named: IKHÉA©SERVICES (1998), Glitch, Beaucoup plus de moins ! (2002) and PRACTICES IN REMOVE (2015).
Different activations of services at Palais de Tokyo, Musée d'Art Moderne de la Ville de Paris, MAC VAL…
According to him: - The art object is a burden, it has become inessential. - In the present context, subtraction must be considered a major gesture. - Our opinion of authorship, based upon the idea that there is one single author behind each work of art, is a delusion, a convenient shortcut that has to be rethought. - The exhibition is an outdated stylistic device that needs to be abandoned in favour of other approaches, such as manoeuvre or operations.
Facebook
Tweet