Andrea Mastrovito: NYDracula and NYsferatu
5-7 pm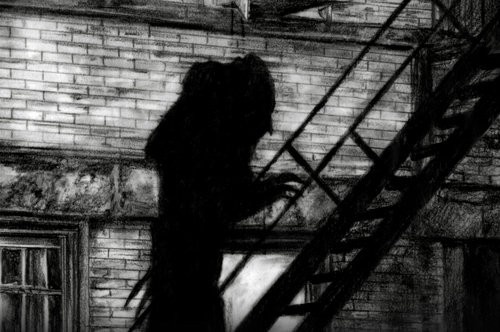 Join us for an event with Andrea Mastrovito for two new publications;"NYDracula", an altered version of Bram Stoker's novel Dracula, and NYsferatu, a coloring book, published by Konnotation in collaboration with More Art.
The books are released in connection with Mastrovito's feature length film project NYsferatu: Symphony of a Century, a hand-animated rotoscope recreation of Friedrich W. Murnau's seminal 1922 film Nosferatu, itself an adaptation of Bram Stoker's Dracula.
The event will include a screening of NYsferatu (65min) followed by a conversation between the artist, joined by Micaela Martegani and Adam Zucker. Attend on Facebook here.
In Mastrovito's NYsferatu the entirety of Nosferatu (1922) is re-drawn, frame by frame, by the artist and a team of twenty assistants. In the process, they created more than 35.000 drawings. Each background scene has been redrawn to set in the film in present day New York City, illustrated three times to replicate the eerie flickering shutter effect of early cinema. The artist, whose installations have captivated viewers throughout Europe and New York, aimed to create a summary of our times, a kind of "everybody's biography" using cinema as a popular language.
Andrea Mastrovito (b. 1978) is a New York based, Italian-born artist whose artistic path snakes through the reinvention of drawing and swings from his studio to the audience through public performances and installations. He is the 2007 recipient of the New York Prize, 2012 recipient of the Moroso Prize, the 2016 recipient of the Ermanno Casoli Prize. Solo exhibitions include N'importe où hors du monde, Chateaux de la Drome (2015), France; Here the Dreamers Sleep, Andersen Museum, Rome (2015); At the End of the Line, GAMEC, Bergamo (2014); and Le Cinque Giornate, Museo del Novecento, Milan (2011). His works have also been included in numerous group exhibitions across Europe and United States including: Museum of Art and Design, New York, MAXXI National Museum of the 21st century and Palazzo delle Esposizioni, Rome; Manchester Art Gallery, Manchester; B.P.S. 22, Charleroi; Museum of Contemporary Design and Applied Arts, Lausanne, and many others.
Since 1990, Micaela Martegani, a native of Italy, has been working in the field of modern and contemporary art as an art historian, independent curator, and art advisor. She pursued a M.A./Ph.D. degree in art history at New York University (ABD 1997). Martegani has taught contemporary art at Pratt Institute, and is now adjunct professor at the School of Visual Arts in New York. She has also worked as a consultant to contemporary art galleries and collectors, and she has published extensively in art magazines and catalogs. After ten years as an independent curator - her last exhibition being the first US retrospective on Costantino Nivola at the Parrish Museum of Art in Southampton, NY (Costantino Nivola in Springs, 2003) - Martegani founded the nonprofit organization More Art in 2004 as a way to help make contemporary art more accessible to the general public. She believes that art has great connective potentials because it offers new ways of communicating that are direct yet non-threatening. Art can change people's outlook on life, and, in particular, it can have a fundamental impact on the most vulnerable members of our society, namely children and the elderly. For More Art Martegani has curated many community-based and socially-engaged art projects with highly respected artists, among others, Krzysztof Wodiczko, Andres Serrano, Joan Jonas, Kimsooja, Xaviera Simmons, Pablo Helguera, Anna Gaskell, Anthony Goicolea, Michael Joo, Tony Oursler, Michael Rakowitz, Tim Rollins, and Gary Simmons.! www.moreart.org
Adam Zucker is an art historian, curator, artist, arts educator, and lifelong New Yorker. He holds an M.A from the City College of New York in Art History/Museum Studies. From 2011-2014 Adam was the co-founder and artistic director of et al Projects, a Brooklyn based gallery committed to showing emerging contemporary artists and under recognized historical artists. As an independent curator, Adam has organized multiple gallery and museum exhibitions. His writing has been published in Berkshire Fine Arts (online), Sculpture Magazine, Black Cat (art journal), and several exhibition catalogs and monographs. Adam is the founder and author of the Rhino Horn Group blog, a contemporary discourse on socially engaged art and figurative painting.
Facebook
Tweet