Kiki Kogelnik: Inner Life - Book Launch and Discussion
6-8 PM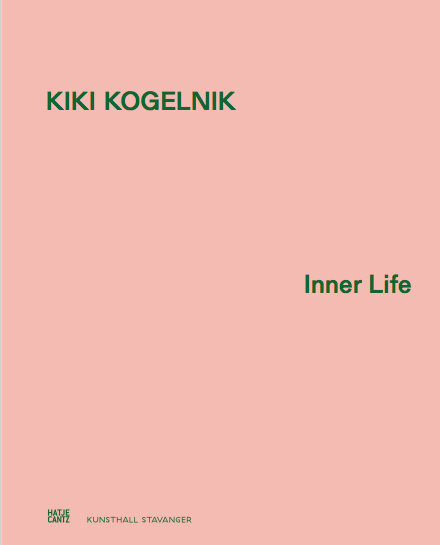 Join us for the New York launch of Kiki Kogelnik: Inner Life, presented with Kunsthall Stavanger.
The evening will include a panel discussion with Wendy Vogel, Jenni Sorkin, and Emily Liebert, moderated by Heather Jones. Copies of the publication will be for sale during the event. Attend on Facebook here
In conjunction with the exhibition of the work of Austrian artist Kiki Kogelnik, Kunsthall Stavanger, Hatje Cantz, and the Kiki Kogelnik Foundation have released a catalog highlighting artworks from the 1960's and 70's, a particularly prolific period of the artist's life. Titled Inner Life, the publication sets Kogelnik's work apart from her Pop-artist colleagues and explores her distinctive aesthetic, close relationship to second-wave feminism, and commentary on politics, social critique, the space age, and the human body. The catalogue presents installation images from the exhibition at Kunsthall Stavanger, a selection of archival images, and commissioned texts from art historian Jenni Sorkin and writer and curator Wendy Vogel, with an introduction by Kunsthall Stavanger Director Hanne Mugaas and design by Alexander Nussbaumer.
_Kiki Kogelnik (1935 -1997) lived and worked in New York and Vienna. Selected one-person exhibitions include Galerie nächst St. Stephan, Vienna (1961); MAK – Museum of Applied Arts, Vienna (1996); Hamburger Kunstverein, Hamburg (2012); Simone Subal Gallery, New York (2012); Kunsthalle Krems, Austria (2013); Modern Art Oxford (2015); König Galerie, Berlin (2016). Selected group exhibitions include the Corcoran Gallery of Art, Washington, D.C. (1965); the Hirshhorn Museum and Sculpture Garden, Washington, D.C. (1976); the Kunsthaus Zürich (1978); the Secession, Vienna (1983); the Museum Het Paleis, The Hague, Netherlands (1997); the Museum of Fine Arts, Budapest (2001); Kunsthalle Krems, Krems, Austria (2003); Kunsthalle Wien, Vienna (2010); Brooklyn Museum, New York (2010); Louisiana Museum, Denmark (2012); Barbican Centre, London (2013); Moderna Museet, Stockholm (2013); Stephen Friedman Gallery, London (2014); Tate Modern, London (2015); Mumok, Vienna (2016); The Approach, London (2017); Salts, Basel (2017). Upcoming exhibitions include Galerie Natalie Seroussi in collaboration with Simone Subal, Paris (2017) (Solo); LUMA Foundation, Zurich (2017) (Groupshow)
Wendy Vogel is a writer and curator based in Brooklyn, New York. She received her Master's degree from the Center for Curatorial Studies at Bard College, and was a Critical Fellow in the Core Program residency at the Museum of Fine Arts Houston. A former editor at Flash Art International, Modern Painters and Art in America, she has contributed to Artforum.com, art-agenda, Art Review, BOMB, Brooklyn Rail, frieze, Kaleidoscope, Mousse and The New York Times, among other publications. Wendy's research interests include legacies of feminist and identity-based practice, as well as the performative and ethical questions around contemporary art production and criticism. She has organized or co-organized curatorial projects at venues including the Hessel Museum at the Center for Curatorial Studies, Bard College, Annandale-on-Hudson, NY; Künstlerhaus Schloss Balmoral, Bad Ems, Germany; The Kitchen, New York; and Abrons Arts Center, New York.
Jenni Sorkin writes on the intersection between gender, material culture, and contemporary art. Her new book, Live Form: Women, Ceramics and Community (University of Chicago Press) was published in July of 2016. She has published widely as an art critic, and her writing has appeared in the New Art Examiner, Art Journal, Art Monthly, East of Borneo, NU: The Nordic Art Review, Frieze, The Journal of Modern Craft, Modern Painters and Third Text. In 2004, she received the Art Journal Award. She has written numerous in-depth catalog essays on feminist art and material culture topics. She has been an invited lecturer at museums including Bellevue Art Museum, Dia Beacon, the ICA, Philadelphia, Menil Collection, Museum of Fine Arts, Houston, Museum of Contemporary Art, Miami, the Victoria & Albert Museum, and the Yale University Art Gallery. She has been a visiting critic at Cranbrook Academy of Art, The School of the Art Institute of Chicago, University of Illinois, Chicago, University of Wisconsin, Madison and the Yale School of Art. She sits on the Editorial Board of Textile: The Journal of Cloth and Culture and was a member of the Editorial Board of Art Journal from 2010-14. She is the recipient of fellowships from the American Council of Learned Societies (2014-15), the Center for Craft, Creativity, and Design (2012), the Getty Research Institute (2010-11), and the ACLS/Luce Fellowship in American Art (2008). She is an Associate Professor, History of Art, at the University of California, Santa Barbara.
Emily Liebert is a Curatorial Assistant at The Museum of Modern Art in the Department of Painting and Sculpture. Prior to her current position she curated the exhibition Multiple Occupancy: Eleanor Antin's "Selves" (2013-2014) at Columbia University's Wallach Art Gallery and the ICA/Boston, which was a finalist for an International Art Critics Association of America (AICA) annual exhibition award. From 2008-2011 Liebert was a Joan Tisch Teaching Fellow at the Whitney Museum, and participated in the Whitney Independent Study Program (2009-2010). Previously, she worked at the Chinati Foundation in Marfa, Texas (2003-2005) and she has taught courses in Columbia's Department of Art History and its School of the Arts. Liebert holds a B.A from Yale (1997) and a Ph.D. from Columbia (2013)._
Facebook
Tweet