Fear Indexing The X-Files: Nora Khan and Steven Warwick
5-7 PM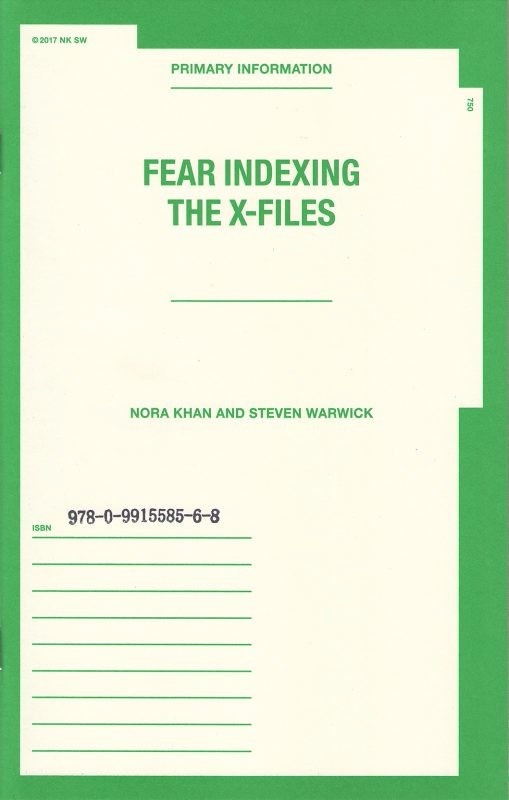 Join us for a conversation with artists Nora Khan and Steven Warwick on occasion of their new project Fear Indexing The X-Files, recently published by Primary Information. Khan and Warwick will read from the book, and will then be joined in conversation by Alexander Iadarola.
For Fear Indexing The X-Files Khan and Warwick combed through the first 9 seasons of The X-Files television series—which ran from 1992 to 2002—gathering and indexing the various fears that appeared as themes throughout the show. The authors employ a documentary-style commentary to narrate how the show posited fear as an inherent quality of domestic life.
The original run of the series aired in the period nestled between the end of the Cold War and the start of the War on Terror—a time in which enemies of the state shifted, with aliens replacing Communism, and a fear of ghosts and the paranormal prefacing our current climate of Islamophobia.
Khan and Warwick take this index and link it to the rise of the World Wide Web and the global internet, which emerged in the same era. As the show developed, its characters became more adept at using the internet, as did its fans, many of whom visited chat rooms and dedicated forums to discuss episode content, speculate on theories, and come up with urban legends of their own.
_Nora Khan is a New York City-based writer of criticism and fiction. She focuses on issues within digital art, the philosophy of technology, electronic music, and artificial intelligence. Khan is a 2016 Thoma Foundation Arts Writing Fellow in Digital Art, a 2017 Eyebeam Research Resident, and a contributing editor at Rhizome. She frequently collaborates with artists, including Katja Novitskova, Yuri Pattison, and Jeremy Shaw, writing essays commissioned by Sternberg Press, Mousse, Chisenhale Gallery, and König Galerie.
Steven Warwick is an artist, musician, and writer based in Berlin. He has exhibited and performed throughout the United States and Europe at venues including Exile Galerie, ICA London, the Modern Institute, MoMA/PS1, MUTEK, the Schinkel Pavillon, the New Theater Berlin, and Unsound Festival. His writings have appeared in Texte zur Kunst, Spike, Urbanomic, Electronic Beats, and The Wire. Warwick records for the label PAN under his name and also as Heatsick._
Alexander Iadarolais a writer based in Brooklyn, NY. His work appears or is forthcoming in Art in America, DIS, Mousse, AQNB, Pitchfork, and elsewhere.
Facebook
Tweet