ON EARTH - Conversation with Manuela and Thiago Eichner
6-8 PM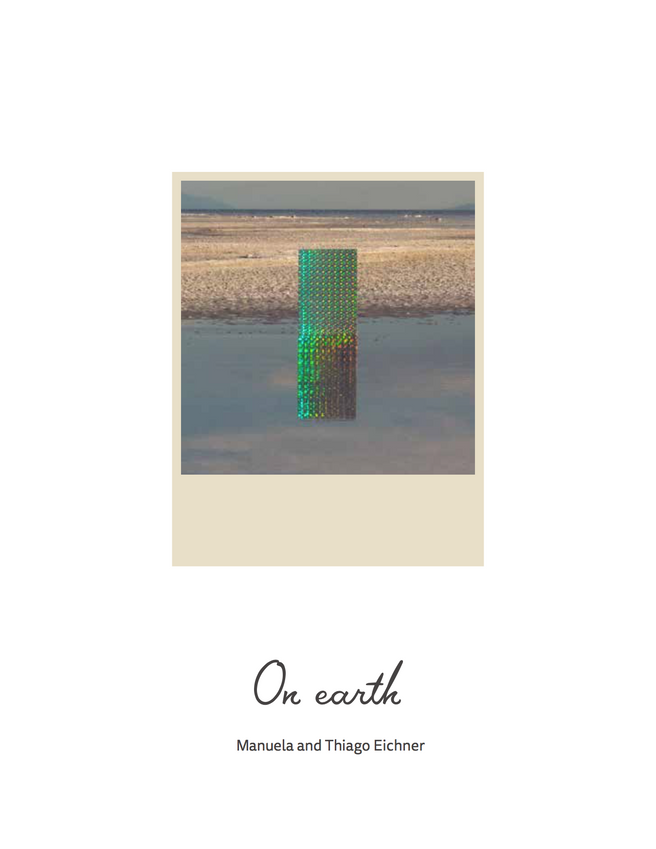 Join us for the launch of On Earth, a geo-fiction inspired by Robert Smithson's Spiral Jetty. Artists Manuela and Thiago Eichner will hold a conversation considering their collaborative action-based art project that brought them to the shore of the Great Salt Lake, Utah, and resulted in an artists' publication tracing that experience. Join the event on Facebook here
On Earth is a geographic narrative plotted on the re-encounter of Thiago and Manuela Eichner at Robert Smithson's Spiral Jetty. The artists use their pilgrimage to investigate Smithson's mythical earthwork, considering the relationship between the physical experience of the work and its documentation.
During seven days of immersive living practice in Rozel Point, west bay of the Great Salt Lake, the artists follow the footprints of Smithson's writings and documents. They embrace a method of being moved – in the sense of inspiration and influence, as well as through space and time – while freely elaborating on it is limits and exploring the totality of that landscape as an open studio.
In this environmental experience, they aimed to also encounter the gateway between the Spiral Jetty as an imaginary and physical site, playing on Smithson's dialectic of site/non-site. Looking to capture the objective brutality of that habitat as the (art historical?) forgotten component of that work of art, they were equipped within information constantly referred by Smithson – in both text and film components of what we know as Spiral Jetty – on the extreme natural conditions so characteristic of salt lakes (salars). It was these components that drove the artist's attention to that environment and also dictated the shape of the work. In his own words, "At that point I was still not sure what shape my work of art would take… but in the end I would let the site determinate what I would build."
As salt grew over their barefoot skin, and the weight of the sun drove them to craziness during many hours a day of work, it also transmuted the labor of art into images that resonate the contagious nature of color and light.
Thiago Eichner lives in Brooklyn, NYC, since 2008. He is an storyteller working in the fields of exhibition and graphic design, with focus on history and non-profit. While in New York, Thiago has pursued his education and training in Art History, having graduated with honors and received the George T. Dorsch Endowed Scholarshipfrom the Art History Department of the Fashion Institute of Technology. Back in Brazil, he was part of the Poetry Experimental Theater Company Pegos no Ato and worked as a performance artist, including a four years residency with the Rock'n'Culture Club Porão do Beco, in Porto Alegre, RS. Thiago has collaborated with many artists as an editor and consultant.
Manuela Eichner lives in São Paulo, Brazil, since 2009. She is a multifaceted visual artist with work ranging from videos and performances to collaborative workshops, illustrations, graphic design and installation. Manuela has participated in a variety of programs worldwide such as Rumos Itaú Cultural in Brazil, Utropic in Poznań, Poland, Zentrum für Kunst und Urbanstik residence in Berlin - Germany and Brooklyn Brush residence in New York - United States. As an illustrator, Manuela produces collages for several Brazilian newspapers and magazines such as Folha de São Paulo and Trip magazine.
Facebook
Tweet