New Eric Timothy Carlson fundraising edition at Art Basel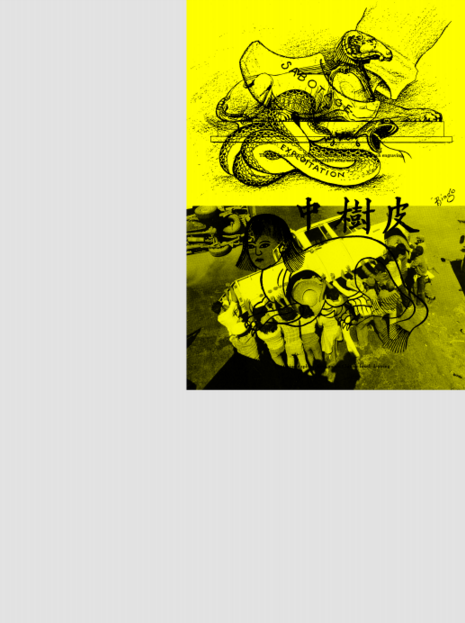 Printed Matter, Inc. is pleased to participate in this year's Art Basel (June 15-18), presenting an installation of Mural Prints by Eric Timothy Carlson and debuting two new fundraising editions by the artist. The new editioned works are realized as a pair of giclee prints with two-color silkscreen overlays, produced as part of the artist's ongoing 'NYPLPC' series in which he accumulates and sequences found imagery sourced from the New York Public Library Picture Collection. Alongside a selection of out of print material at the Printed Matter booth, we'll have three separate editions of Carlson's sold-out NYPLPCETC 01-04 publication available for purchase.
See a table of available material here.
Carlson (b 1984) is a Brooklyn-based interdisciplinary artist with a background in design, often creating assemblage works that are built around semiotic meaning. The 'NYPLPC' project considers broadly how institutions, academics and archivists work to establish a historical record through systems of codification and examination, and how this history is continually unraveled by the effacement of time. Carlson's work builds on the interaction of a nuanced set of symbols that, in spite of this, persist in transmitting ideas and feelings across the course of human existence and into our present.
The first of Carlson's two prints, NYPLPC Epitome 1. Chimera Barricade Sabot, combines an evocative set of visual elements that illustrate various systems/symbols of control met by acts of resistance. An engraving of an Egyptian criosphinx (the body of a lion, with the head of a lamb) is overlaid with an illustration of a traditional wooden shoe – a 'sabot', with roots to the word 'sabotage' – shown crushing a rattlesnake. A second paired image features another depiction of a sphinx – this time from a Late Imperial Chinese brush painting – which is laid across a photo depicting a worker uprising as they create a barricade out of the overturned vehicles.
Carlson's second work, NYPLPC Epitome 2. I'm Hominini I'm L'Orange, is constructed in a similar way. The print features a color slide transparency of Lucy (Australopithecus), which is laid across an image of Pierrot the clown–dressed in a clergy-style white robe. Carlson seems to suggest again that culture is a transmission reaching back through all of human-scale time, and that it is one in a perpetual cycle of ruin and renewal. As Will Luckman writes of the series: "We interpret and synthesize the intentional and unintentional messages our ancestors have imperfectly advanced, guided by the contemporary culture in which we are immersed. Where historians fail, or when civilization falters, artists and shamans will pick up the thread."
The two prints have been conceived as a diptych. Placed side by side, the geometric screenprinted elements connect them into a single narrative work, in which two prevalent facets of the 'NYPLPC' project play off each other and create a new direction for meaning.
NYPLPC Epitome 1 and NYPLPC Epitome 2 are giclee prints on hot press bright paper 330 gsm with two-color silkscreen print overlays. Each print image is produced in a signed and numbered edition of 18. Works are available individually for $350 each, or can be purchased together for $650.00.
Works will be for sale at the Printed Matter Art Basel booth, with remaining works made available on the Printed Matter website starting Tuesday, June 20th.
Bio Eric Timothy Carlson (b. 1984, USA.) is an interdisciplinary artist from Brooklyn, New York working with collections of semiotic content generated through processes of drawing, image/object collection, and assemblage. Since 2006 he has maintained a diverse exhibition history exhibiting at both art institutions and DIY spaces; a self-publishing practice producing zines and artists books; and an independent design studio working with artists and musicians for which he was Grammy Nominated in 2016. He has an upcoming exhibition at Pioneer works July–August of 2017 at Pioneer Works in Brooklyn.
Facebook
Tweet