Collection/ Correction by Andrew James Paterson
Reading and Screening
5-7PM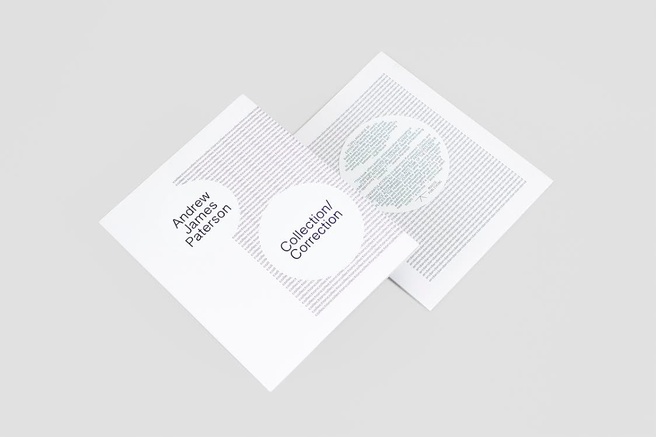 Please join us for the launch of Collection/Correction, the first survey of Andrew James Paterson's writings with a reading and screening presented by the artist and editor Jacob Korczynski.
Andrew James Paterson has been producing videos, music and performances for almost forty years. However, his active engagement with all three media is united by a single and often solitary act: writing.
Co-published by Kunstverein Toronto & Mousse Publishing and designed by Laura Pappa & Lotte Lara Schröder, Collection/Correction is anchored upon a series of new and recent poems by Paterson, scripts of his videos The Walking Philosopher (2001), Eating Regular (2004), 12 x 26 (2008) and Passing (2013), as well as four of his fictocriticism texts that were originally published in IMPULSE magazine between 1980 and 1989.
Of Collection/Correction, Ruth Noack asks: "Can language be eaten? Can words be used to build a castle? Would the artist's prose and poetry provide us with another path to culture than the one trudged by philosophy, literature and criticism? Andrew James Paterson's writings perform for his readers the liminality between cognition and art."
Andrew James Paterson (b. Toronto, 1952) is an interdisciplinary artist working with video, film, music, performance and writing. He has exhibited and performed his works since 1979; and Collection/Correction marks the first survey of his practice. All of his work, regardless of discipline, shares concerns with language, bodies, and technologies; as well as a fascination with shifting paradigms between public and private realms. His writing has been published by YYZ Books, IMPULSE Magazine, FUSE Magazine, PUBLIC and FILE, amongst others. His videos have been presented internationally, including DokFest in Kassel, Germany; EXPERIMENTA in Bangalore, India; EXIS in Seoul, South Korea; MIX in New York, USA; and at the Images Festival and Inside Out in Toronto amongst many other venues. His video work is distributed by Vtape. He was a founding member of the influential band The Government and is currently a member of DERWATT.
Jacob Korczynski is an independent curator based in Toronto. He has curated projects for the Stedelijk Museum, Gallery TPW, If I Can't Dance I Don't Want to Be Part of Your Revolution, Oakville Galleries and the Badischer Kunstverein and his writing has been published by art-agenda, C Magazine, Flash Art, Girls Like Us and Little Joe.
Production of Collection/Correction was made possible through the generous support of the Canada Council for the Arts and the Ontario Arts Council.
Facebook
Tweet