New LAABF Fundraising Editions from Ricky Swallow & Peter Shire, Ruth van Beek, and Mike Mills & Experimental Jetset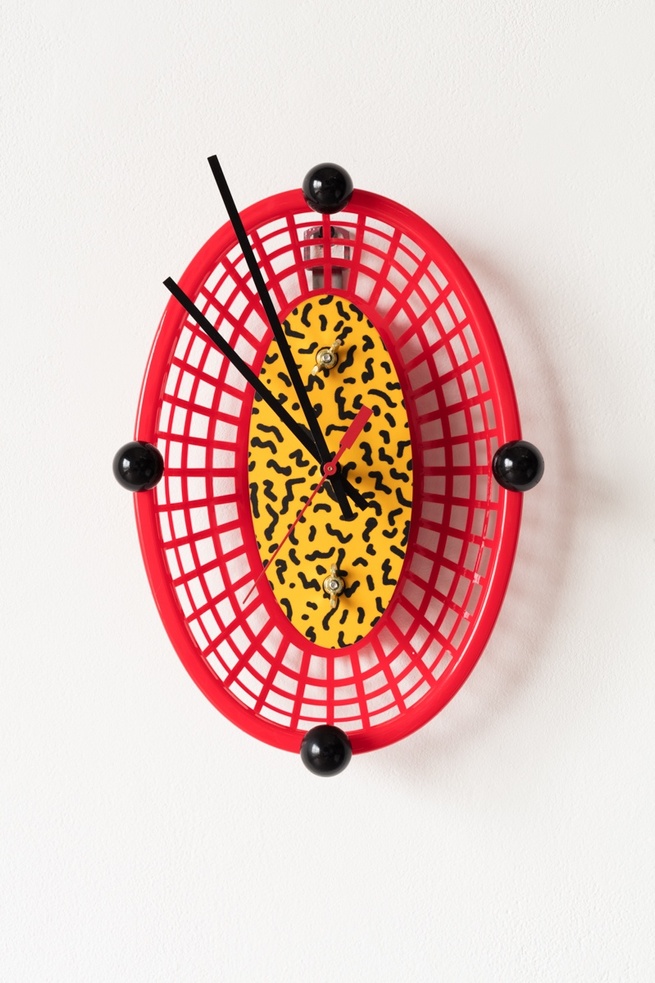 Printed Matter presents new limited-edition artworks by Ricky Swallow & Peter Shire, Ruth van Beek and Mike Mills & Experimental Jetset. Purchase of these editions directly support the Book Fair, helping to ensure the event remains free.
Ricky Swallow and Peter Shire New for the LA Art Book Fair, Ricky Swallow and Peter Shire have produced "HOT DOGG CLOCK" in an edition of 20 in two color ways (40 total).
The clock form has reoccurred in both artists work and it was signaled out as a form the artists thought would be worth the wrangle.
Motivated by both an economy of materials and wanting to make something utilizing existing and often over looked components- the clock is built around the structure of a classic oval BBQ or fast food basket, with it's convenient webbed structure representing the days hours.
The main central graphic panel is cut from deadstock Memphis laminate in the "bacterio" pattern designed by Ettore Sottsass in 1978. The wooden balls, sprayed in gloss black push the objects design into further relief- with the over sized hands extending beyond their visual plane.
The edition is hand assembled in Shire's LA studio and comes boxed with a signed stamped certificate on checkered "deli wrap" paper- in addition each clock has a hand etched metal tag which is signed and numbered on the reverse.
Battery not included folks.
Ruth van Beek
Ruth van Beek (b. 1977, Zaandam, The Netherlands) has created a fundraising edition for Printed Matter's 2017 LA Art Book Fair, Conversation 1, a signed offset print on Rigical gray paper featuring a collage of two flower arrangements in dialogue.
Van Beek cuts, folds, and reassembles vernacular photography from her growing archive of vintage guidebooks and instructional publications to create characters out of domestic fixtures, like houseplants and pets.
In Conversation 1, van Beek takes source material from books about Ikebana, the Japanese art of flower arrangement, extracting two black-and-white photographs of plant sculptures and rotating them so that they confront each other on the page. Untethered to their former still-lifes, these once isolated displays of nature now spar and converse, limbs outstretched and tangled in fervent gesture.
Mike Mills & Experimental Jetset
Filmmaker, Artist, and Graphic Designer Mike Mills has teamed up with Amsterdam-based Graphic Design Studio Experimental Jetset to bring us a politically motivated Ticket Edition for this year's LA Art Book Fair.
The Edition is a folded poster with a simple, impactful message relaying the number of popular votes that Hillary Clinton received over her opponent.
Pointing to the incongruence between the popular vote and that of the electoral college, this edition calls attention to the faults within the current voting system in the USA.
Folded and stamped offset poster 24 x 18 inches Edition of 2000
Facebook
Tweet