Imaginary Concerts by Peter Coffin
New Publication with Anthology Editions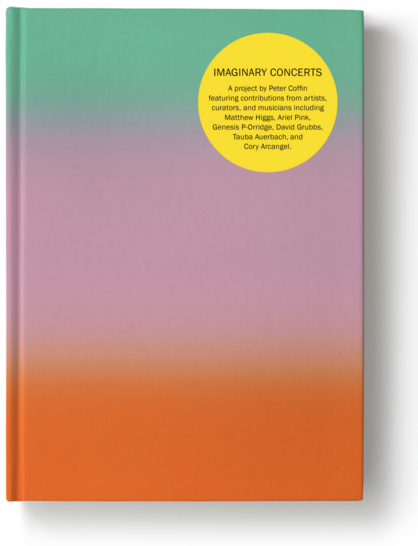 Printed Matter is pleased to announce the publication of Imaginary Concerts by Peter Coffin, co-published with Anthology Editions and released on occasion of the LA Art Book Fair. Coffin will lead a discussion at the Fair as part of The Classroom series on Sunday, February 26, 3PM (details here).
Imaginary Concerts is a collaborative project organized by Coffin, featuring the contributions of more than 75 artists, curators, and musicians. At the artist's invitation, each contributor submitted a fictitious concert line-up they'd like to one day see take place, regardless of how unrealistic or unrealizable. The billings were giving to designer Adam Turnbull, who typeset the texts in the house style of the Colby Poster Printing Co., the LA-based print shop which famously churned out iconic "show print" posters for nearly 65 years before closing their doors in 2012.
With contributions from Lizzi Bougatsos, Rhys Chatham, Kerstin Brätsch, Malcolm Mooney, Nico Muhly, Genesis P-Orridge, Charlemagne Palestine, and many others, the dream line-ups span across generations and musical genre to fulfill some individualized fantasy. The far-reaching mashups – sometimes whimsical or humorous – are also revealing of the profound impact that the concert experience has had for many. Accessing this musical history (even as a fabricated one) through the varied and expansive knowledge of the contributors gives us something that feels deeply personal, driven by nostalgia and remembrance as maybe music is uniquely suited to do.
The creation of Imaginary Concerts was preceded by Untitled (Designs for Colby Poster Co.), a lithograph print series which the artist initiated in 2008. The works are stripped altogether of the blocky letterpress text which would usually present specifics of the concert. The resulting prints are dreamy three-color gradients suggestive of LA's smog-lined sunsets. A selection of these Untitled prints will be on view adjacent to the Printed Matter booth during the LA Art Book Fair.
Including contributions from: Tauba Auerbach, Mark Beasley and Dan Fox, Adrianne Born, Lizzi Bougatsos, Kerstin Brätsch, Edgar Um Bucholtz, Rhys Chatham, Bill Coffin, Bjorn Copeland, Jan von Dallwitz, Simon Davenport, Jeff Davis, Brian DeGraw, Bridget Donahue and Jory Rabinovitz, Paul Duncan, ESP TV (Victoria Keddie and Scott Kiernan), EYE, Leo Fitzpatrick, Don Fleming, Alexis Georgopoulos, David Grubbs, Guardian Alien (Alex Drewchin and Greg Fox), Frank Haines, Kurt von Hammerstein, Patrick Higgins, Matthew Higgs, Sam Hillmer, James Hoff, Christian Holstad, Karl Holmqvist, Beth Houfek and Dean Spunt, Dan Hougland, Marc Hundley, Jay Israelson, Rose Kallal, Andrew Kuo, Steve Kurtz, Karl LaRocca, Sadie Laska, Mark Leckey, Cary Leibowitz, Devon E. Levins, Nate Lowman, Justin Luke, Nicky Mao, Ari Marcopoulos, Adam McEwen, Malcolm Mooney, Nico Muhly, Takeshi Murata, Virginia Overton, Genesis P-Orridge, Charlemagne Palestine, Asher Penn, Ariel Pink, Lee Ranaldo, Larry Rinder, Lele Saveri, Richard von der Schulenburg, Kerry Schuss, Mike Seely, Trevor Shimizu, Sun Araw, Alexis Taylor, Nico Tepreff, Title TK (Cory Arcangel, Howie Chen and Alan Licht), Prince Toffe, John Tremblay, Neville Wakefield, and Matt Werth
Imaginary Concerts is designed and typeset by Adam Turnbull. It is printed in an edition of 1000, hardcover, smyth sewn, full color, and retails for $29.95.
Preorder the book here. Expected ship date is March 15. Any additional titles purchased with Imaginary Concerts will be held until entire order is ready for shipment.
Anthology is an exploratory endeavor that manifests pop culture heritage without limitation of genre or form. Anthology elevates a practice of archival preservation through responsibly licensed material, compelling design, and definitive presentation.
A partnership between Mexican Summer's Anthology reissue imprint and Boo-Hooray, Anthology Editions is a publishing house that uncovers and fashions cultural narratives as books, collections, and exhibitions. Stories of every caliber and color communicate and resonate within the new canon Anthology Editions seeks to establish.
Facebook
Tweet