Nicolas Jaar - Network
New publication, with Other People
February 8 - March 9, 2017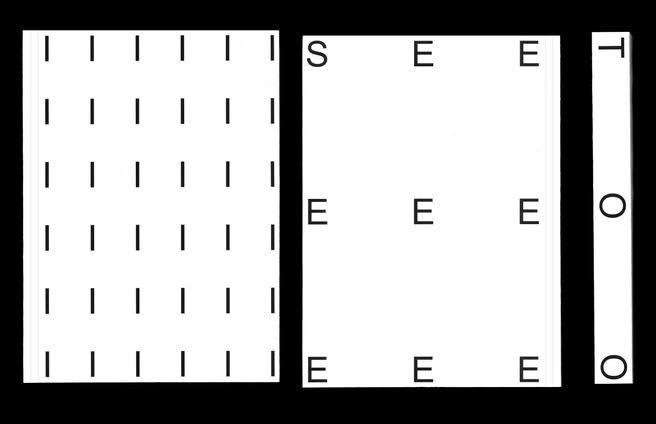 Printed Matter is pleased to announce the publication of Network, an artists' project by Nicolas Jaar, co-published with his label Other People. Designed by Jena Myung and Maziyar Pahlevan, the book is the culmination of a multi-phase project from Jaar which takes the form of an online, semi-fictitious network of interlocking radio stations built around chance operations.
Network, like the web-based radio network which precedes it, is conceived in thirds and built from three primary threads:
i. new visual essays and text contributions from Lydia Lunch, Linda van Deursen and Nicolas Jaar
ii. poster artwork advertising 111 radio shows (across 333 stations) created by Pahlevan, Myung, and Jaar
iii. Loose transcriptions of each radio program, comprised of sprawling text culminating in a full-color section of manipulated images. ​
Invited in 2015 by the BBC to participate in a 6-month residency, Jaar instead set out to write a radio play which positioned an invented DJ at the helm of his own residency inside a fake BBC-style radio world. The program was ultimately deemed too far out and never realized. In its place Jaar approached programmer Cole Brown to collaboratively devise http://other-people.network, a website which would host the programs on continuous loop inviting users to sift through the stations with a radio like dial - and later - a random number inputting system, 1-333.
The stations are made up of more than 20 hours of Jaar's own mixes as well as original music, among them his recently released album Sirens – the remaining are constructed "fakes", conceptual audio works created with the help of voice actors. Billionaire FM counts down and offers commentary on the annual Forbes list of world's top billionaires one by one. MATTA CLARK DEMOLITIONS is comprised of "noises" gathered from the structures which artist Gordon Matta Clark transformed into architectural cut-ups. Red Bull Sponsored Revolutions plays Mozart 24/7.
In its form and content, Network gives theoretical consideration to the inherent political possibilities of radio broadcast. The contributed texts and transcribed radio-chatter that filter through the book offer ways of resistance against entrenched power-structures (of political systems, of the mega-wealthy). Resistencia de Ayer Es La Resistencia de hoy, a station which plays exclusively Latin American Resistance music from the 60-70s, is one such example, though the work of the project is more broadly interested in the model/mechanism itself, a distribution system (in radio and publications alike) which is capable of operating 'underground', through pirate channels, and outside the reach of the State. Nicolas Jaar's Network is looking for word of the revolution, but guarded against the fear it may come Red Bull-sponsored.
Network is 8 x 11 inches, 336 pages, otabound with smythe sewn signatures. The publication features fore-edge printing and includes a half-sheet bookmark. It is printed on 120 gsm Munken Polar Rough, in a first edition of 1100 copies.
Network retails for $33.00 and is available for purchase at the LA Art Book Fair (Feb 23-26) or can be PREORDERED online through the Printed Matter website here. Expected ship-out date is March 23, 2017. Order here.
Nicolas Jaar is a Chilean producer, mixing engineer, and dj based in ny.
For more information please contact keith@printedmatter.org
Facebook
Tweet