Field Guide to the High Line - Mark Dion
New Publication - Updated 2nd Edition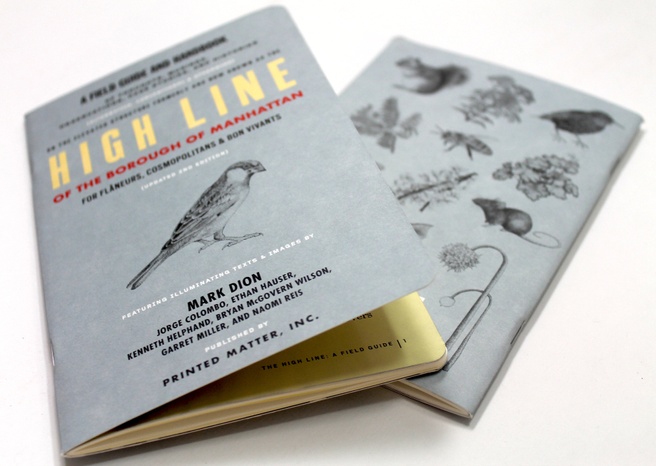 Printed Matter is pleased to release an updated 2nd edition of its best-selling title A Field Guide and Handbook to the High Line from artist Mark Dion. The publication is co-published with Friends of the High Line, the nonprofit organization that maintains and operates New York's High Line park.
A Field Guide and Handbook to the High Line is a pocket-sized artists' project offering an alternative survey to some curious aspects of New York's elevated High Line park. Presenting an account – both anecdotal and scientifically minded – of the fauna and insect-life that thrives there, the book serves as a colorful introduction to the vast and varied ecology of the High Line. Full of peculiar observations, rumors, speculations, and mostly-true facts, Field Guide captures the manifold experience of moving along the elevated greenway through a towering cityscape.
Editor Ethan Hauser and art historian Kenneth Helphand have offered essay contributions that consider the historical significance of the structure and place it within a broader trajectory of urban design through precedents of "an elevated plain". The project is designed by New Yorker-illustrator Jorge Colombo and includes several of his own digital artworks that are finger painted on an iPhone. Illustrations of High Line wildlife are by Bryan Wilson.
This re-edition of Field Guide includes a new cover colorway, updates the High Line's 87-year timeline (bringing us to present), as well as an expanded map from Naomi & Emmy Reis to include the newest section of the High Line extending north of West 30th street.
The publication is offset-printed in an edition of 6000 copies, saddle-stitched, and retails for $15.00. The title is available for purchase through the Printed Matter website here.
Worldwide distribution is available through Distributed Art Publishers.
Birds of the High Line Mark Dion Fundraising Print
A new 2-color screenprint from Mark Dion was released earlier this year to support the 2nd printing of Field Guide to the High Line.
Birds of the High Line is a call to order for a disparate cast of avian wildlife you may or may not ever encounter on the elevated High Line park. The print offers a comedic appraisal of scientific methodology and ordering of the natural world, and serves as a companion piece to the quirky artists' field guide and handbook of thoughts, musings, observations, case studies, and histories (alternative, conventional, and otherwise), published in Dion's Field Guide.
Signed and numbered by the artist in an edition of 50. Available for purchase here.
Mark Dion is an American artist well known for a challenging body of work dealing with scientific methodology and orders of classification. His installations often take the form of curiosity cabinets, collecting and organizing objects to investigate how we come to understand history, knowledge and the natural world. In 2004 Dion had a major exhibition at the MoMA. He is represented by Tanya Bonakdar Gallery, New York.
Facebook
Tweet