V_NV 1620 by Tarwuk - Book Launch
6-8PM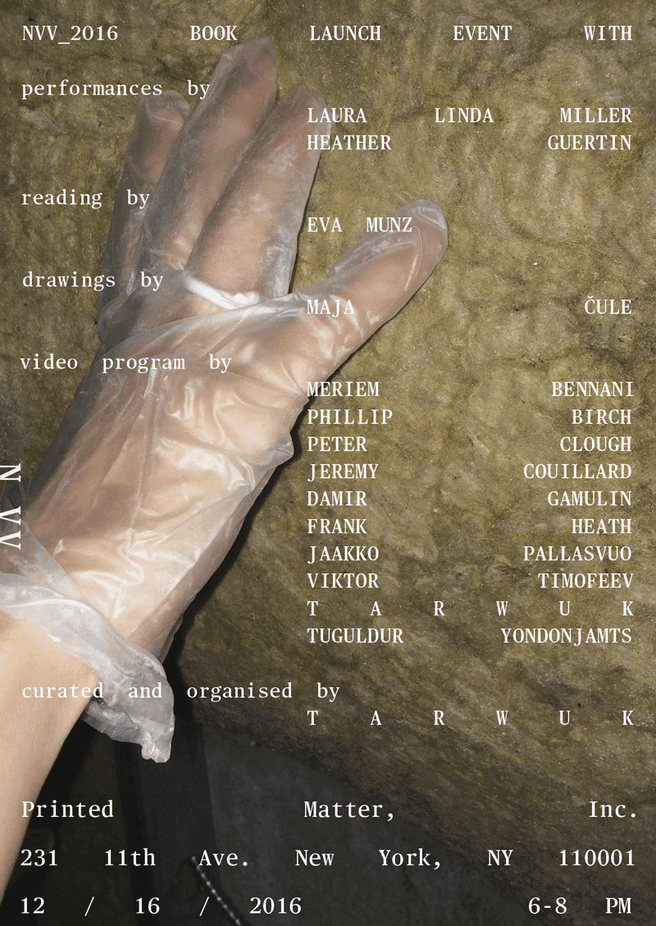 Artist duo Tarwuk (Bruno Pogacnik Wukodrakula and Ivana Vuksic) host an evening to celebrate the launch of V_NV 1620. The launch event will include performances by Laura Linda Miller and Heather Guertin, a reading by Eva Munz, an exhibition of drawings by Maja Cule and a short video program.
First published in the summer of 2016, the book was created as part of the NVV_2016 curatorial project that examines different modes of showing contemporary art inside and outside of the standard white cube context.
For NVV_2016, Tarwuk curated 14 artists that deal with relationships of the body to architectural environment and urban networks. The duo had access to the construction site of what is to be a fancy franchise of the new 'creative industry' on the LES in New York. The building used to be a funerary home and there were human remains found at the location. After gaining access to the site through the help of a friend, Tarwuk secretly installed works of the curated artists inside the walls, under the insulation layer of the sheetrock, which were covered with the final layer of sheetrock the next day. Nobody will ever see the works, until the walls are torn down. They are are scattered across the building, creating an invisible show.
Hrvoje Slovenc, an artist working mostly in the photographic medium, was invited to 'document' the installation in the form of a photo essay, taking images of whatever he found interesting. His abstract compositions from the location and studio photos that recreate some of the conglomerates of materials that he took to the studio form the first part of the book. Artist submissions form the second, and the third is an essay by Eva Munz.
The book is in the edition of 150, self published and all the artists involved receive a special package with the part of the original building in it. The book became the only document that this ever took place, and in its physicality implies a new type of space itself, one activated through the act of reading it.
Participating artists were include Justin Berry, Nicolas Ceccaldi, Maja Cule, Ryan Foerster, Damir Gamulin Gamba, Greg Gentert, Igor Kuduz, Eva Munz, Willa Nasatir, Clemence de la Tour Du Pin, Hrvoje Slovenc, Ben Schumacher, Lior Shvil and Tarwuk.
Join the event on Facebook here
Facebook
Tweet