The 3D Additivist Cookbook
Launch Party & Panel
6-8PM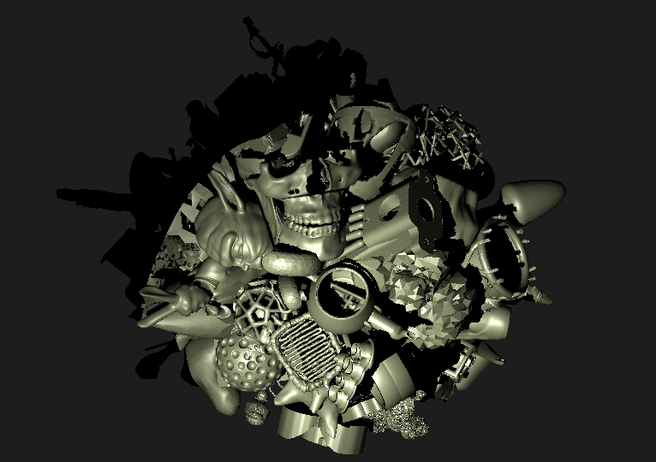 Printed Matter is pleased to host the launch of The 3D Additivist Cookbook, to coincide with its publication online and in 3D PDF format.
The 3D Additivist Cookbook, devised and edited by Morehshin Allahyari and Daniel Rourke, is a project three years in the making. A compendium of imaginative, provocative works from over 100 world-leading artists, activists and theorists. Inspired, in part, by William Powell's Anarchist Cookbook (1969), The 3D Additivist Cookbook contains 3D .obj and .stl files, critical texts, templates, recipes, (im)practical designs and methodologies for living in this most contradictory of times.
The launch will feature a panel discussion on digital and experimental publishing, horror and activism, and new ways of doing/making/thinking/interrupting, as well as a world exclusive introduction to the wild and varied contents of The 3D Additivist Cookbook. Panel participants include Morehshin Allahyari, Daniel Rourke, Paul Soulellis, and Nora Khan.
3D Additivist Cookbook artists, theorists, makers, thinkers, activists include Alison Bennett, Megan Beckwith, Mark Payne, Ami Drach, Dov Ganchrow, Amy Ireland, Andrew Blanton, Antonio Esparza, ARTEKLAB (Jaime de los Ríos, Daniel Tirado, Enrique Sancho, Saul, Ibon Gurrutxaga), Belen Zahera, Body and Swine, Darlene Labar, Mighty Kongbot (Dom Barra and Luigi Console), Emma McCormick-Goodhart, Eve Reyes, Fahmy Shahin, Kuang Yi Ku, Gabriel Menotti, Geraldine Juárez, Golan Levin, Shawn Sims, Henrik Nieratschker, Jason Ferguson, Jasper Meiners, Isabel Paehr, Joey Holder, Julien Deswaef, Matthew Plummer Fernandez, Kanyaphorn Kaewprasert, Katy Connor, Kayla Anderson, Kyle McDonald, Leo Sexer, Mark Leckey, Matthew Hollings, Michelle Kasprzak, Morehshin Allahyari with Paul Soulellis, Nano Entity, Nora O Murchu, Hua Shu, Norah Al-Badri, Nikolai Nelles, Patrick Lichty, Samy Kamkar, Scott Kildall, Bryan Cera, Sophie Kahn, Tom Lauerman, Urs Gaudenz, Vimel Patel, Zach Rispoli, GynePunk, Alan Warburton, Behnaz Farahi, Ben Grosser, Cat Mazza, Cathrine Disney, Christopher Coleman, Daniel Temkin, Debbie Ding, Heather Dewey-Hagborg, The Speculative Prototyping Lab, University of California, Irvine (special thanks to Jesse Jackson), Keeley Haftner, Laura Devendorf, Leo Selvaggio, Marija Bozinovska Jones, Patrick Romeo, Print-green.org (Maja Petek, Tina Zidanšek, Urška Skaza, Danica Korošec and Simon Tržan), Ryan Hammond, Shane Mecklenburger, Tom Burtonwood, WoeLab (special thanks to Sename Koffi Agbodjinou), Rosa Menkman, Adam Rothstein, Ben Valentine, Carl Gent, Catherine Scott, Claudia Hart, Corinna Kirsch, Dylan Schenker, Daniel Rourke, Elia Vargas, Germán Sierra, Heather Davis, Julian Hanna, Patrick Whitmash, Sha Hwang, Gaia Scagnetti, Suzanne Livingston, Anna Greenspan, Vile Flusser, Mandy Goodier, Nada Assor, Nicholas O Brien, Norman Hogg, Simon Clark, Sophie Hoyle, Timothy Weaver and Katie Kaulbach, A Parede (Luiza Prado and Pedro Oliveira) with Fannie Sosa, Lucas Odahara, Tabita Rezaire, Browntourage (Hawa Arsala and Tonia Beglari) with Lishan Amde, Shushan Tesfuzigta, Sofía Córdova, Symrin Chawla, Emilia Yang, and Biayna Bogosian.
The 3D Additivist Cookbook - designed with Manuel Bürger, Simon Schindele and Alexander Papoli - is published by The Institute of Network Cultures (Amsterdam) as a 3D PDF and print-on-demand publication. The project was realised with the support of Autodesk/Pier 9 (San Francisco), Colab at the Auckland University of Technology, Emergent Digital Practices program at the University of Denver, Ernst Schering Foundation (Berlin), Frank-Ratchye STUDIO for Creative Inquiry at Carnegie Mellon University + VIA Festival (Pittsburgh), Jeu de Paume + Disnovation.net (Paris), Transmediale 2016's Vilém Flusser Residency Programme for Artistic Research (Berlin). With editorial support from Rita Macedo, Shane O'Shea and Miriam Rasch.
Launch Panel
Nora Khan The role of speculative horror and horror aesthetics, as they have unfolded historically across different cultures and as currently manifested in 3D printing art practices. Nora Khan will talk about the relevance and importance of intentional horror, or, targeted madness, for the current moment. The artists in the Cookbook frequently play with or work with evoking madness, fear, or the grotesque, outright. Whether itemized horror elements (such as the Manifesto's suggested blueprints for torture devices and psychological derangement) or more atmospheric references (Negarestani's chthonic visions of ancient gods beneath the earth's surface), horror as object, tone, and confrontation can importantly counteracts digital smoothness and cuteness and offer a potent mode for disrupting and interrogating the present.
Paul Soulellis Paul Soulellis will discuss the idea of "poor media" in new ways. compressed objects that privilege accessibility, remixability, and circulation over quality and resolution. The 3D Additivist Cookbook is an epic "assembling", following a trajectory of massive collaborative experimental publishing efforts. Digital publishing is burdened with the rich media paradigm…proprietary platforms, design standards, file formats, walled gardens, feature glut. Poor media challenges this with open access, common file formats, transparency, flexibility, and a certain kind of frugality (i.e., PDF, ZIP, OBJ format, print-on-demand, etc). Using the 3D PDF format as a "carrier" of objects The 3D Additivist Cookbook provokes circulationism into the realm of solid objects and making.
Panellist Bios
Morehshin Allahyari is a new media artist, activist, educator, and occasional curator. She was born and raised in Iran and moved to the United States in 2007. Her work extensively deals with the political, social, and cultural contradictions we face every day. She thinks about technology as a philosophical toolset to reflect on objects; a poetic mean to document the personal and collective lives we live and our struggles as humans in the 21st century. Morehshin has been part of numerous exhibitions, festivals, and workshops around the world including Venice Biennale, Museum of Contemporary Art in Montreal, Queens Museum, Pori Museum, Dallas Museum of Art, Museo Ex-Teresa Arte Actual, Contemporary Arts Museum of Houston, Museum für Angewandte Kunst, Miami Art fair, and Material Art fair. She has been an artist in residence at BANFF Centre (2013),Carnegie Mellon University's STUDIO for Creative Inquiry (2015), Autodesk Pier9 Workshop in San Francisco (2015), and the Vilém Flusser Residency Program for Artistic Research in association with Transmediale, Berlin -in collaboration with writer/artist Daniel Rourke-(2016). Her work has been featured in NYTimes, Huffington Post, Wired, NPR, Parkett Art Magazine, Rhizome, Hyperallergic, Global Voices Online, and Al Jazeera among others. Morehshin is currently an artist in residence at Eyebeam's one year Research Residency program (2016-2017).
Nora N. Khan is a writer and a contributing editor at Rhizome. She's a 2016 Thoma Foundation Arts Writing Fellow in Digital Art and an artist-in-residence within Eyebeam's Research Residency. She writes criticism and fiction about digital art, artificial intelligence, and games. She has published in Rhizome, Art in America, The Village Voice, California Sunday, aCCeSsions, After Us, Conjunctions, Ran Dian, AVANT, DIS, and many other places. She writes frequently for artists and exhibitions, with texts commissioned this year for Mousse Publishing, Chisenhale Gallery, König Galerie, left gallery, and the 2016 Queens International.
Daniel Rourke is a writer/artist based in London. In his work Daniel exploits speculative and science fiction in search of a radical 'outside' to the human(ities), including extensive research on the intersection between digital materiality, the arts, and posthumanism. The artistic output of these practices are often manifest as frameworks for thinking and platforms for collaboration, promoting open and critical discourse on the topics of media theory and posthumanism. Daniel's writing, lecturing, and artistic profile is extensive, including work with Tate Modern (London, 2016), Transmediale (Berlin, 2016), Sonic Acts Academy (Amsterdam, 2016), Carnegie Mellon's STUDIO for Creative Inquiry (Pittsburgh, 2015), DarAlHokoomeh Project (Iran, 2014), The Wellcome Trust (London, 2013), AND Festival (Manchester, 2012), GLI.TC/H Fest (Chicago, 2012), as well as HOLO Magazine, Media-N, Alluvium, and AfterImage Journals, Rhizome.org and Furtherfield.org. Daniel lectures in Digital Design at London Southbank University, and Digital Media Arts at Brighton University. He will complete his practice-based PhD in Art at Goldsmiths, University of London, any second now.
Paul Soulellis is a graphic designer, artist, publisher and teacher. He works in New York City and Providence, RI. Soulellis is the founder of Library of the Printed Web, a physical archive devoted to web-to-print artists' books, zines and other printout matter. He curates, designs and publishes print-on-demand publications that have featured the work of over 180 contemporary artists. Soulellis also maintains his own artist's practice centered on experimental publishing. His work is widely held in special artists' books collections at art and research institutions, including Museum of Modern Art, NY. Soulellis is faculty at Rhode Island School of Design and a contributing editor at Rhizome, where he curates The Download.
Facebook
Tweet