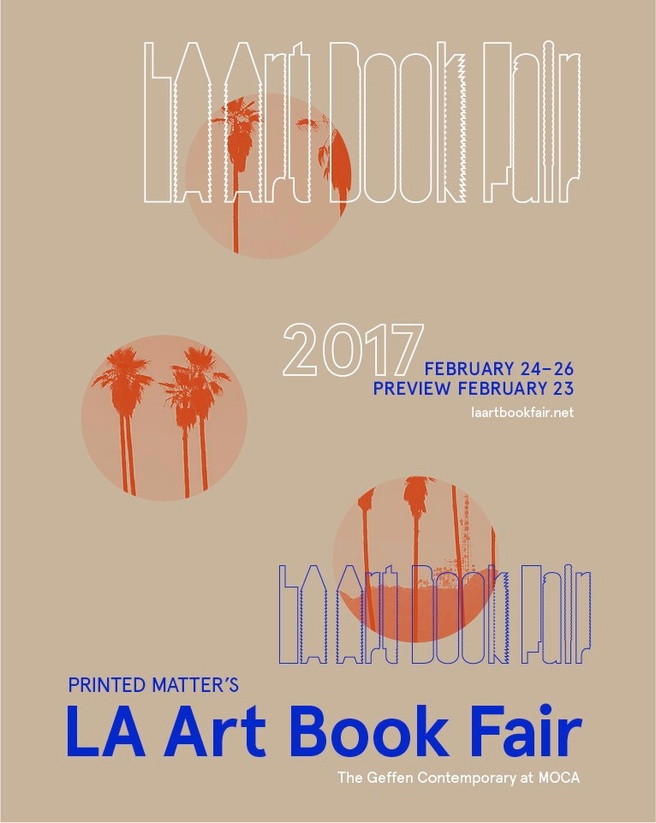 Printed Matter presents the fifth annual LA Art Book Fair, from February 23 through 26, 2017, at The Geffen Contemporary at MOCA, Downtown LA.
Free and open to the public, Printed Matter's LA Art Book Fair is a unique event for artists' books, catalogs, monographs, periodicals, and zines presented by more than 300 presses, antiquarians, artists, and independent publishers from over 20 countries.
The LA Art Book Fair is the companion fair to the NY Art Book Fair, held every fall in New York City. Over 39,000 artists, book buyers, collectors, dealers, curators, independent publishers, and other enthusiasts attended the NY Art Book Fair in 2016.
THE LA ART BOOK FAIR PREVIEW Join us on Thursday, February 23, from 6 to 9 pm, at The Geffen Contemporary for a three-hour opening night preview, with special musical performances by Seth Bogart and Kembra Pfahler from The Voluptuous Horror of Karen Black.
Entry to the Preview will cost $10, proceeds going directly to support the fair. The first 2,000 visitors to pre-pay online or to pay at the door (while supplies last) will receive a Ticket Edition by artist Mike Mills.
Entry may be paid at the door (cash only) or booked online at printedmatter.org until 12 noon PST on February 23rd, 2017. If purchased online, you'll receive your Ticket Edition when checking in at the Preview.
Visit laartbookfair.net for details on this and other special events.
LA Contemporary Artists' Books Conference (CABC) The third annual LA Contemporary Artists' Books Conference features a keynote address by AA BRONSON, titled MY LIFE IN BOOKS. An autobiographical romp through the world of artists' books, from the 60s to today, from underground newspapers to queer zines, through the eyes and words of AA Bronson. From his beginnings in a free school and commune, through his 25 years as one of the artists of General Idea, his deep involvement with founding and developing collaborative and social structures such as FILE Magazine, Art Metropole, the LA Art Book Fair, and AA Bronson's School for Young Shamans, as well as through his current collaborations with younger generations, he has focused on the politics of decision-making and on living life radically as social sculpture.
Additional Conference sessions include the following panel discussions: PRESERVATION AND ACCESS OF ARTISTS' BOOKS IN THE ARCHIVE; X-TRA MAGAZINE ARTISTS ♥ BOOKS; and OPEN READING, a discussion of nonprofit artist spaces that exist outside institutional museums. In addition, the panel MAKING A SPLASH: WET MAGAZINE brings together the group of architects, artists, designers, performers, poets, writers, and bathers who collaborated on this unique magazine in Venice, California from 1976-1981.
Admission is free for all sessions, but space is limited. General admission is first-come-first-seated.
The Classroom This year the Classroom, a curated series of conversations, workshops, readings and other artist-led programs organized by David Senior of The Museum of Modern Art Library, includes events featuring Peter Coffin, Hannah Black, Jason Fulford and Darin Mickey, Jonathan Lethem, Guadalupe Rosales (@veteranasandrucas) and Self Help Graphics and Art.
(XE)ROX & PAPER + SCISSORS A super-sized subsection of the LA Art Book Fair; (XE)ROX & PAPER + SCISSORS takes over the Geffen annex once again with more than 100 international artists, zinesters, and small presses, offering a survey of independent publishing at its most innovative and affordable. Select exhibitors include: Jen Shear (Oakland), Eric Timothy Carlson and Aaron Anderson (New York), Wormhole (Toronto), Darin Klein & Friends (Los Angeles), &editions (Lithuania), and Commune (Japan), among many others.
Friendly Fire A diverse group of politically-minded artists and collectives focused on the intersection of art and activism, this section includes: True Laurels (Baltimore); Other Forms (Chicago); ONE National Gay & Lesbian Archives at the USC Libraries (Los Angeles), and others.
Focus: Photography A curated cross-section of photo-based books and magazines, this year's Focus: Photography has expanded, and includes: ARÖK (Lithuania); Goodbye Ranch (Arizona); Super Labo (Japan); Bemojake (UK); Remote Photobooks (New Zealand); The Heavy Collective (Australia); and more.
EXHIBITOR PROJECT SPACES
The Box will be showcasing a selection of work from the Los Angeles Free Music Society (LAFMS), an experimental music collective founded by artists and musicians in Pasadena, CA in the early 1970s. Continuously active for 40+ years, the LAFMS is an integral part of the underground noise, experimental sound, music and art scenes in Los Angeles. The Box's project space will include historic photographs, home-made instruments, recordings, visual art works, posters, and other ephemera relating to the LAFMS. In addition to a display of archival objects and artworks, the exhibition includes new material from the recently released project, LAFMS BOX BOX, a 13 LP box set composed of live performances during a major exhibition surveying the history of the LAFMS at The Box in 2012.
David Zwirner Books is proud to present a project space dedicated to Donald Judd Writings, which features an extraordinary library table designed by this legendary American artist and on loan from his home in Marfa, Texas. Co-published with Judd Foundation and edited by the artist's son, Flavin Judd, the book is a remarkable and comprehensive compilation of Donald Judd's writings, spanning from 1958 to 1993. Included are hundreds of previously unpublished notes, along with letters, early graduate school papers, and his more well-known essays.
Gagosian Gallery is pleased to present FLASH FLASH FLASH, an exhibition as tattoo parlor. Following the success of the same project at the NY Art Book Fair 2016, Gagosian has recruited six new artists, including Kenneth Anger, The Haas Brothers, Mark Mothersbaugh, and Analia Saban to create original flash art for the Los Angeles incarnation. Professional tattoo artists from the world famous Shamrock Social Club will be inking these specially commissioned designs inside the booth. Tattoos will be hand-numbered on the bodies of the purchasers, and once six people have a tattoo, the design will be retired forever. In addition to their permanence on patrons' bodies, each original flash artwork has been produced as a limited print in an edition of six by The Lapis Press. Brian Roettinger has designed a special-edition book and relics acknowledging the authenticity of each tattoo for the project. In addition to a selection of Gagosian's publications and rare materials from the gallery's shop in New York, the tattoos, prints, and books will all be available for sale on-site at the fair.
Harper's Books will curate a selection of books and ceramics, exploring the shared shelf-life of print and small sculptural objects.
OSMOS, onestar press, and Three Star Books present a project entitled HISTORY IN ACTION. OSMOS will feature new photographic work by Leslie Hewitt from the series Riffs on Real Time and a selection of rare photographs and prints by German Constructivist Anton Stankowski, dating from 1952 to 1989. onestar press and Three Star Books take inspiration from Mario Merz's 1985 I Volio Fare Subito un Libro with a selection of 2016 works by: John Baldessari, Sébastien de Ganay, Nicolas Guagnini, Karl Holmqvist, Parker Ito, Jacqueline de Jong, Margaret Lee and Ebecho Muslimova.
Slow Culture & Deadbeat Club are proud to present THE FOTOMAT. A pop-up installation paying homage to vintage drive-thru photo kiosks with actual 24 hour film developing services. Photographer friends will be guest clerks and sell exclusive prints to the fair. Also available will be film & photography accessories, zines, photo books and other photo related ephemera.
Werkplaats Typografie will present a project that is specially invented, devised, appropriated, designed and performed on the occasion of the LA Art Book Fair 2017.
A full calendar of events will be posted online at laartbookfair.net
SPECIAL EXHIBITIONS
Teen Angels Magazine, Kill Your Idols and Printed Matter proudly present TEEN ANGELS, an exhibition around the artist known as Teen Angel, who began working full time as an artist and writer for Lowrider Magazine in 1977. His art graced the pages regularly and he soon became well known as 'The Lowrider Artist' amongst its underground culture. Teen Angel had a way of depicting the lifestyle in a fun whimsical way with his "Bubble Head" figures and colorful art. In 1981 he ventured into publishing on his own and started Teen Angels Magazine. Much edgier than Lowrider Magazine, Teen Angels Magazine featured artwork, dedications, photographs, poems and articles all focusing on life in the streets of the Varrios of California and the Southwest. Rejected by the larger chain stores, the only place to find Teen Angels Magazine was in liquor stores and bodegas in these neighborhoods. Teen Angel went on to publish over 200 issues, highly collectable today due to their rarity. He passed away in early 2015, but his legacy lives on through Teen Angels Magazine.
The exhibition will include original Teen Angels Magazine cover art, the entire collection of Teen Angels Magazine's 200+ issues, artwork, model cars, miniature buildings and more, all created by Teen Angel himself, including many unpublished, never-before-seen, pieces of original artwork. In addition, there will be a new collaborative tattoo project featuring the artwork of Tamara Santibañez.
This exhibition is made possible by the generous support of LEVI'S.
Boo-Hooray presents The Living Theatre Archive In A Box. Collecting half a century's worth of materials that document the work of one of the most influential theatre troupes in American history, this assemblage publication is unique as the contents are original materials preserved by members of The Living Theatre. These posters, handbills, programs, and photographs were designed and produced by members of the theatre parallel to art movements of the time spanning the early 1950's through the 1990's. The Living Theatre Archive In A Box is a numbered edition of 200 that contains dozens of posters, handbills, pamphlets, programs, and photographs contained within a stenciled box. Boo-Hooray will stage A Living Collage in their booth for the duration of the fair and give away Living Theatre posters in exchange for donations supporting Printed Matter.
Moran Bondaroff presents The Sabian Exercise, 1971-72 by George Herms. From April 1971 to April 1972, George Herms made a drawing a day for one year based on Sabian symbols. Each day takes the form of one symbol as a starting point, and expands upon it within each degree of the zodiac circle. The exercise draws out the rhythm and formal qualities of the symbols, to assign new and personal meanings and associations, in the method of concrete poetry. In 1979, the drawings were collected and published into hand-painted box sets in an edition of 1,000. Having been in storage for the last 40 years, this will be the first time The Sabian Exercise will be presented to the public in the form of an immersive installation created by this iconic California artist.
Untitled (Designs for Colby Poster Co.) by Peter Coffin The LA Art Book Fair presents a selection of lithograph prints from the series Untitled (Designs for Colby Poster Co.) by Peter Coffin. Created in the house style of the Colby Poster Printing Co. – the LA-based print shop that churned out iconic "show print" posters from 1946 to 2012 – Coffin has stripped away the usual black text to create dreamy three-color gradients suggestive of LA's smog-lined sunsets. Since 2008, more than 75 artists, curators and musicians have devised fictitious concert line-ups at Coffin's invitation. These works are collected in Imaginary Concerts, a new publication by Peter Coffin released through Printed Matter and Anthology Editions, published to coincide with the LA Art Book Fair.
In Support of Books is an exhibition of contemporary bookends. In seeking out the peripheries, ephemera, and supporting structures of book culture, Norma — a multi-disciplinary design practice based in Los Angeles — has produced an exhibition of contemporary Bookends from an international assembly of Product, Object and Industrial designers. As a project, In Support of Books seeks multiple outcomes: to publicly survey a single typology of design object; to lay bare the publication-based references of the exhibitors; and to begin a series of inquiries that explore the objects associated with the reading, display, and appreciation of [art] books. The exhibition will be accompanied by a printed catalog with essays by artist Erik Benjamins and Laura Houseley of Modern Design Review, and will also showcase publications from each participant's canon — arranged, of course, in between and among the bookends in question.
BOOK FAIR AFTER HOURS
Printed Matter + Mount Analog present the official LAABF 2017 AFTER PARTY on Saturday, Feb 25th with very special guests. Tickets On Sale Soon.
NEW EDITIONS
New artwork to benefit the LA Art Book Fair Printed Matter presents new limited-edition artworks by Ricky Swallow & Peter Shire, Ruth van Beek and Mike Mills. Purchase of these editions directly support the Book Fair, helping to ensure the event remains free.
Hours and Location The LA Art Book Fair is free and open to the public:
Friday, February 24, 1 pm–7 pm Saturday, February 25, 11 am–7 pm Sunday, February 26, 11 am–6 pm
Staff Shannon Michael Cane, Curator Jordan Nassar, Coordinator Garrick Gott, Designer Yoshie Hozumi, Assistant Designer
LA Art Book Fair NY Art Book Fair Printed Matter, Inc.
Special Thanks Printed Matter thanks the dedicated staff of MOCA, as well as AA Bronson, Philip Aarons and Shelley Fox Aarons, Garrick Gott, Ricky Swallow, Peter Shire, Ruth van Beek, Mike Mills, Bryan Ray Turcotte and Kill Your Idols, Grant Barth and LEVI'S, Bettina Korek and For Your Art, the Ace Hotel, The Standard, Kayrock Screenprinting, Inc., Print All Over Me, Hyperallergic, David Schulman and Shapco Printing, Inc., Stumptown, Darren Romanelli and the Pancake Epidemic, HAMMER Museum, LACMA, and our other partners and in-kind supporters.
Facebook
Tweet