The Uncontainable Gregory Battcock: A Conversation Between Joseph Grigely, Bob Nickas, and Anthony Elms
6 PM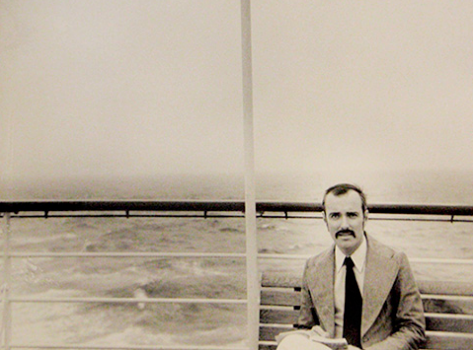 Printed Matter is pleased to announce the publication Oceans of Love: The Uncontainable Gregory Battcock, edited with an introduction by Joseph Grigely. Oceans of Love is the first book that brings together a collection of Gregory Battcock's prefaces and essays (from Minimalism, Idea Art, Why Art?, and other books), as well as critical writings called "quiticism" that had been published in underground newspapers in the 1970s.
The release of Oceans of Love will be celebrated on October 22nd, 6pm, with a conversation between Joseph Grigely, writer and curator Bob Nickas (who was one of Battcock's assistants), and the curator Anthony Elms.
The book is published in collaboration with Verlag der Buchhandlung Walther Koenig, Grazer Kunstverein, and Kunstverein in Hamburg and follows Joseph Grigely's exhibition The Gregory Battcock Archive, which was first exhibited in 2009 with iterations being shown at the Whitney Biennial in 2014, the Grazer Kunstverein in 2015/16, Kunstverein in Hamburg in 2016, and Marian Goodman Gallery, London, in 2016.


Gregory Battcock (1937–1980, US) was a New York–based artist who gave up his practice as a painter to become an art critic; he wrote on Minimalism, Conceptual art, video art, and performance, and generally championed artists pushing the boundaries and definitions of contemporary art. On Christmas Day in 1980 Battcock was found stabbed to death on the balcony of his holiday home in San Juan, Puerto Rico. The murder remains unsolved.


In 1992, Joseph Grigely was exploring the recently abandoned facilities of a storage company in the same building as his studio when he found Battcock's archive of manuscripts, photographs, and correspondence strewn throughout the space. After making copies of some of the material, a bulk of the collection was donated to the Archives of American Art. In making the exhibition The Gregory Battcock Archive, Grigely created a labyrinth of vitrines in which photographs, manuscripts, letters, and postcards, are juxtaposed in a way to construct portraits of both Battcock and the 1970s New York art world. The publication Oceans of Love: The Uncontainable Gregory Battcock, expands on this material, and includes a lengthy introduction by Grigely that investigates Battcock's biographical history and his contributions to art criticism.


Available for purchase through the Printed Matter website here.
Joseph Grigely is an artist and critical theorist, and Professor of Visual and Critical Studies at the School of the Art Institute of Chicago. Included in the 2000 and 2014 Whitney Biennials and the 1995 Venice Biennial, he has mounted solo exhibitions at such institutions as the Whitney Museum of American Art in New York, the Museum of Contemporary Art in Chicago, and The Douglas Hyde Gallery, Dublin. He is the author of several books, including Textualterity: Art, Theory, and Textual Criticism (University of Michigan Press, 1995) Exhibition Prosthetics (Bedford Press, 2010), and MacLean 705 (Bedford Press, 2015).
Writer and curator Bob Nickas was first introduced to the art world in the late 1970s when he was an assistant to Gregory Battcock, who was both mentor and tormentor, and who referred to him as Dr.Lawn Mower. Nickas completed the editing of Battcock's last anthology, The Art of Performance.
Anthony Elms is Chief Curator at the Institute of Contemporary Art, Philadelphia, and is also the Editor of WhiteWalls Inc. His fascination with Battcock began in 1990 when he pulled a copy of the 1973 collection Idea Art: A Critical Anthology from a shelf in the Michigan State University library.
Oceans of Love: The Uncontainable Gregory Battcock
 Edited with an Introduction by Joseph Grigely
 Design: Marc Hollenstein 
222 pages, many color and b/w-illustr., 24 x 17 cm, English
 Grazer Kunstverein, Kunstverein in Hamburg, Printed Matter,
NY., Koenig Books 2016
Facebook
Tweet