Realize Your Desires : A Conversation on the Underground Press
6 PM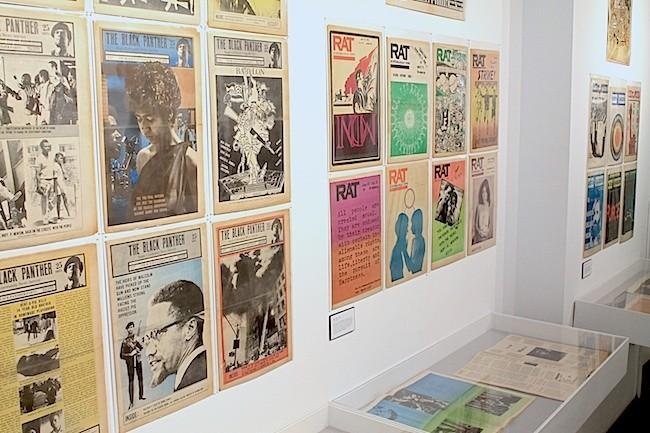 On occasion of Realize Your Desires: Underground Press from the Library of Stefan Brecht, please join us Wednesday, July 27, 6PM, for a panel discussion engaging with alternative periodicals of the 60s and 70s. The informal conversation will offer perspective on the radical history of loosely affiliated publications of the "Underground Press", while situating these works in the broader relationship to counter- and activist cultures of the time.
The discussion will be held between publisher and designer Steven Heller (NY Review of Sex, Screw, East Village Other), publisher/activist Ben Morea (Black Mask, Up Against the Wall Motherfuckers), and scholar Yasmin Ramirez (Curator of Bronx Museum's The Young Lords in New York). Panelists will be joined by moderator Melissa Rachleff Burtt, Associate Professor in NYU's Steinhardt School, and curator of the forthcoming Artist-Run Galleries in New York City, 1952–1965 which will be staged at NYU's Grey Art Gallery in 2017.
On view at Printed Matter through July 31, Realize Your Desires puts on exhibit over 400 individual issues of alternative and independently-published newsprint periodicals from the early '60s to mid '70s. Following the landmark Supreme Court decision of 1966 which allowed a more tolerant legal climate for publishers, the 'Underground Press' emerged as a site for radical commentary and critique in the US, progressing a number of social movements and shifting the cultural landscape at large. Usually published as weeklies – often in large editions – these publications provided a vibrant space for revolutionary ideas which played out on all fronts of politics and culture, addressing head-on a host of issues including the anti-war movement, black power movement, women's liberation, gay rights, sexual liberation, and drug culture.
Read the full exhibition announcement here. Join the event on Facebook here.
Melissa Rachleff Burtt Melissa Rachleff Burtt spent 8 years as a program officer at the New York State Council on the Arts from 1999-2007. Previously, Rachleff Burtt was associate curator at Exit Art and head of adult and community programs at the Brooklyn Museum. She has written on the subject of photography, art, and art management for a variety of publications. Ms. Rachleff Burtt received her B.S. degree in Art and Design from Drexel University, and is an alumna of the NYU/ICP MA Program at Art and Art Professions program. Rachleff Burtt is a fellow at the New York University Humanities Initiative during academic year 2013/2014, where she will complete research on her exhibition and book project titled, "Inventing Downtown: Artist Run Galleries in New York City, 1950-1965." The exhibition will open at the Grey Art Gallery (NYU) during the 2015/2016 academic year. Her essay, "Do It Yourself:A History of Alternatives" was published in Alternative Histories: New York Art Spaces, 1960-2010, by MIT Press in 2012.
Steven Heller Steven Heller is an American art director, journalist, critic, author, and editor who specializes on topics related to graphic design. For 33 years he was an art director at the New York Times, and currently is the co-chair of the MFA Designer as Author Department at SVA where he lectures on the history of Graphic Design. He has published more than eighty titles and written articles for magazines including Affiche, Baseline, Creation, Design, Design Issues, Design Observer, Eye, Graphis, How, I.D.,Oxymoron, Mother Jones, The New York Times Book Review, Print, Speak, and U&lc. Heller is the editor of the AIGA Journal of Graphic Design and continues to help build a critical vocabulary for the field. Heller was also the co-publisher and art director of the New York Review of Sex, as well as the art director of NY Free Press, Bitch, Screw, Mobster Times, and worked on East Village Other.
Ben Morea Ben Morea, painter and activist, grew up in Virginia and Maryland, before leaving home at seventeen to live in the Lower East Side. Morea's outlook as an artist was influenced by the work of the Living Theatre, as well as Dadaist, Surrealist and other radical thinking of twentieth century art. Morea became increasingly interested in the "wedding of social thought with aesthetic practice" and eventually formed the art/anarchist collectives Black Mask, Up Against the Wall Motherfuckers, and The Family.
Yasmin Ramirez Yasmin Ramirez, Ph.D. is an art historian and independent curator. Growing up during the heyday of the Alternative Art Space Movement in New York, Yasmin Ramirez has worked at Taller Boricua, El Museo Del Barrio, The Studio Museum, The New Museum, Art in General, the Alternative Museum, Franklin Furnace and the East Village Eye. While at the Eye, she was instrumental in exposing the talents of young graffiti art pioneers to the recognized art world and beyond. She is currently writing a book based on her dissertation: Nuyorican Vanguards: The Puerto Rican Art Movement in New York.
Facebook
Tweet