Swamp Yankee by Maggie Shannon - Book Launch
6:00-8:00 PM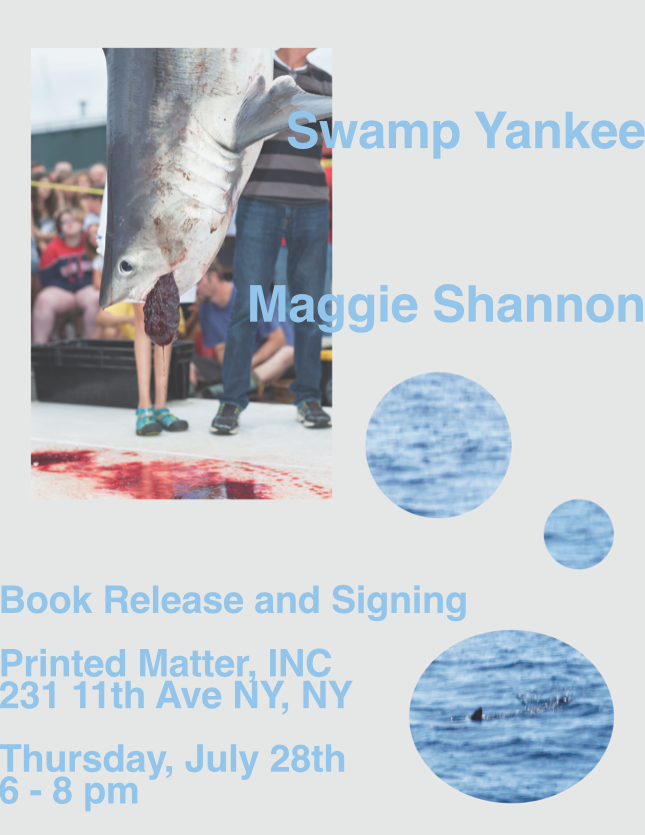 Art Vandelay releases their latest title Swamp Yankee by Maggie Shannon, a spiral-bound photo book which gathers two years of images documenting the Monster Shark Tournament held in Newport, Rhode Island.
The event is accompanied by a back-ground screening of Blue Water, White Death!, a 1971 documentary from filmmakers Peter Gimbel and James Lipscomb about the attempt to photograph the Great White. Artists Roy Werner and Arjun Srivatsa offer a watery DJ set.
Art Vandelay is the joint publishing project of two visual artists, Maggie Shannon and Isabelle Jusseaume.
---
"I believe implicitly that every young man in the world is fascinated with either sharks or dinosaurs." – Peter Benchley
Text by Tag Christof:
Spiders, hippos, wasps, alligators, dogs, cows, and a handful of other species each reliably kill more humans than sharks on any given year. And despite the fact that overfishing, irresponsible stewardship of ocean habitats, and wasteful finning for shark fin soup has driven many populations around the world to near-extinction, these majestic, scarcely-understood creatures are feared perhaps more than any other. To be a figurative shark is to be ruthless and predatory (loan shark, card shark) and to be shark bait is to be utterly defenseless. To be an actual shark is to be a thoroughly mythologized threat, no doubt helped along in its apotheosis by the Peter Benchley novel turned Steven Spielberg blockbuster, Jaws.
Maggie Shannon grew up on Martha's Vineyard, not coincidentally the filming location for the 1975 film, and thus the real world setting for its fictional Amity Island. Starting in the mid-1990s, to the delight of many, many tourists, the Vineyard played host to the Monster Shark Tournament, a joyous weekend of friendly competition, cheesy merchandise, and ESPN coverage, carried out at least partially in the name of serious marine biological research. By this decade, though, its outsized revelry had come to be at odds with the bucolic character of the island and in 2014, it was relocated just westward to Newport, Rhode Island. That year, Maggie was able to gain open access to the tournament and set out on a boat with team Swamp Yankee.
One outtake from the series shows a prize catch, strung up in the foreground, with its innards partially escaping its mouth but which nonetheless almost looks to be smiling along for a family photo. Father, son, family pet. Another image shows a shark opening wide on a boat floor as if for a dental inspection. These cheeky, subtly anthropomorphic cues reconstruct the mythologized monster as happy (and hapless) prey. Maggie, after all, belongs to the finest tradition of documentarians, but is perhaps most gifted as a portrait photographer. She is a master of exposing the multifaceted and contradictory nature of her subjects, and then to lighten her photographs' would-be gravity through the use of strong, graphic light.
Though it is clear that humans are the predators in Swamp Yankee, one almost can't help but smile along with them. With their oversized hooks, colorful tackle, and benevolent expressions, they are the mild pirates of a serene sea. It helps, too, that the majority of the blood in Swamp Yankee is splashed about as accent. It coats a hook in the same candy apple red as a bright red buoy in another photo. Even the bloodiest of the images, a carcass being cleaned out by two sets of hands and a white bait bucket stained crimson, are somewhat self-contained, and in their stillness only distantly suggest violence. Only one image, a photograph of an amorphous, bloodless mass of flesh, meat bait skimming the water's surface, is truly grotesque. It may be the sole image in the series that suggests flesh that is, indeed, dead, though it is presumably neither human nor shark.
Facebook
Tweet