Ace Hotel Artist in Residence: Printed Matter, Inc. Edition
First Stop: New Orleans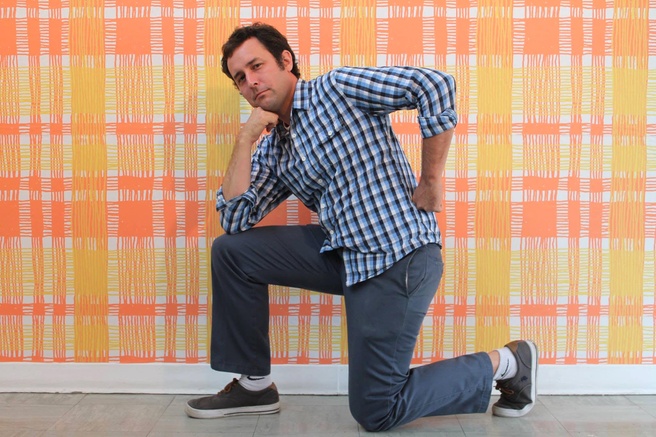 Ace Hotel's Artists in Residence program invites members of the community to spend one night at the hotel, enjoying a modest tab and access to a cart of supplies. The AIR program originated at their New York property in 2014. This year, Printed Matter is teaming up with Ace and taking the AIR program on tour. In celebration of our 40th anniversary, Ace Hotel is hosting an additional 40 nights of artists & good times across their properties across 2016.
First Stop: New Orleans
Sunday 1st May Kyle Bravo http://www.hotironpress.com/kylebravo.htm
Kyle Bravo is an artist and musician who lives and works in the Upper 9th Ward of New Orleans. His work takes a variety of forms from zines and screenprints to collages and large scale wall drawings. His latest projects include his comic, Making Jamie, about the recent birth of his kid, as well as other autobio comics. Kyle is a founding member of The Front, an artist-run gallery in New Orleans, and also co-founder of Hot Iron Press, both hand-in-hand with his wife, artist Jenny LeBlanc. Back when he was a young and idealistic punk rocker, Kyle edited the book Making Stuff and Doing Things, published by Microcosm Publishing, which is amazingly still available in your local anarchist bookstore. Kyle's most recent musical projects include fiddling with his 4-track in his garage and his band Koozie Basket.
Sunday 8th May Marta Maleck http://cargocollective.com/mmaleck
Marta Rodriguez Maleck is a performer, sculptor, painter, and installation artist. Rodriguez Maleck employs music, disguise, and sarcasm as a means to create alternate realities. Her background in education, construction, and fashion have lead her to create art that attempts to challenge past social injustices, societal gender constructs, and prescribed behaviors. With an interest to engage a variety of audiences, Marta has exhibited her work in a myriad spaces, from the Ogden Museum of Southern Art to DIY house shows and everything in between. She is currently a member of Good Children Gallery, as well as the Aquarium Gallery, both based in New Orleans, LA.
Sunday 15th May Skylar Fein http://www.jonathanferraragallery.com/artists/skylar-fein
Skylar was born in Greenwich Village and raised in the Bronx. He left New York for a career in Philadelphia, running a war and conflict program for the Quakers. When a career in medicine called, he moved to Louisiana to take up pre-med work at the University of New Orleans. When Hurricane Katrina roared through in 2005, he lost all his stuff, and in building furniture he somehow became an artist.
Sunday 22nd May Ashley Teamer http://ashleyteamer.com
Ashley Teamer was born in New Orleans, Louisiana. She received a BFA in Painting and Sculpture from Boston University. In 2013 she returned to the city to attend the St. Roch Community Church Artist Residency program, here she became reacquainted with her changing city. In summer 2014 Ashley was accepted into the Skowhegan School of Painting and Sculpture. That summer she began questioning her traditional painting practice and took her first step into collage, video, and performance. Inspired by this exploration Ashley created the persona, Drifter a mysterious and passionate man found in bars across New Orleans. In summer 2015 she attend ACRE a residency where experimented with stop-motion animation inspiring her to blur the lines between paintings and digital images.
Sunday 29th May Tom O'Brien http://cargocollective.com/tomobrien
Tom O'Brien is a multimedia artist, poet and musician. He received his BFA in Sculpture from the Maryland Institute College of Art in Baltimore in 2012. He currently resides in Faubourg St. Roch in New Orleans with his partner and their two cats. His broad spectrum of work ranges from sculpture and performance to large scale wall paintings. Tom is also the drummer of the all gay hardcore/punk band Rim Job, who are currently recording their first album and planning for a tour in August of 2016. His work has been in exhibitions in Baltimore and Paris, as well as locally in New Orleans where he recently had a solo exhibition at Cutters, a neighborhood bar. You can find him bartending at the legendary leather/cruise bar Phoenix in the Marigny.
Facebook
Tweet