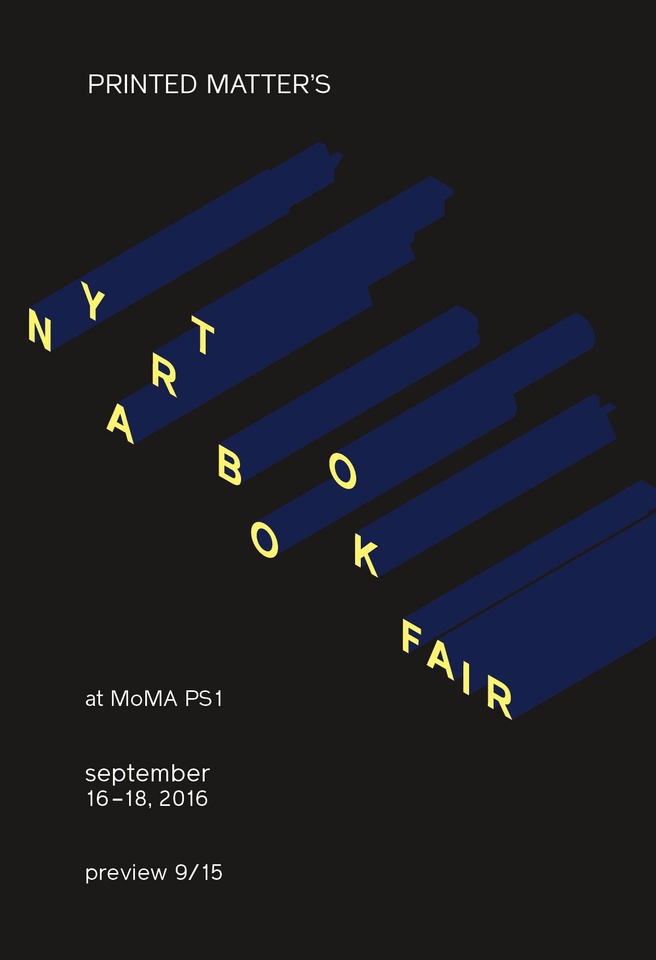 Printed Matter, Inc. presents
THE NY ART BOOK FAIR   September 16–18, 2015   Preview: Thursday, September 15, 6-9pm   MoMA PS1
Printed Matter presents the tenth annual NY Art Book Fair, from September 16 to 18, 2016, at MoMA PS1, Long Island City, Queens. A preview will be held on the evening of Thursday, September 15. Purchase your Ticket Edition here.
Free and open to the public, the NY Art Book Fair is the world's premier event for artists' books, catalogs, monographs, periodicals, and zines. The 2015 fair featured over 350 booksellers, antiquarians, artists, institutions and independent publishers from twenty-eight countries, and was attended by more than 35,000 people.
To see full schedule of events for the NY Art Book Fair 2016 visit nyartbookfair.com/about or join on Facebook here
This year's NY Art Book Fair will include an ever-growing variety of exhibitors – from the zinesters in (XE)ROX & PAPER + SCISSORS and the Small Press Dome representing publishing at its most innovative and affordable, to rare and antiquarian dealers offering out-of-print books and ephemera fromart and artist book history, plus the NYABF-classic Friendly Fire, focused on the intersections of art and activism.
NYABF16 will also host an array of programming and special events: now in its seventh year, The Classroom is a curated engagement of informal conversations, workshops, readings, and other artist-led interventions. The Contemporary Artists' Book Conference (CABC), in its eighth year, will feature two full days on emerging practices and issues within art-book culture.     MoMA PS1 is located at 22-25 Jackson Avenue on 46th Avenue, Long Island City, NY     FUNDRAISING EDITIONS   Printed Matter presented new limited-edition artworks by contemporary artists – artists to be announced soon! Purchase of these editions support the Fair, helping to ensure that the event remains free.
Facebook
Tweet