Near Contact by David Joselit and Amy Lien & Enzo Camacho - Launch event
Published by Common Practice New York
7:00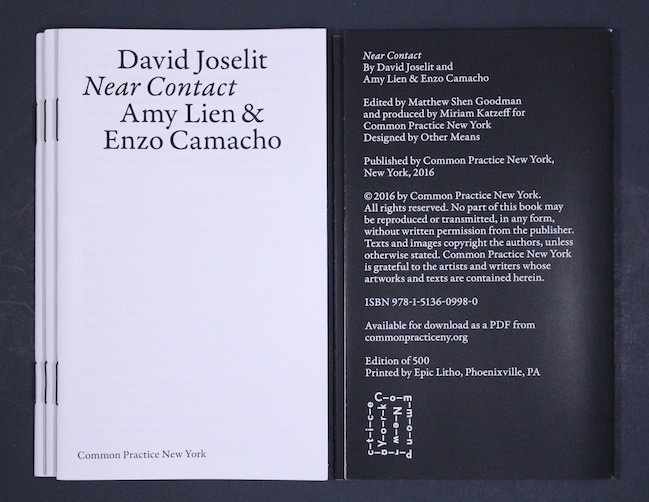 Printed Matter hosts the launch of Near Contact by David Joselit and Amy Lien & Enzo Camacho, published by Common Practice New York. Near Contact is available for download or as a printed booklet . Please join us for a discussion between Joselit and Lia Gangitano, founder and director of Participant Inc, on Thursday, March 10, at Printed Matter.
Near Contact is comprised of two original essays with artwork by Amy Lien & Enzo Camacho:
David Joselit's essay, "In Praise of Small," is a seven-point litany on the work of small-scale organizations and the unique challenges they face. The essay was originally commissioned by Common Practice New York as part of a series of invitational roundtables on contemporary institutional practice organized in collaboration with students and faculty from the Center for Curatorial Studies at Bard College in fall 2013. A version of the essay was later presented by Joselit at Out of Alternatives, spring 2014, a symposium on the role of small-scale arts organizations in New York City, hosted by Artists Space Books & Talks and co-presented by CCS Bard.
Amy Lien & Enzo Camacho's "Thought Experiment" responds to an invitation from Common Practice New York to formulate a contribution to be published alongside "In Praise of Small." Lien & Camacho's collaborative practice as artists and writers has existed through a series of geographic displacements: between their respective home cities of New York and Manila; and recent periods living and working in Berlin, Milan, and Singapore. Accordingly, their work reflects different models of organizing around art—particularly "contemporary art"—both within and outside its supposed centers.
Near Contact was edited by Matthew Shen Goodman and produced by Miriam Katzeff for Common Practice New York, and designed by Other Means.
David Joselit is Distinguished Professor in the Art History PhD Program at the CUNY Graduate Center. He has taught at the University of California, Irvine, and Yale University where he was Department Chair from 2006-09. Joselit is author of Infinite Regress: Marcel Duchamp 1910-1941 (MIT, 1998), American Art Since 1945 (Thames and Hudson, 2003), Feedback: Television Against Democracy (MIT, 2007), and After Art (Princeton University Press, 2012). He is an editor of the journal OCTOBER and writes regularly on contemporary art and culture.
In 2001, Lia Gangitano founded PARTICIPANT INC, a not-for-profit art space, presenting exhibitions by Virgil Marti, Charles Atlas, Kathe Burkhart, Michel Auder, and Renée Green, and Greer Lankton, among others. As curator of Thread Waxing Space, NY, her exhibitions, screenings, and performances included Spectacular Optical (1998), Luther Price: Imitation of Life (1999), Børre Sæthre: Module for Mood (2000) and Sigalit Landau (2001). She is editor of Dead Flowers (2010) and the forthcoming anthology, The Alternative to What? Thread Waxing Space and the '90s. As associate curator, she co-curated Dress Codes (1993) and Boston School (1995) for The ICA, Boston, and edited New Histories (with Steven Nelson, 1997) and Boston School (1995). She has contributed to publications including Renée Green, Endless Dreams and Time-based Streams, Lovett/Codagnone, Whitney Biennial 2006-Day for Night, and 2012 Whitney Biennial on Charles Atlas. As curatorial advisor, her exhibitions at MoMA PS1 included Lutz Bacher, My Secret Life (2009). She currently teaches at the Center for Curatorial Studies at Bard College, NYU, and SVA. She is a Board Member of Primary Information and Dirty Looks; Advisory Board Member of the Outpost Cuts and Burns Residency Program and John Kelly Performance; and recipient of a Skowhegan Governors' Award for Outstanding Service to Artists and the inaugural White Columns/Shoot the Lobster Award.
Generous support for Near Contact has been provided by thee Andy Warhol Foundation for the Visual Arts, Lambent Foundation/Fund of Tides Foundation, and VIA Art Fund.
Facebook
Tweet