New World UNLTD issue #2 - Release event
6:00-8:00 PM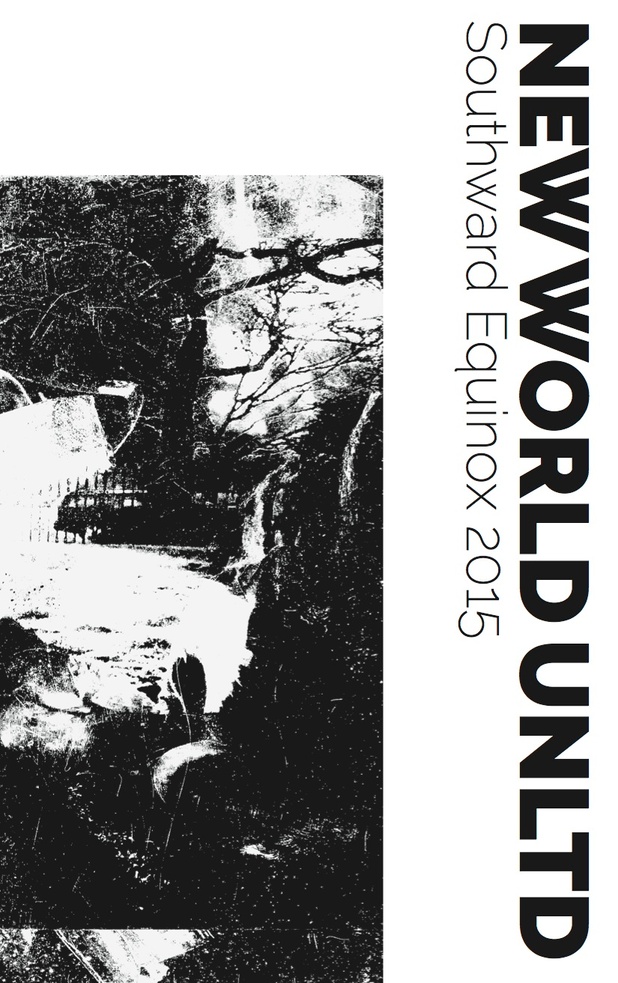 Welcome to New World UNLTD issue #2, released to coincide with the Southward Equinox on September 23, 2015. Thank you, intrepid voyagers, for joining us again as we cull together artists, writers, thinkers and scientists in an effort to further expand the megaverse of science-fiction and continue our investigation into the genre's importance within the sphere of cultural production.
In this issue, Erin Schneider looks into two Southern California UFO-centric utopian communities. Sarah Hotchkiss explores connections between image recognition software, family photos, Sandra Bullock and so much more. Aurora Tang interviews her father about his experience as the Kepler Space Institute's Research Director and Dean of Inner Space. Sydney S. Kim continues her wonderfully aesthetic Crystallin fiction. Jesse Bransford presents a suite of spiritually ripe, Star Trek-imbued drawings. Jason Lee Starin struggles to fathom working and existing within a two-dimensional matrix. Madame Ennui advises robots on how to really live.
The release event will include a performance from Ariel Jackson and a reading from Andrea Arrubla, as well as interviews from GWC, Investigators.
Bios:
GWC, Investigators are a bicoastal paranormal research team founded by artists Daniel J Glendening, Michael Welsh, and Sean J Patrick Carney. GWC, Investigators have performed, exhibited, and lectured at institutions including the Geffen Contemporary at MOCA Los Angeles; High Desert Test Sites, Joshua Tree, CA; Printed Matter, Inc, NY; and University of New Mexico
Andrea Arrubla is a visual artist and poet in Brooklyn, NY. Arrubla is the Student Liaison and Facilities Manager at BHQFU. Her work has been featured in numerous exhibitions at venues including New York University's Gallatin School; Essex Flowers, New York; and has been featured in print in OSMOS and The Third Rail.
Ariel Jackson is a multi-media artist who works and lives in Brooklyn, NY. Jackson's work stems from a desire to create a safe space for testaments outside of the mainstream media and create alternative narratives for maneuvering and exploring sociopolitical traumas via group identity, memory, cultural propriety and individualism.
Facebook
Tweet