Natalie Czech —  Flowers from Holland for Critics and Writers — Launch and Artists' Talk 
6-8pm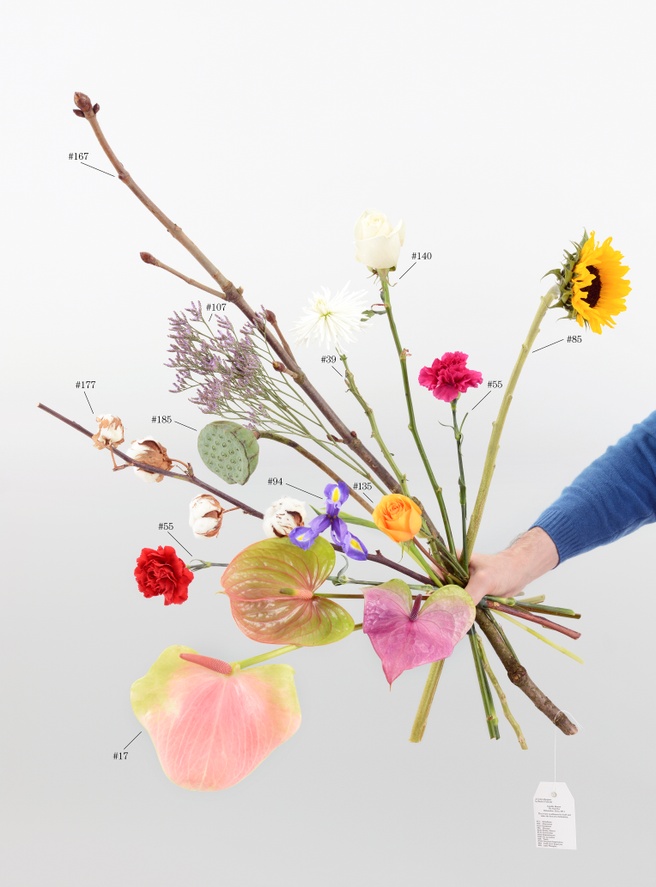 Natalie Czech presents an artist's talk on her practice, and discusses her most recent artist's book, Flowers from Holland for Critics and Writers published by argobooks, Berlin. Artist Julien Bismuth (via projection) and writers Paul Stephens and Rachel Valinsky will read from their collaborations with Natalie and join in on the discussion.
Published alongside her new series, "Critic's Bouquet," Flowers from Holland for Critics and Writers is a compendium of 19th century affective lexicons developed to use flowers as a language which the addressee of a floral message could then decipher. Supplying them with the index of flower meanings, Czech invited art critics to review an exhibition of their choice and identify the appropriate flowers to match the affects of each phrase in their text. The series presents photographs of the resulting bouquets, turning each review into encoded floral arrangements. 
Czech's work interrogates the interplay between visual image and readable text, complicating the ways in which we understand messages and meaning to be legible. Invoking existing texts or calling upon writers to collaborate with her, Czech builds a rich intertextual field in her photographs. Her work formulates an open and playful poetic language, which nevertheless lays bare certain operations of language and meaning, constantly interrogating how we look and read. 
Natalie Czech (born 1976) lives and works in Berlin. She has presented solo exhibitions at Ludlow 38, New York; Palais de Tokyo, Paris, Kunstverein Hamburg, Kunstverein Braunschweig, Kunstverein für die Rheinlande und Westfalen, Düsseldorf; Kadel Willborn, Düsseldorf; and Captain Petzel, Berlin; among others. Recent group exhibitions include Bielefelder Kunstverein; Pinakothek der Moderne, Munich; Kunsthalle Bremen; Kunsthalle Wien; Deichtorhallen, Hamburg; Kunsthaus Bregenz; and Night Gallery, Los Angeles, among many others. She has received numerous awards and grants, including, in 2014, the Villa Romana Prize. Her work is currently included in the group exhibition, Ocean of Images: New Photography 2015 at the Museum of Modern Art, New York.
Paul Stephens is the author of The Poetics of Information Overload: From Gertrude Stein to Conceptual Writing (University of Minnesota Press, 2015). He edits the journal Convolution and lives in New York.
French artist Julien Bismuth (born 1973, lives in New York and Paris) works at the interface of visual art and literature. Most of his oeuvre builds on texts found or penned by the artist. Bismuth's approach combines words with objects, photographs and film material, integrating them within collages, installations, performances, and video works. Bismuth also founded an independent publishing house Devonian Press together with Jean-Pascal Flavien in 2005. He has recently published three books with Motto in Berlin. His work has been shown in venues including the Tate Modern, Kunsthalle Wien, Schirn Kunsthalle Frankfurt, CRAC Alsace, Bloomberg Space London, ICA Philadelphia, the Palais de Tokyo, and the IAC in Villeurbanne.
Rachel Valinsky is an independent curator, writer, and translator based in Brooklyn, New York. She is a co-founder of Wendy's Subway, a library, reading room, and workspace in Williamsburg, a co-curator at Haeler Echo, New York, and a contributing editor at Éditions Lutanie, Paris. Rachel is a doctoral student in Art History at The Graduate Center, City University of New York.
Caption:
Natalie Czech, A Critic's Bouquet by Rachel Valinsky for Camille Henrot, 2015 Archival Pigment Print, Offset, 2 Frames, Part 1: 107 x 79,4 cm, Part 2: 33 x 15,6 cm Copyright: VG Bild-Kunst Courtesy: Capitain Petzel, Berlin / Kadel Willborn, Düsseldorf
Facebook
Tweet