Candace Hill - Literary Terms Visually Discerned for the New World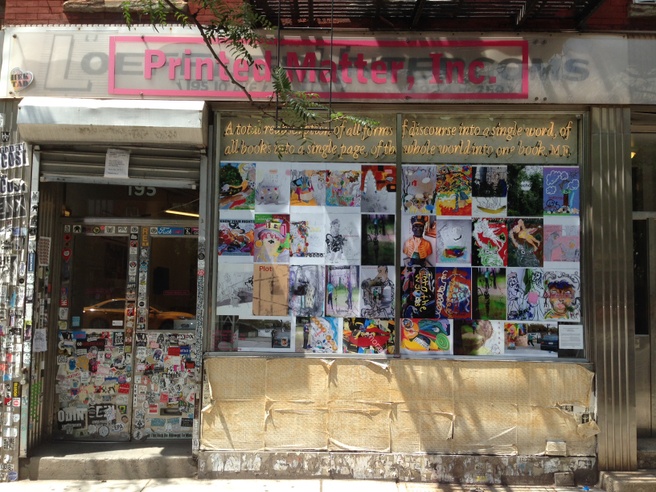 Artist Candace Hill presents a new installation in the Printed Matter window, her first exhibited work in New York City for more than two decades. The piece assembles 30 enlarged giclee prints from her forthcoming bookwork 'Literary Terms Visually Discerned for the New World', using political meanderings and allusive gesture to reflect on cultural crises in America and abroad.
Working in the tradition of political cartoonists like Ollie Harrington, Hill offers her colorful, stylized drawings in the guise of a childlike aesthetic, while incorporating fonts and illustrations of her granddaughter Sage West, age 6. As 'creative non-fiction' the works are filled with comic imagery and nonsense verse which the artist has overlaid on altered photographs, video stills, and pencil drawings. Within the work is a more serious address of the concerns that have long shaped Hill's work – a deeply-set history of racism and sexism in America, and the heartbreaking cycle of violence perpetrated against unarmed black men and women by the police. Using cellphone footage showing the 2015 murder of Walter Scott following a traffic stop in North Charleston, SC, the works ask, exhaustedly, How Many More?

As a body of work, the prints look to the possibilities of language for the necessary paradigm shift – borrowing phrases from The Concise Oxford Dictionary of Literary Terms, Hill considers how we might take remnants of this framework and rebuild a better language, one that is emotive, empathetic and healing. Each print offers an environment - constructed variously as a "Dumb Show", "Mystery Play" or "Parabasis" - by which the tragicomedy of the present American situation is held still as a kind of theatrical tableau – a moment for reflection, lament and, hopefully, change.
Facebook
Tweet