Truth and Subterfuge - Launch and Reading Event
5:00 - 7:00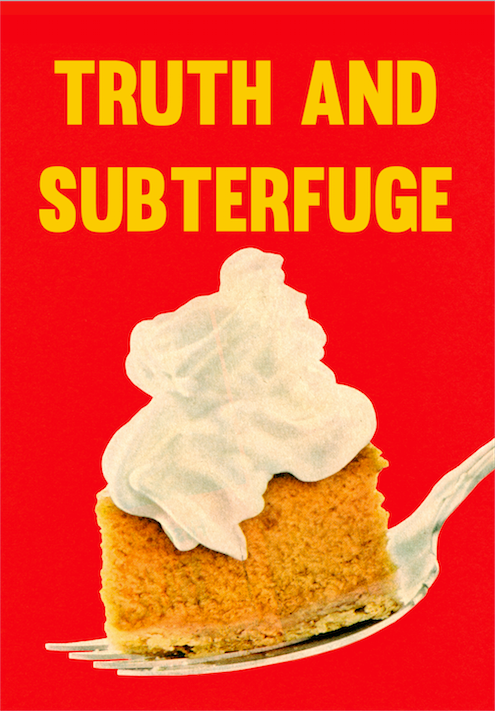 Truth and Subterfuge is a collaborative artists' book by Whitney Platt and Nickolaus Typaldos, newly published by Press Editions, 2015. Join us for a launch event at Printed Matter featuring readings by poets Whitney Platt, Jessica Lauffer and Andrew Durbin.
In Truth and Subterfuge, which locates the uncanny in the everyday, Typaldos presents an idiosyncratic collection of digitally and physically manipulated images that is companionate with Platt's dream-like and, at times, humorous poetry. Platt deftly constructs episodic and circuitous scenes that alternate between novel specificity and experiential abstraction. He mines aging in the context of American popular culture, and the temptations of nostalgia, with a tone that evokes elements of the tragicomic and melodramatic horror. In Truth and Subterfuge, his text is in dialogue with Typaldos' pastiche of tropes, forms and mediums—both art-historical and commercial—of the post-World War II era. His work is fundamentally collage, remixing the analogue and digital, the physical and virtual, freely– perceptual play marked by an ever-relatable sense of doubt. Truth and Subterfuge is an engaging and droll document of decay and regeneration, earnest meaning-making that relays more questions than answers.
The publication of Truth and Subterfuge coincides with a project by Typaldos on the facade of Regina Rex, on view through October 11th, 2015.
Truth and Subterfuge is printed in an edition of 250, Softcover, 8 x 5.5 in , Indigo Digital, 72 pages, perfect bound with die-cut cover. It retails for $25 and is available through Printed Matter here.
Reader Bios Whitney Platt writes poetry, plays and short stories. He has performed his work at 80WSE Gallery, Jack Chiles and helper. He lives in New York City.
Jessica Lauffer was born in Northwestern Pennsylvania. She lives and works in New York City. She earned her MFA in Poetry from the New School. Her poems have been featured in B. E. Literary, Strangeways Miami, Reader's Pick for Birdsong Micropress and in Alex Jovanovich's "Charm School" for Dream The End. She is currently collaborating on the creation of Spleen, Erotic Literary Collective: https://spleen1857.wordpress.com. 
Andrew Durbin is the author of Mature Themes (Nightboat 2014) and Blonde Summer (Nightboat 2017). A short book on cults and disco is forthcoming this fall from Kenning Editions. He is a contributing editor of Mousse and has written about art for Artforum, BOMB, Flash Art, and elsewhere. He co-edits the press Wonder and lives in New York. 
Facebook
Tweet