Dennis Oppenheim's PROJECTS, 1973 and other works on view
6:00-8:00 PM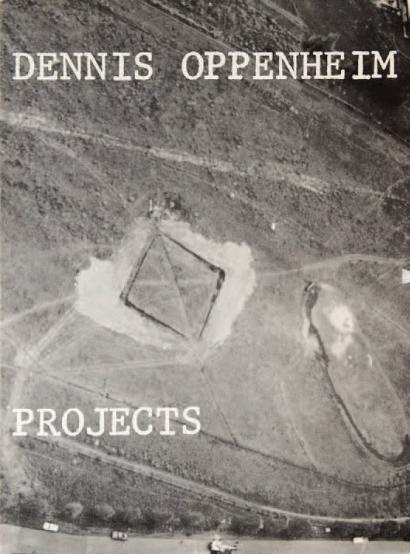 Printed Matter, Inc. at Carolina Nitsch Project Room June – August 2015
Dennis Oppenheim's PROJECTS On view June 26th – July 3rd Opening Friday. June 26th, 6-8 PM
We're pleased to open the second installation in our summer Satellite Space at Carolina Nitsch Project Room, featuring highlights from Printed Matter inventory. These works will including signed out-of-print exhibition posters from the 60s & 70s, as well as a presentation of select publications from Multiples, Inc. Join us for a reception at the space (located around the corner from Printed Matter at 534 W. 22nd street) this Friday, 6-8 PM, where we'll be serving up 'summer lemonade.' DJ Max Schumann plays period vinyl out of the PM vault, including Allan Kaprow's How to Make a Happening and Steve Reich's Drumming for Eight Small Tuned Drums.
As part of the presentation, we're exhibiting a full set of Dennis Oppenheim's expansive PROJECTS, from 1973. The portfolio consists of ten large-format lithographs in which the artist brings together photos, maps and documents to recount conceptual Land Art works created between the years 1968 to 1972. Among these is 'Annual Rings', in which Oppenheim carved a series of irregular circles into the two sides of a frozen river along the US/Canadian border. Another print in the series addresses his two works 'Canceled Crop' and 'Directed Seeding;' in the first the artist selectively harvests a field in a large X-formation (withholding the grain from future processing) and in the second he plants seeds to trace (on a smaller scale) the pathway from the wheat field to a nearby silo. Published by John Gibson and Multiples, Inc. in collaboration with Sonnabend Gallery, in a signed edition of 81.
Also from Multiples, Inc. is ARTISTS & PHOTOGRAPHS, the seminal boxed set from 1970 which includes 19 publications engaging with different uses of the photographic medium. Many important early conceptual book works were created as part of this portfolio, including Bruce Nauman's LAAIR, an offset publication featuring color-field photographs of pristine skies over Los Angeles, Sol LeWitt's Schematic Drawing for Muybridge II featuring 15 circular b&w photos in sequence, Dan Graham's Two Parallel Essays and Ed Ruscha's photo-project Babycakes. Additional contributions from Jan Dibbets, Douglas Huebler, Allan Kaprow, Joseph Kosuth, Richard Long, Robert Smithson, Andy Warhol and many others. The near-complete set includes the rare Tom Gormley Red File Cabinet, but is missing Robert Rauschenberg's Revolver.
Additional works on view include a selection of exhibition posters (many signed) from Dennis Oppenheim, a rare poster announcing a 1971 conceptual art performance by Vito Acconci, Claes Oldenburg's New Media, New Forms in Painting and Sculpture, Allan Kaprow's 4 Happenings, a Benefit Show for Experimentation in Art and Technology, Kiki Smith's The Island of Negative Utopia, as well as poster works from Athena Tacha. To view a checklist of available works, see here.
Facebook
Tweet