Lizzi Bougatsos & Ruby Sky Stiler - Ladies Night with Exile Books and Boo-Hooray
6:00 - 8:00 pm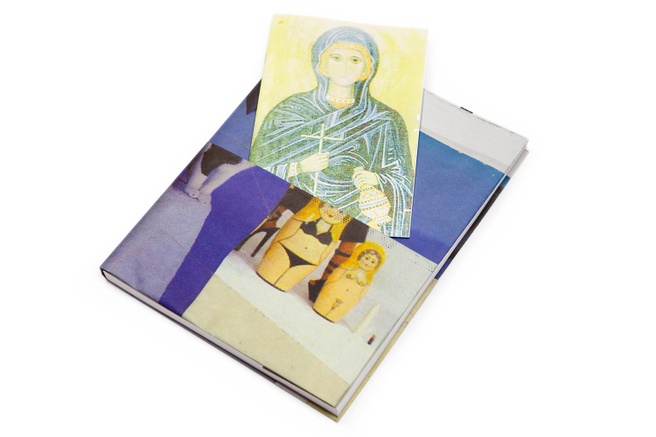 Join us as we welcome Miami based publisher EXILE Editions to celebrate the release of Sun Breaker by Ruby Sky Stiler and Her Perfume Tears (co-published with Boo-Hooray) by Lizzi Bougatsos. The ladies of EXILE will present their new publications, Stiler and Bougatsos will be signing books, accompanied by a short film screening by Stiler and an installation of original posters and collages by Bougatsos. Amanda Keeley, founder of EXILE Editions and Johan Kugelberg of Boo-Hooray will also be present to join in the festivities.
About Sun Breaker by Ruby Sky Stiler Published in conjunction with Stiler's exhibition at Locust Projects, Sun Breaker explores the tropical, modernist architecture native to Miami. Sun Breaker refers to brise soleil, a common architectural element in the tropics that reduces heat gain in buildings by deflecting sunlight. These sun-shading structures take the form of perforated surfaces that are both decorative and utilitarian, allowing for the free flow of light and air through a building's façade. In Sun Breaker, Stiler also creates a permeable structure for the viewer to look both at and through. This 13-sided, free-form, accordion artist's book pairs imagery of Miami's iconic brise soleil architecture alongside perforated arrangements of cut paper shapes on a flat scanner bed. Stiler connects the light of the scanner and the punctuated sunlight streaming through patterned walls to illuminate a loose narrative that incorporates the female figure, an ongoing theme in the artist's practice.
EXILE Editions, 2015 Edition of 250, $25. Available here.
About Her Perfume Tears by Lizzi Bougatsos
Lizzi Bougatsos, musician, artist, activist, and all around badass has compiled a collection of never before seen personal photographs, artworks, poems, lyrics, notes and ephemera for this book. Published by Boo-Hooray in ladylike and gentlemanly collaboration with EXILE Books and jointly edited by Lizzi, Amanda Keeley and Johan Kugelberg, this is a tour de force of an artists book. Printed in an edition of 350 copies, Her Perfume Tears is 200 pages of Lizzi's collages, artworks, poems, lyrics and archival ephemera from the ongoing tide of her magical life.
Each copy comes inside a origami-folded pocketed newsprint dustjacket containing a zine of Lizzi's poetry and song writing process titled Enchanted by Her Squalor.A special edition of 25 signed and numbered copies come with an original artwork.The book premiered on December 5, 2014 at the Books Fuel Ideas exhibit at EXILE Books in Miami.
Boo-Hooray and EXILE Editions, 2014
Edition of 350, $60.00. Available here.
Facebook
Tweet