Lenae Day - Performance - Remembering Priscilla Prescott
6:00-8:00 PM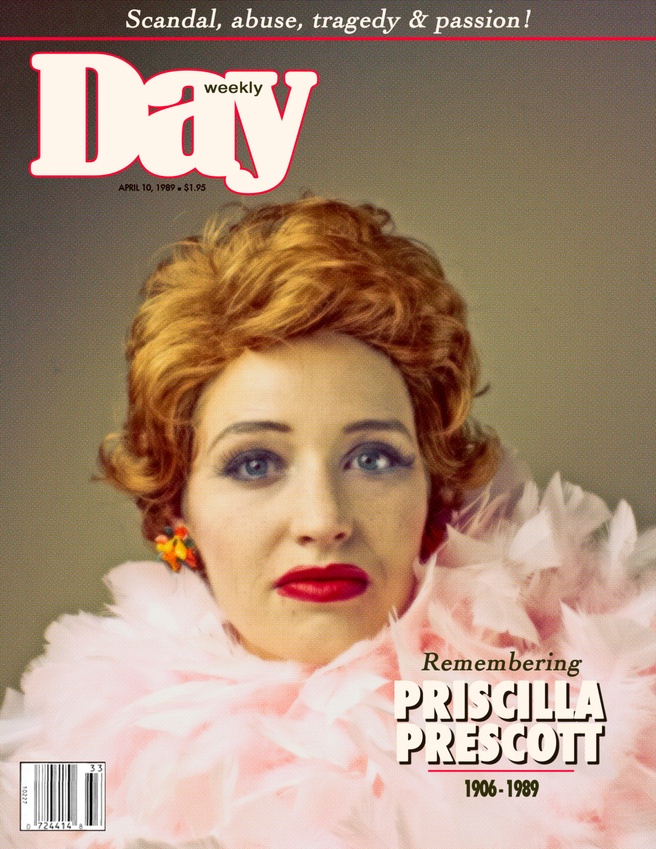 Artist Lenae Day presents an in-store performance based on her publication DAY Weekly: Remembering Priscilla Prescott, a fictitious tell-all which traces the life, loves and tragedies of illustrious film star and magnate Priscilla Prescott. On occasion of the 25th anniversary (originally published April 10th, 1989), Day takes the role of Prescott Pictures Film Historian Phyllis McGillicuddy to present a commemorative slideshow of the magazine, as well as show clips from their "archives".
Ms. McGillicuddy will fill us in on the most salacious tidbits and lasting legacies of Priscilla's long career with a slideshow. Along with some seldom discussed stories, Ms. McGillicuddy will screen clips from two films that bookended Priscilla's oeuvre, that classic of the silent era, Hot Tomatoes, from 1928 and her final film, The Virgin Terri released in 1989, the year of her death. Please join the Prescott Pictures Society for an evening of Hollywood scandal, laughs, and delights!
Phyllis McGillicuddy, film enthusiast and Prescott fanatic, is one of the many characters inhabited by interdisciplinary and performance artist Lenae Day as she fleshes out her extensive hagiography of the fictional Prescott family. Day recasts, photographs, and films herself as all the Prescott women, their numerous husbands, and competitors and co-stars.  Through the development of comprehensive visual, written, and performative personae and story lines, Day archives and inhabits the professional and personal sagas of the Prescotts. This faux archive - which takes form in Day's elaborate multiplayer performances and photographic staging - is reminiscent of the conceptual dramaturgy structuring the work of Cindy Sherman and Eleanor Antin. The Prescott history is presented through the familiar, albeit peculiar, subjectivity of the film enthusiast. In the well-researched and reverent mode of the movie lover, Day crafts the Prescott Pictures annals to culminate in an immersive Hollywood rag magazine teeming with intricately crafted ephemera—such as headshots, candid shots, advertisements, movie posters, hand-sewn costumes, and props. Spanning the rise and fall of Classical Hollywood, Day's Remembering Priscilla Prescott both reflects and intervenes in the manifold histories and myths related to studio and celebrity constructs. Available here.
Other titles from Lenae Day include Modern Candor, in which Day uses herself as a model and restages images from the '60s, and DAY Magazine, which she intricately restages images from the '40s, '50s and '60s, blurring the lines between social commentary, absurdity, memoir, humor, and art.
Bio:  Lenae Day is a Los Angeles based performance artist with solo shows at Mark Moore Gallery and Disjecta Contemporary. Her work takes the form of fabricated archives, utilizing commercial media forms to create and document conceptual universes. Her publications: DAY Magazine, Modern Candor and DAY Weekly are available in art book stores around the world. She was recently named "One of Eight L.A. Artists You Should Know" by Fabrik Magazine, and her work with Prescott Pictures received favorable reviews from L.A.Weekly, Artscene Cal, Portland Mercury, and Hyperallergic. Her upcoming show at audio gallery 323 Projects "K.L.A.M. Radio 109.5," opens May 25, 2015 and will be released as a weekly podcast and website and features the voices of many well-known actors, comedians, radio personalities and performance artists as part of a fictional California desert town.
Facebook
Tweet