Present/Future: Artists' books in the Age of Digital Communication
6:30 - 8:00 pm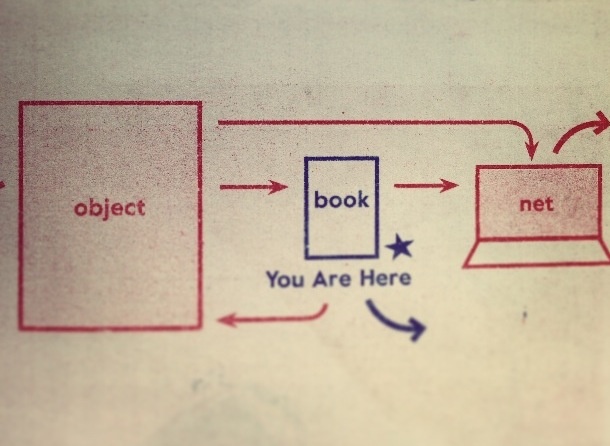 This roundtable discussion will examine the present and future outlook of the contemporary artists' book landscape, highlighting the diverse approach of several independent publishers and placing this activity in a broader-than-the-art-world context. Participants will include Paul Chan (Badlands Unlimited), Molly Kleiman (Triple Canopy), Lele Saveri (8 Ball Zine) Ben Davis (Artnet), Miriam Katzeff (Primary Information) will be moderated by David Senior (MoMA Library).The discussion will take plaice at Einstein Auditorium; NYU Barney Building, 34 Stuyvesant Street.
In the wake of the "death of the book" pronouncement and the ongoing crisis in the commercial publishing industry, we have witnessed a tremendous resurgence in artists' book publishing. In the context of this increased activity across both print and digital platforms, panelists will offer their perspective on new models and strategies related to the production and distribution of artists' material, while exploring the economic, social and political forces that inherently affect and shape cultural production.
Present/Future: Artists' books in the Age of Digital Communication is being held in conjunction with the exhibition, Learn to Read Art: A Surviving History of Printed Matter, currently at NYU's 80WSE Gallery through February 14th.
Paul Chan is an artist who lives in New York. A survey entitled Selected Works was mounted by Schaulager in Basel, Switzerland (April 11-October 19, 2014). His work has been exhibited widely in many international shows including: Documenta 13, Kassel, 2012; Before The Law, Ludwig Museum, Cologne, 2011-12; Making Worlds, 53rd Venice Biennale, Venice, 2009; Medium Religion, ZKM, Karlsruhe, 2008; Traces du sacrê, Centre Pompidou, Paris, 2008; 16th Biennale of Sydney, Sydney, 2008; 10th International Istanbul Biennial, Istanbul, 2007; and the Whitney Biennial, Whitney Museum of Art, New York, 2006. Chan founded Badlands Unlimited in 2010.
Lele Saveri is the curator and founder of 8-Ball Zines and the 8-Ball Zine Fair. In 2013 he founded Muddguts Gallery in Brooklyn. Saveri was born in Rome and currently lives and works in New York.
Molly Kleiman is deputy editor of Triple Canopy, a magazine that has advanced a model of publication that encompasses digital works of art and literature, public conversations, exhibitions, and books. She is co-director of The Back Room, a curatorial and pedagogical project that facilitates exchanges between artists and scholars in Iran and the U.S. She teaches at New York University's Gallatin School for Individualized Study.
Ben Davis is an art critic living and working in New York City. His writings have appeared in Adbusters, Artinfo.com, Art Papers, C Magazine, The Brooklyn Rail, Frieze, Slate.com, The Village Voice, and many others.
Miriam Katzeff formed Primary Information with James Hoff in 2006 to foster intergenerational dialogue through the publication of artists' books, writing, documents, and editions from the 1960s to the present.
David Senior is the Bibliographer at The Museum of Modern Art Library, where he manages collection development, including the library's artists' books collection. Senior lectures often on the history of artists' publications in the 20th century and contemporary art and design publishing. He also curates exhibitions of MoMA Library materials – most recently 'Ray Johnson Designs', 'Please Come to the Show' (2013), 'Millennium Magazines' (2012), 'Access to Tools: Publications from the Whole Earth Catalog, 1968–74 (2011) and 'Scenes from Zagreb: Artists' Publications of the New Art Practice' (2011). He collaborates with Printed Matter to produce an annual program of events for the New York and Los Angeles Art Book Fairs. His writing has appeared in Frieze, Bulletins of the Serving Library, A Prior, Art Papers and C Magazine, and since 2008 he has published an artist's book series through the New York Art Book Fair, with titles by Dexter Sinister, Emily Roysdon, Eve Fowler, and James Hoff, among others. His recent publicationPlease Come to the Show, a catalog of a survey of artists' invitations and show flyers from the MoMA Library collection, was published by Occasional Papers in 2014. He is a member of the advisory boards of Printed Matter and Art Metropole and the board of directors of Primary Information and Yale Union.
Facebook
Tweet