Here Comes Kitty: A Comic Opera - Discussion with Richard Kraft, Danielle Dutton & Albert Mobilio
6:00-8:00 PM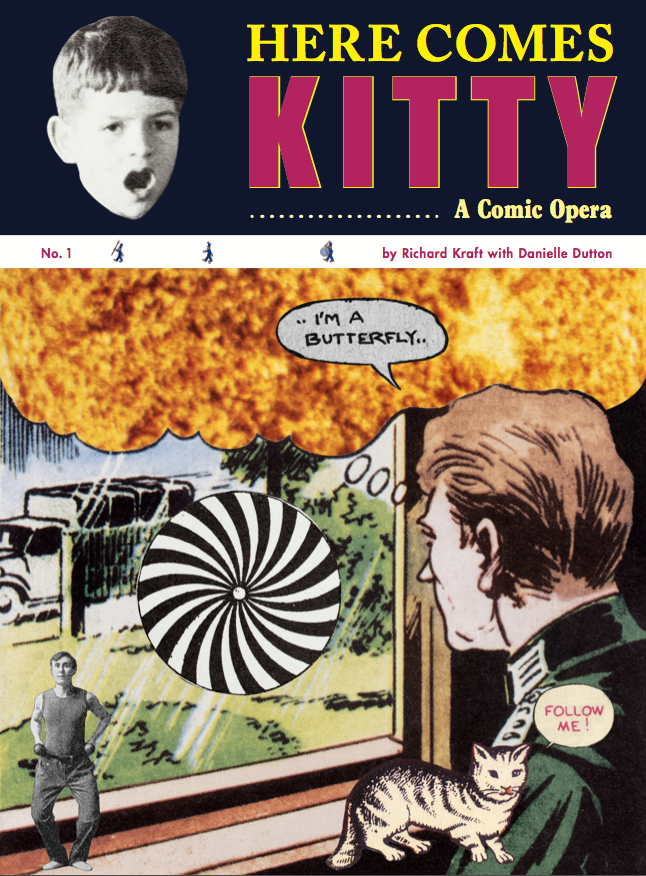 Join us for the launch of Here Comes Kitty: A Comic Opera, newly launched from Siglio Press.
The evening will feature artist Richard Kraft and writer Danielle Dutton in conversation with poet and critic Albert Mobilio about the book. A small selection of Here Comes Kitty collages will also be on display. Signed copies will be available, and each purchase will receive and a specially assembled, little collection of Kraft's Siglio multiples, available only at this event!
In this wildly irreverent collage narrative, artist Richard Kraft reassembles a Cold War comic about a Polish spy infiltrating the Nazis to orchestrate a multiplicity of voices into joyous cacophony. Like an Indian miniature painting, each comic book page is densely layered, collapsing foreground and background, breaking the frame and merging time. An unlikely and enormous cast of characters emerges as Kraft appropriates images and texts from an extraordinary variety of sources (the Amar Chitra Katha comics of Hindu mythology, Jimmy Swaggart's Old and New Testament stories, the 1960s English football annual Scorcher, and underground porn comics like Cherry as well as images from art history, outdated encyclopedias, and more).
Proceeding from Thoreau's observation, "Yes and No are lies. A true answer will not aim to establish anything, but rather to set all well afloat," Kraft subverts all certainty to reconstruct a world constantly in flux, rich with dark humor and its own revelatory nonsense. Author Danielle Dutton's set of sixteen interpolations punctuate the book using similar strategies of appropriation and juxtaposition to create texts that sing in the same arresting register as Kraft's collages. Here Comes Kitty also includes a wide-ranging conversation between Kraft and poet Ann Lauterbach.
Join on Facebook here
RICHARD KRAFT is an artist whose multidisciplinary works often use public spaces (library aisles, sides of buses, city streets, cow pastures, abandoned airforce bases) as well as converse with the literary (many of his works use language, book pages, and appropriated narratives as material). He is co-editing, with Joe Biel, the first complete volume of John Cage's Diary: How to Improve the World (You Will Only Make Matter Worse), to be released by Siglio in fall, 2015. Previous publications include In the Air, a collaborative chapbook with Peter Gizzi, published by Manor House 2013, as well as work featured in Stonecutter, Short Fiction and BOMB Magazine, among other literary journals. His recent solo exhibitions include Which Is to Say (2014), a ten-channel video installation at the Laguna Art Museum, Tube Portraits (2013) and Something with Birds in It (2011) both at Charlie James Gallery in Los Angeles. A large-scale, public performance art work "One Hundred Walkers" has been commissioned by the City of West Hollywood and will take place in April 2015. Kraft was born and raised in London, England and now lives in Los Angeles.
DANIELLE DUTTON is the author of SPRAWL (Siglio), Attempts at a Life (Tarpaulin Sky) and editor of Dorothy, a publishing project. Her work has appeared in Bomb, Harper's, Fence, The Brooklyn Rail, Noon, jubilat, among other journals and magazines. She holds degrees from the School of the Art Institute of Chicago, University of California-Santa Cruz, and the University of Denver where she was Associate Editor of the Denver Quarterly. She is currently a professor in the English Department at Washington University in St. Louis, Missouri where she lives with her husband and son.
ALBERT MOBILIO is the author of several books including Me with Animal Towering (Black Square Editions), The Geographics (Hard Press), and Bendable Siege (Red Dust) and the recipient of Whiting Writer's Award. He is also a NBCC-award winning critic and an editor of Bookforum and the online art magazine Hyperallergic. He teaches literary studies at the Eugene Lang College at the New School and lives in Brooklyn with his family.
Facebook
Tweet