New ALBUM edition debuting at Art Basel Miami Beach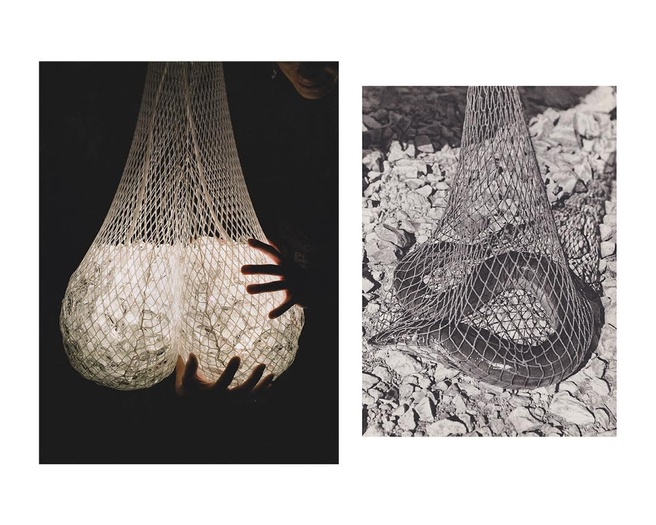 We're headed to Art Basel Miami Beach, December 4 – 7th, to share a booth once again with Toronto's Art Metropole, T3 in Info Zone B. On occasion of this year's fair we are pleased to launch a new fundraising print edition with Norwegian artists Eline Mugaas and Elise Storsveen.
Eline Mugaas and Elise Storsveen's started working on their fanzine periodical ALBUM# in 1998, a collaborative project meant to go 'forever'. The A4 full-color zines are xerox-printed, bringing together found, mass-distributed images that have been sourced from magazines primarily picked up in Oslo flea markets. Without accompanying text, the artists re-assemble advertisements and other visual excerpts to devise new narrative threads.
For their new Printed Matter edition, Hold On, Mugaas and Storsveen have created a photographic diptych in a signed edition of 100. On the left, two illuminated spheres are held in a taught mesh and embraced by a barely visible figure; on the right, a large eel is ensnared in a nearly identical net. Together the two images present a strange visual equivalency that, while not clearly defined, suggests an uncomfortable intimacy or innuendo. A tote bag featuring an image of the eel has also been produced on occasion of the installation.
Mugaas will be present at the Printed Matter booth on Saturday, December 6th, 6 PM, to launch the works, and sign available ALBUM# issues. Original collages from the artists will also be available for purchase. Our Art Basel Miami Beach collaboration with ALBUM comes with generous support from the Royal Norwegian Consulate General in New York.
We also are pleased to publish a new Printed Matter t-shirt edition with artist and curator Steven Evans, (I've Got) The Power, That's The Way (I Like It). Taking his inspiration in equal parts from Donna Summer, Marcel Duchamp, and Lawrence Weiner, Evans has, since the late 1980s, presented works using disco song titles, often painted directly on the wall. Evans will also sign his new book The Number One Song in Heaven, published by Onestar Press, on Saturday, December 6th, 4 PM. The book is his first artists' publication since 1986, presenting song titles from his extensive research files, including only number one disco songs from the late 1970s pre-AIDS era.
Other events at the Printed Matter booth over the fair weekend include a signing with photographer David Benjamin Sherry of his new title Earth Changes, on Thursday, December 4th, 6-8pm, published by Mörel Books. The new hardcover book features dramatic natural landscape in exaggerated colors. Alexis Gross will sign her zine POSSE, Friday, December 5th, 4-6pm, featuring her documentation of Juggalo culture at the annual festival 'The Gathering of Juggalos'.
Special titles available at the Printed Matter booth include: Food Plus Drug (II), a MASKS LP with artwork designed by Matt Connors, Cheeseburger Pizza a new print edition from Jason Polan, Untitled 2014 by Israel Lund published by Container Corps, Ray Johnson catalogue raisonné newly published by KARMA, the ALBUM compendium from Primary Information, and You Who Read Me With Passion Now Must Forever Be My Friends by Dorothy Iannone from Siglio Press.
A broad selection of out of print and vintage artists' book titles include Weiner's A Natural Water Course Diverted Reduced or Displaced, LeWitt's Six Geometric Figures and All Their Double Combinations, Iannone's vintage Berlin Beauties, a second edition of Ruscha's Various Small Fires and Milk, and many others.
Facebook
Tweet