First Rate Second Hand 2015 - Calendar Launch
6:00-8:00 PM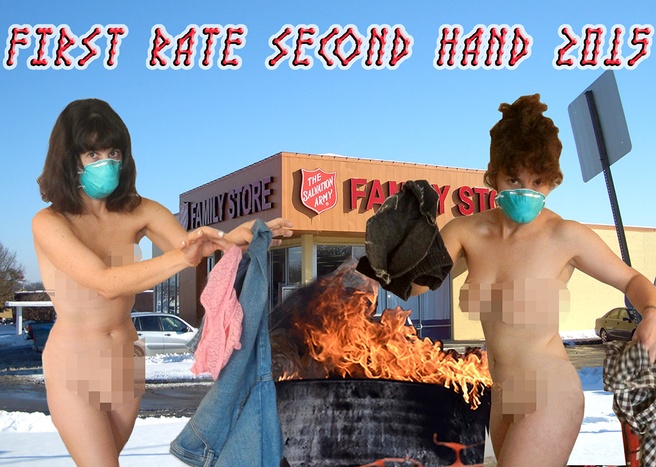 Printed Matter is pleased to launch the 9th First Rate Second Hand calendar by Sophy Naess and Carmelle Safdie. Join us and the artists for an in-store reception on Thursday, December 11th, from 6-8 PM.
First Rate Second Hand, the artist-made wall calendar by Sophy Naess and Carmelle Safdie features 12 unique seasonal fantasies posed in thrifstores and realized through Google Image Search and the New York Public Library picture collection. Their 2015 Calendar forecasts invasion by drones, viruses, aliens, iPhones, small business owners, raccoons, and the Gayrish.
The First Rate Second Hand 2015 wall calendar features 28 full color, heavy stock pages, measures 8.5x12 inches and is spiral bound.
Sophy Naess and Carmelle Safdie met at Cooper Union in 2000. They have collaborated and exhibited together extensively, including at Soloway Gallery, Recess, and The Fruit And Vegetable Stand in New York City; Franklin Street Works, Stamford, CT; The Green Gallery East, Milwaukee, WI and The Fresh Up Club in Austin, TX. In 2013 Naess and Safdie held artist residencies at The Shandaken Project, Shandaken, NY and both artists have work on view in The Shandaken Project Retrospective Exhibition at 59 East 4th Street through January 15, 2015.
Sophy Naess lives and works in Brooklyn, NY. She teaches in the Brooklyn Museum's Gallery/Studio Program and at Saint Joseph's College. She received her MFA from Rutgers University in 2013. Carmelle Safdie received her MFA in Painting from Bard College in 2012 and lives and works in Queens, NY.
Facebook
Tweet