EAST VILLAGE EYE - MAGS, SHIRTS AND MINI-SYMPOSIUM
6:00-8:00 PM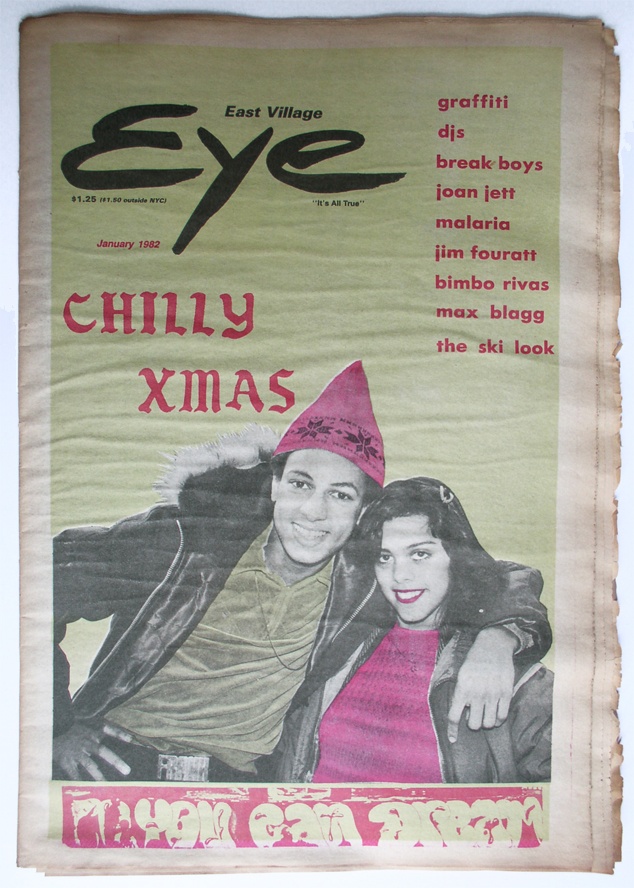 The East Village Eye Archive, in conjunction with Printed Matter, Inc., presents the First "Officially Sanctioned" Back Issue Selloff, in which selected copies of the legendary East Village Eye magazine will be put on sale to the public…as well as several fabulous t-shirt designs sporting historical East Village Eye covers.
East Village Eye was a monthly magazine that produced 72 issues from 1979 through 1987, focusing on the music, art, film, words, performance and social movements of the era, much of which was being made in the neighborhood it called home. The magazine is known today for its uncanny and prescient sense of culture´s evolution and direction, fluidly moving between the street, the avant-garde and the world at large.
To mark this big selloff event, we are presenting a mini-symposium entitled "How Hip Hop Came Downtown," covering the process in which members of New York's media and fine art communities brought rap music, graffiti art and breakdancing from the inner-city ghettos to a wider audience that has since spread across the world. Leading this discussion will be Eye publisher/editor Leonard Abrams, scholar Yazmin Ramirez, musician and multimedia artist Michael Holman, and the celebrated artist and media figure Fab 5 Freddy. Plus special guest appearances!
A selection of EYE back issues can be found here
Admission is free. Space is limited.
BIOS
 Fab 5 Freddy
Born Fred Brathwaite in NYC's "Do or Die Bed Stuy,"  Fab 5 Freddy has been making history and changing our world with groundbreaking contributions in music, film, art and cultural ambassadorship from the early 1980s to the present day. Fab took part in the tremendously influential Times Square Show in 1980, out of which he began his collaboration with Charlie Ahearn in the first film about hip hop, "Wild Style." A leading artist in the graffiti/aerosol/street art movement, Fab still found time to direct music videos and contribute to choice musical cuts like "Rapture," "Change The Beat" and numerous other pop music hits. Today, as he continues to paint and exhibit, he also curates art shows, writes articles and hosts events showcasing key developments in the African Diaspora experience as it impacts the world.
 Yasmin Ramirez
 Yasmin Ramirez, Ph.D. is an art historian and independent curator. Growing up during the heyday of the Alternative Art Space Movement in New York, Yasmin Ramirez has worked at Taller Boricua, El Museo Del Barrio, The Studio Museum, The New Museum, Art in General, the Alternative Museum, Franklin Furnace and the East Village Eye. While at the Eye, she was instrumental in exposing the talents of young graffiti art  pioneers to the recognized art world and beyond. She is currently writing a book based on her dissertation: Nuyorican Vanguards: The Puerto Rican Art Movement in New York.
 Michael Holman
 Michael Holman, the first writer to officially use the term hip hop in on the printed page (East Village Eye, January, 1982), has had a crucial hand in the popularization of culture that sprang from some of New York's most underserved communities, from which he organized revolutionary breakdancers into The Rock Steady Crew and The New York City Breakers. He also created the first nationally syndicated hip hop television show, Graffiti Rock and promoted numerous other forms of nascent hip hop expression. Holman, who was a founding member of the band Grey along with Jean-Michel Basquiat, later wrote the screenplay to the film Basquiat, recounting the seminal artist's life and tragic end. Today, Holman teaches Mass Media at CCNY and continues to be active as an artist, writer and lecturer in the field of contemporary urban culture, film, theater and art.
 Leonard Abrams
Leonard Abrams published and edited the East Village Eye magazine during its run from 1979 to 1987, created the multiracial hip hop club Hotel Amazon in 1988, and was Music Editor of Details magazine [NY] and US Editor of Soul Underground magazine [London] and Masthead literary magazine [Melbourne], after which he began to turn his focus  to documentary film and video. In 2006 he completed his first feature-length documentary, "Quilombo Country," about communities founded by rebel slaves in Brazil. Currently, in addition to administering the East  Village Eye Archive to preserve and promote its legacy, he is working on his new documentary film about Afrobrazilian military efforts during rebellions in Brazil in the 19th century.
Facebook
Tweet