Three cookbooks from Robin Kahn and Kirby Gookin - Book Launch
6:00-8:00 PM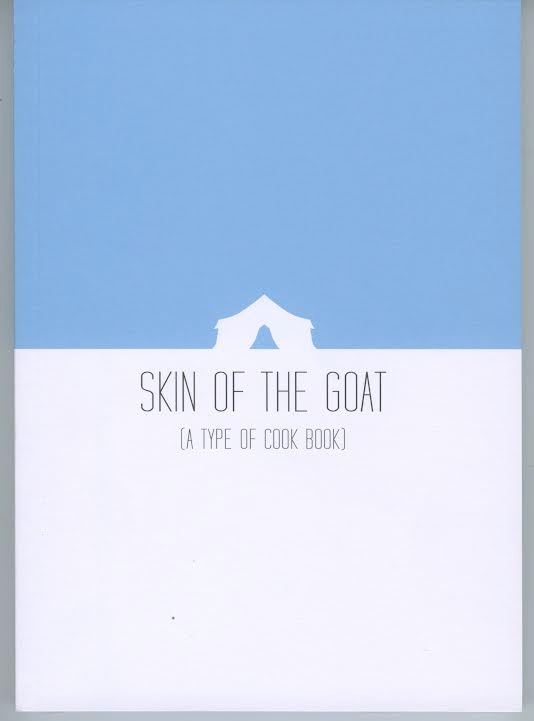 Robin Kahn and Kirby Gookin launch three artists' projects they have recently edited or contributed to, exploring themes at the intersection of food, identity and art. Books include Skin Of The Goat: A Type of Cook Book, Easy Eating: Healthy Affordable Recipes, and me-n-u: A Taste of Identity. More on each title below.
SKIN OF THE GOAT
SKIN OF THE GOAT (Dave Loder, editor) is a compilation of essays, conversations and recipes from the artists, writers, researchers and participants who inhabited New York artist Robin Kahn's The Art of Sahrawi Cooking project at dOCUMENTA(13) in Kassel, Germany, during the summer of 2013. The publication presents and utilizes both itself and the activities of Kahn's project as a case study in the field of artistic research, providing a provocative discussion in on-going concerns of contemporary art and curatorial practice. Illustrating and interrogating the relational politics of exchange and reciprocity, the book is to be read as a recipe book on ideas and notions that surround socially sited and hospitality based contemporary art strategies.
Contributions by: Kirby Gookin, Federico Guzmán, Georgina Jackson, Robin Kahn, Beatrice Jarvis, Dave Loder, Rana Ozturk, Amy Walsh, Aislinn White, Peter Lamborn Wilson.
Skin Of The Goat: A Type of Cook Book. (Dave Loder, editor). Ulster, Dublin, Dallas and Williamsburg, NY: University of Ulster School of Art & Design, GRADCAM The National College of Art and Design, Make Art with Purpose, and Autonomedia, 2014.
122 pp., perfect bound, edition of 450. Retails for $15.
Easy Eating: Healthy Affordable Recipes
Easy Eating is a project for Avant-Gardening, a course at the School of Visual Arts, NY, that investigates artists who employ gardening, farming and/or food as their medium. Throughout the year, we researched this rich field of artistic activity and explored such wide ranging issues as environmental activism, food justice, and guerrilla gardening. We had cooking demonstrations, and took field trips to community gardens in the Lower East Side, Thomas Hirschhorn's Gramsci Monument in the South Bronx, and the studio of food and farming artist Tatfoo Tan in Staten Island.
From this array of experiences the students identified a primary concern that they all shared: a desire to learn how to cook food that is healthy, affordable and, most importantly, easy to prepare.
Contributions by: Sepeed Emambakhsh, John Gardner, Jiahui Guo, Joy Kim, Ali Lewis, Iris Murphy, Lauren Quiroga, Jake Sigl, Peter Violini.
Easy Eating: Healthy Affordable Recipes is edited by Nicole J. Caruth and Kirby Gookin, published by Art Food Farm and The School of Visual Arts, 2013.
Easy Eating is 28 pages, staple bound, edition of 800. Retail for $4.00
me-n-u: A Taste of Identity
"What is the taste of identity? Have you ever thought of yourself as a recipe? What ingredients best describe your flavor? The recipes in this book blend art, food and identity into edible portraits concocted by each artist and offered free to the public on a wintery Saturday afternoon at the Union Square Greenmarket."
Contributions by: Corrina Bourke, Shelby Cullen, Yuki Hamada, Autumn Hamra, Giani Jones, Veronica Kim, Ji Min Lee, Raquel Moffson, Sharon Rozenwaig, Rebecca Salmon, fSarah Heewon Song, Eve Survilo, Nadia Tayeh, Madison Todd, Kit Tyson, Jerry Wilson.
me-n-u: A Taste of Identity is edited by Kirby Gookin and published by Steinhardt School of Culture, Education and Human Development, NYU, 2013.
me-n-u: A Taste of Identity is 36 pages, staple bound, edition of 100. $4.00
Facebook
Tweet