Printed Matter at Frieze and NADA this weekend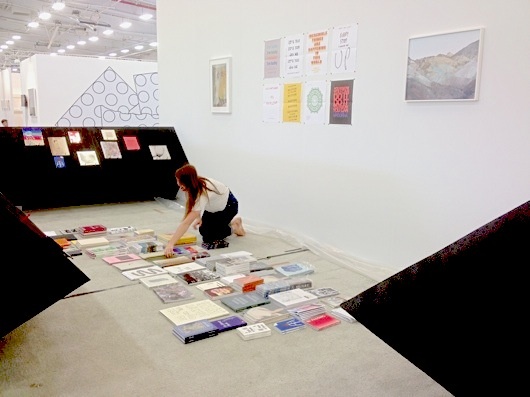 h3. Frieze
At this year's Frieze, we're pleased to launch a new Printed Matter publication by Sam Falls, STUDIO / SPACE / PRINT / TIME. The book features a collection of rubbings Sam made from different surfaces within his studio over the course of 2012 in Topanga Canyon, CA. To celebrate we'll be hosting a signing with Sam at the booth on Saturday from 5 - 6 PM. Book release details to come.
The Printed Matter booth features furniture designed by the French graphic design duo M/M Paris. Two of their editioned "Infinitable" tables will display a curated selection of titles from our store, and are available for purchase.
Please note, Printed Matter's fundraising edition with Wade Guyton has sold out. The edition sold far more quickly than we ever imagined possible and we are sorry that it was not available for longer.
We would like to thank Wade for his incredible generosity towards Printed Matter. The funds raised from this edition are a very important contribution to our organization and will help subsidize the services that Printed Matter provides to book artists. We would also like to thank the Frieze Art Fair for hosting us and its commitment to the many of New York non-profit organizations attending this years' fair.

h3. NADA
For our booth at NADA Minneapolis design studio ROLU have custom-designed a book room, housing a curated selection of some of our favorite new titles from the store, as well as recent Printed Matter editions from Erica Baum and David Benjamin Sherry. The room furthers ROLU's interest in using art history as material rather than a fixed idea. With a nod to the minimalist sculptures of Tony Smith, ROLU have constructed a new articulation of his piece "Stinger" in the form of a practical bookshelf system.
We will also be launching a new self-published book of poster prints by NY-based artist Marc Hundley. I JUST KNOW THAT SOMETHING GOOD IS GOING TO HAPPEN, JUST SAYING IT COULD EVEN MAKE IT HAPPEN is a collection of eight loose-leaf color posters folded into book form that borrow text from positive song lyrics. Marc will be at our booth to sign copies on Saturday from 5-6 PM.
Special thanks to NADA for their generous support.
Facebook
Tweet